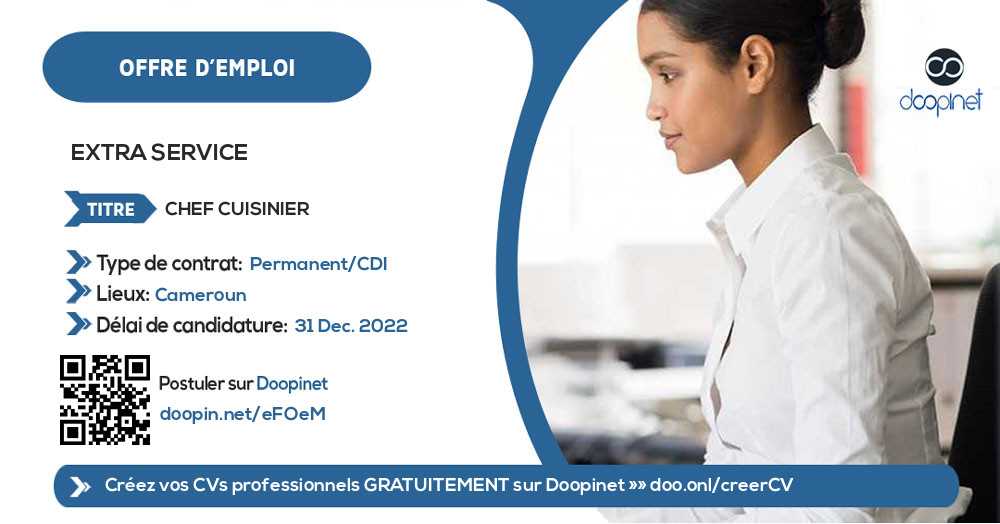 CHEF CUISINIER – Douala
Douala, Littoral, Cameroon
·
31 Dec. 2022
·
Permanant
·
Hotel - Catering
·
Chef or production manager in catering
Description
OFFRE D'EMPLOI: CHEF CUISINIER

Extra Servicerecherche dans le cadre de ses activités01 Chef Cuisinier

Missions / Responsibilities / Activities
En qualité de chef de cuisine chez Extra Service, vous encadrez une équipe, la formez et vous organisez la répartition des tâches. Vous vous assurez de la satisfaction de tous les clients en mettant la qualité culinaire et organoleptique au cœur de vos objectifs.

Job Requirements
Vous êtes titulaire d'un BEP/CAP Cuisine Bac Pro Restauration ou BTS Hôtellerie ou d´un diplôme équivalent en Restauration.
Vous avez au minimum 2 ans d'expérience dans un restaurant Fastfood.
Vous maîtrisez parfaitement la langue française et/ou anglaise
Vous maîtrisez le MS Word, Excel et PowerPoint
Vous avez le sens de la communication et êtes ouvert d´esprit
Vous avez le sens de l'organisation
Your Perks
Contrat à durée indéterminée
Salaire largement au-dessus de la moyenne
Affiliation à la CNPS
Congés payés
Prime de noël
Applicant profile
» Experience Level: Medium
» Years of work experience: Between 2 year and 3 years
» Minimum Education Level: CAP / BEPC, ...

Application Documents
» Curriculum Vitae

NOTE: SCAMMERS ARE MORE AND MORE SMART! Never send money to a stranger during a recruitment process for any reason! And If ever you should, please do so at your OWN RISK!
Appy Instructions
Cliquer sur le bouton Postuler pour envoyer votre candidature en ligne
Ou envoyez votre CV complet à l´adresse extraserviceinfo@gmail.com

Microsoft Word Microsoft PowerPoint Microsoft Excel
Receive our offers instantly on: