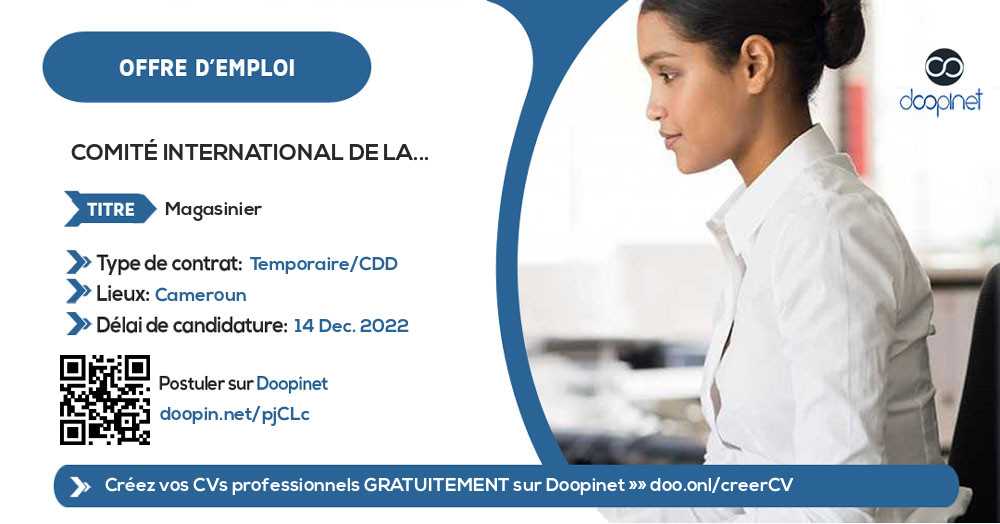 Magasinier – Maroua
Maroua, Extreme North (Extreme-Nord), Cameroon
·
14 Dec. 2022
·
Temporary
·
Transport - Logistic
·
Storekeeper or distribution agent
Description
La delegation du comite internationale de la croix rouge pour l'afrique
centrale á Yaoundé recherche pour ses services un candidats qualifié
pour renforcer l'équipe du departement suivant les
indications ci dessous:
Position: Storekeeper 2 (Magasinier) Basé à Maroua (Extrême Nord-Cameroun)
Type de contrat : CDD de 12 Mois (offre réservée exclusivement aux ressortissants Camerounais)
Prise de fonction : 01. 02. 2023
Missions / Responsibilities / Activities
Réceptionne les colis et contrôle conformité avec le bon de livraison signale tout problème

Veille à ce que les marchandises soient adéquatement entrep.., prélevées, emballées et charg. signale tout problème ;

Veille à ce que toutes les marchandises st.k. soient correctement étiquetées (date de péremption, numéro de lot, nom du fabricant, etc.) et enregistrées

Pèse les marchandises et procède à leur pointage lors du chargement et du déchargernent ;

Met à jour .s fiches de stock et d'inventaire lors de la supervision d'une opération d'inventaire ;

Participe aux inventaires ;

Veiller à ce que les équipements et le matériel soient maintenus en bon état, propres et rangés ;

signale tout problème ;

Si nécessaire, veille à ce que les températures soient dûment enregistrées ;
Encadre les manutentionnaire
Job Requirements
CONNAISSANCES ET EXPERIENCE REQUISE

Minimum BEPC ;

Au moins un an d'expérience comme magasinier ;

Des compétences en informatique constitueraient un avantage ;

Pour fondions en entrepôt médical uniquement : une expérience dans une société pharmaceutique constituerait un avantage ;

Bonnes connaissances de l'extrême nord Cameroun ;

Bilingue Français/anglais.
Applicant profile
» Experience Level: Medium
» Years of work experience: Between 1 year and 2 years
» Minimum Education Level: CAP / BEPC, ...

Application Documents
» Lettre de motivation PDF
» Curriculum Vitae PDF

NOTE: SCAMMERS ARE MORE AND MORE SMART! Never send money to a stranger during a recruitment process for any reason! And If ever you should, please do so at your OWN RISK!
Appy Instructions
Cliquer sur le bouton Postuler pour envoyer votre candidature en ligne
Ou envoyez-nous vos documents de candidature à l'adresse email yao_recrutement_services@icrc.org

Receive our offers instantly on: