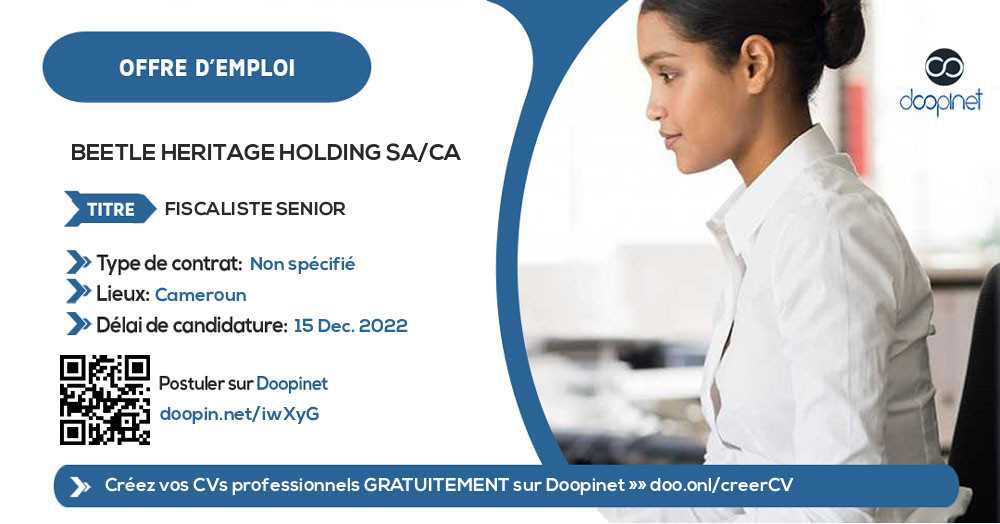 FISCALISTE SENIOR – Douala
Douala, Littoral, Cameroon
·
15 Dec. 2022
·
Unspecified
·
Law - Justice
·
Tax expert
Description
OFFRE D'EMPLOI: FISCALISTE SENIOR
BEETLE HERITAGE HOLDING SA recherche actuellement pour son siège basé à Douala, un (01) FISCALISTE SENIOR.
Missions / Responsibilities / Activities
Le FISCALISTE SENIOR rattaché au Département de la Fiscalité aura pour principales missions:

- Exercer une véritable fonction de conseil et de défense sur tous les aspects fiscaux de l'entreprise ;
- Assurer la sécurité de l'entreprise dans la maitrise de l'ensemble des risques comptables, sociaux et fiscaux émanant de la gestion quotidienne de l'organisation entière;
- Garantir la tenue et la fiabilité des comptes en conformité avec les législations fiscales.

Activités
Veille et prévention des risques
- Analyser les aspects fiscaux des activités de l'entreprise ;
- Identifier les particularités fiscales des activités et leurs conséquences légales et comptables ;
- Mettre à jour en permanence la documentation juridique et fiscale de l'entreprise ;
- Suivre l'actualité fiscale camerounaise et les modifications législatives ayant des conséquences sur la comptabilisation et la gestion financière de l'entreprise ;
- Anticiper sur la gestion des risques fiscaux par des techniques et mécanismes comptables et fiscaux afin d'empêcher significativement toute survenance de risques majeurs de nature douanière, fiscale, sociale, et parafiscale.
- Revoir les déclarations fiscales et les contrats ayant une incidence fiscale.

Traitements comptables :
- Traiter les écritures de vente à partir des supports probants de ventes préétablis, et assurer leur archivage;
- Traiter les écritures de banque à partir des pièces de banque reçues du trésorier ;
- Traiter les écritures de paie à partir des états de paie et des DIPE reçus des ressources humaines ;
- Traiter les écritures d'achat à partir des factures d'achat et les écritures de retenue à la source à partir des attestations de retenue à la source toutes reçues du comptable fournisseur ;
- Traiter les écritures de caisse à partir des pièces de caisse reçues de la comptable caissière ;
- Traiter toutes autres écritures nécessaires à la mise à jour de la base comptable (opérations diverses et autres).

Conseil
- Répondre efficacement aux problématiques fiscales posées dans son secteur à travers les moyens de défense irréfutables;
- Proposer efficacement des solutions fiscales pour la gestion et l'optimisation fiscale d'ensemble.
- Interface avec les administrations fiscales, douanières, et sociales
- Superviser les contrôles fiscaux, douaniers, et sociaux en assurant l'interface avec les administrations concernées ;
- Rechercher et élaborer les stratégies de défense et de solutions négociées ou transigées lors de contrôles ou de contentieux fiscaux.

Job Requirements
PROFIL
- Niveau académique: Bac + 5 en Comptabilité et Finances
- Expérience professionnelle: 05 ans d'expérience à un poste similaire
- Age maximum: 40

COMPÉTENCES TECHNIQUES
- Bonne connaissance du référentiel comptable en vigueur et de la fiscalité ;
- Bonne connaissance de la législation comptable et fiscale camerounaise ;
- Maîtrise de l'outil informatique et progiciel comptable.
- Vous appréciez travailler en équipe et êtes résistant au stress. Votre réactivité, votre disponibilité, vous permettront de vous épanouir pleinement à nos côtés.

Applicant profile
» 18 - 40 years old
» Experience Level: Medium
» Years of work experience: Between 5 years and 8 years
» Minimum Education Level: Master's Degree

Application Documents
» Lettre de motivation
» Curriculum Vitae

NOTE: SCAMMERS ARE MORE AND MORE SMART! Never send money to a stranger during a recruitment process for any reason! And If ever you should, please do so at your OWN RISK!
Appy Instructions
Cliquer sur le bouton Postuler pour envoyer votre candidature en ligne
Ou envoyez-nous vos documents de candidature à l'adresse email recrutement@africafooddistribution.com
Deadline : 15 Décembre 2022
Receive our offers instantly on: