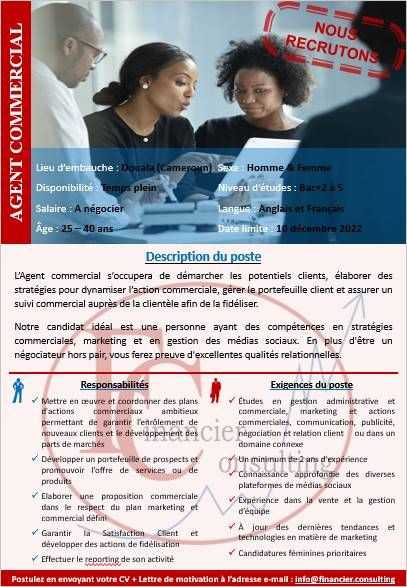 Agent commercial – Douala
Douala, Littoral, Cameroon
·
16 Dec. 2022
·
Unspecified
·
Trade - Sale - Distribution
·
Sales Representative
Description
L'Agent commercial s'occupera de démarcher les potentiels clients, élaborer des stratégies pour dynamiser l'action commerciale, gérer le portefeuille client et assurer un suivi commercial auprès de la clientèle afin de la fidéliser.Notre candidat idéal est une personne ayant des compétences en stratégies commerciales, marketing et en gestion des médias sociaux. En plus d'être un négociateur hors pair, vous ferez preuve d'excellentes qualités relationnelles.


Missions / Responsibilities / Activities
Mettre en œuvre et coordonner des plans d'actions commerciaux ambitieux permettant de garantir l'enrôlement de nouveaux clients et le développement des parts de marchés
Développer un portefeuille de prospects et promouvoir l'offre de services ou de produits
Elaborer une proposition commerciale dans le respect du plan marketing et commercial défini
Garantir la Satisfaction Client et développer des actions de fidélisation
Effectuer le reporting de son activité.
Job Requirements
Études en gestion administrative et commerciale, marketing et actions commerciales, communication, publicité, négociation et relation client ou dans un domaine connexe
Un minimum de 2 ans d'expérience
Connaissance approfondie des diverses plateformes de médias sociaux
Expérience dans la vente et la gestion d'équipe
À jour des dernières tendances et technologies en matière de marketing
Candidatures féminines prioritaires
NB: CANDIDATURES FEMININES PRIORITAIRES
Applicant profile
» 25 - 40 years old
» Experience Level: Medium
» Years of work experience: Between 2 year and 3 years
» Minimum Education Level: Associate's Degree

Application Documents
» Lettre de motivation
» Curriculum Vitae

NOTE: SCAMMERS ARE MORE AND MORE SMART! Never send money to a stranger during a recruitment process for any reason! And If ever you should, please do so at your OWN RISK!
Appy Instructions
Cliquer sur le bouton Postuler pour envoyer votre candidature en ligne
Ou envoyez-nous vos documents de candidature à l'adresse email info@financier.consulting

Receive our offers instantly on: