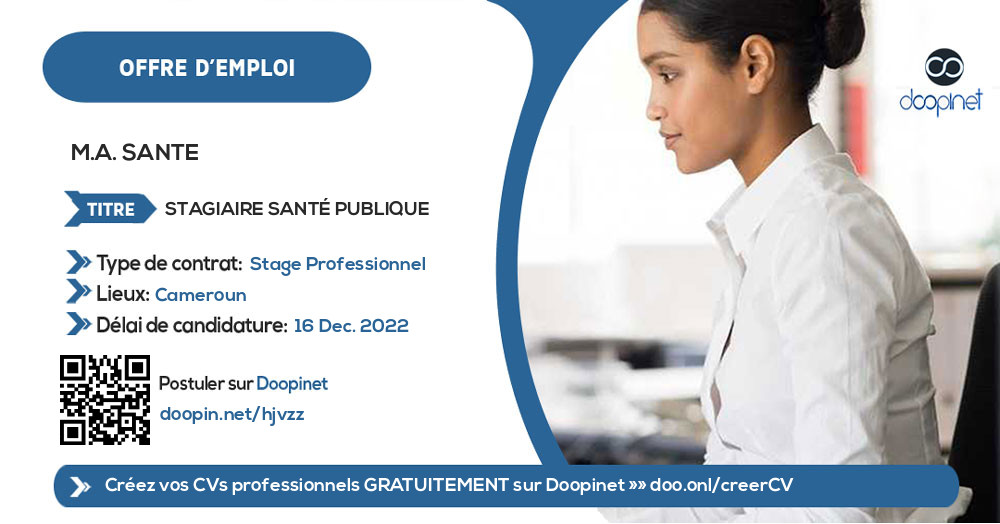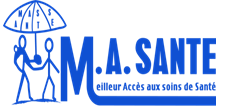 STAGIAIRE SANTÉ PUBLIQUE – Yaoundé
Yaoundé, Centre, Cameroon
·
16 Dec. 2022
·
Internship
·
Health
·
Doctor
Description
ANNONCE STAGIAIRE SANTÉ PUBLIQUE
M.A. SANTE [Meilleur Accès aux Soins de Santé] est une ONG camerounaise basée à Yaoundé, créée en 2006 avec pour objectif de contribuer à l'amélioration de l'accès aux soins de santé au Cameroun à travers la recherche, la formation en santé ainsi que la mise en œuvre des interventions sanitaires. Ses activités sont organisées à partir de son siège social à Yaoundé et de ses sites décentralisés basés à l'hôpital régional de Kousserinbsp;(Extrême-Nord, Cameroun), au CMA de Congo I (Douala, Cameroun), au district de santé de Mogodé (Extrême-Nord, Cameroun) et au district de santé de Dschang (Ouest, Cameroun).

Dans le cadre de la mise en œuvre de ses activités, l'Association recherche 01 Stagiaire.
Lieu de travail: Yaoundé, Cameroun
Durée de contrat: 06 Mois

Job Requirements
Profil du candidat
Niveau Académique : Master en santé publique ou épidémiologie, ou diplôme de médecine.
Compétences / exigences / Qualités :
Avoir des ambitions et la motivation de développer ses compétences et une carrière en recherche ;
Avoir une très bonne maitrise de la communication écrites de la langue anglaise ;
Avoir des bonnes aptitudes rédactionnelles ;
Avoir l'esprit d'équipe et les capacités de travailler sur le terrain et sous pression
Disponibilité immédiate.
Applicant profile
» Experience Level: Intern
» Minimum Education Level: Master's Degree

Application Documents
» Dossier de candidature

NOTE: SCAMMERS ARE MORE AND MORE SMART! Never send money to a stranger during a recruitment process for any reason! And If ever you should, please do so at your OWN RISK!
Appy Instructions
Composition du dossier
CV de deux pages au maximum
Lettre de motivation d'une page adressée au directeur scientifique de M.A. SANTE
Copie du diplôme ou de l'attestation de réussite
Photocopie de la Carte Nationale d'Identité
Tous documents attestant de l'expérience en recherche.
Pour les dossiers soumis par mail, les pièces devront parvenir au format PDF dans un seul fichier nommé selon le format suivant : Nom_Prénom.pdf.

Comment soumettre sa candidature :

Les dossiers de candidature doivent être déposés au plus tard le 16 Décembre 2022 à 17 heures au siège de l'Association : Yaoundé, Quartier Biyem-Assi Lac, face Centre Educatif Tyrannus ; soit envoyés à l'adresse suivante : secretariat@masante-cam.org avec copie à cmmassante@gmail.com. Les candidatures reçues après la date limite ou ne remplissant pas toutes les conditions ne seront pas prises en compte. Seules les candidatures présélectionnées seront contactées pour les auditions.
Receive our offers instantly on: