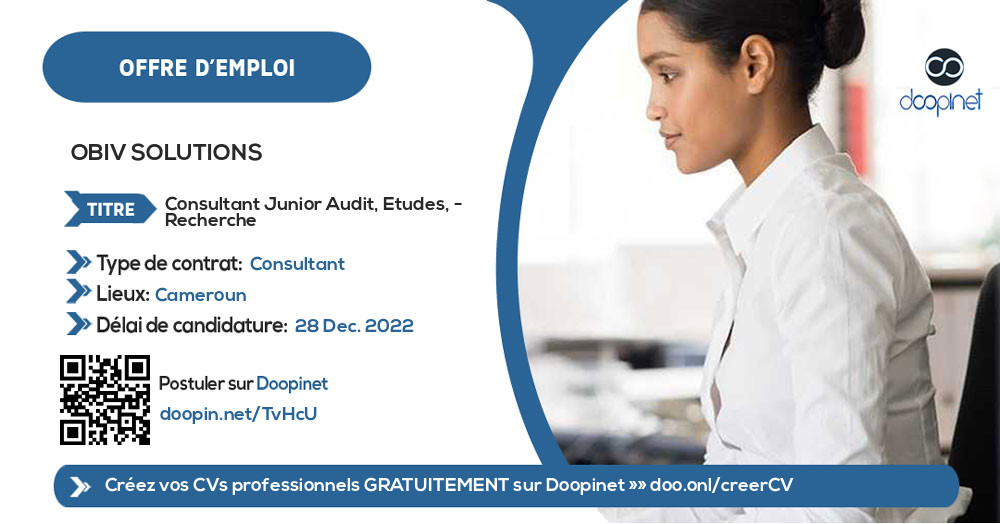 Consultant Junior Audit, Etudes, Recherche – Yaoundé
Yaoundé, Centre, Cameroon
·
28 Dec. 2022
·
Consultant
·
Project Management
·
Project Manager
Description
Nous recrutons : Un Consultant Junior Audit, Etudes, Recherche
Missions / Responsibilities / Activities
Définir une stratégie de captation des activités d'audit, d'études et de recherche
Organiser les interventions lors des missions d'audit
Rédiger et suivre les cahiers de charges
Veille de l'actualité de la recherche.
Missions
Planification du déploiement des équipes lors des missions

Pilotage des projets d'audit, d'études et de recherche moins) est un atout.
Veille des besoins auprès des clients
Évaluation finale des projets
Veille des appels d'offres.
Job Requirements
Expérience professionnelle 1 an minimum
Formation : Sciences sociales. Statistiques. Gestion & analyse des données.
Un travail de recherche de niveau master (au moins) est un atout
Compétences
Maîtrise de techniques d'audit (social, management, environnemental)
Excellente capacité d'analyse des données
Capacité de synthèse et de discernement au : siège OBIV Solutions
Rédactionnel technique efficace Mobilité réduite - Forte connectivité
Rigueur, discrétion et intégrité |
Force de propositions.
Applicant profile
» Experience Level: Medium
» Years of work experience: Between 1 year and 2 years

Application Documents
» Lettre de motivation
» Curriculum Vitae

NOTE: SCAMMERS ARE MORE AND MORE SMART! Never send money to a stranger during a recruitment process for any reason! And If ever you should, please do so at your OWN RISK!
Appy Instructions
Veuillez cliquer sur le bouton Postuler ci-dessous pour soumettre votre candidature
Receive our offers instantly on: