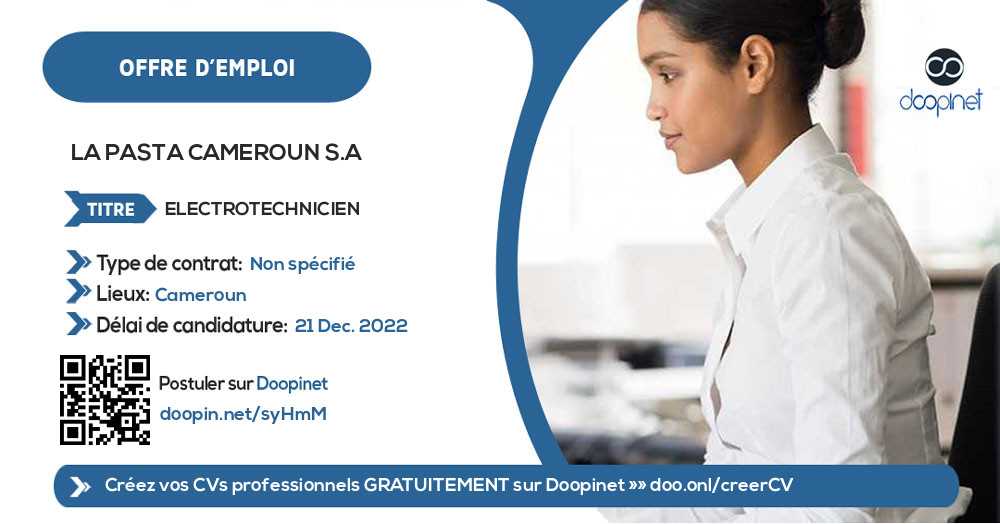 ELECTROTECHNICIEN – Kribi
Kribi, South (Sud), Cameroon
·
21 Dec. 2022
·
Unspecified
·
Industrial
·
Electrician
Description
QUI SOMMES NOUS ?
Le Groupe CADYST CONSUMER S.A. est une holding dont la mission est d'apporter aux populations africaines des produits de qualité, respectant les standards internationaux, fabriqués localement et accessible à tous.
Le Groupe CADYST CONSUMER S.A. est constitué de 03 sociétés : LA PASTA SA, PANZANI Cameroun et SAE.

Pour les besoins de ses services, la Direction Usine de LA PASTA SA recherche dans la ville de Kribi des candidat(e)s au poste de :
ELECTROTECHNICIEN - KRIBI - CATEGORIE EMPLOYE (3)

Missions / Responsibilities / Activities
RAISON D'ÊTRE :

Assurer la maintenance électrotechnique des équipements de l'usine
MISSIONS PRINCIPALES :
Exécuter le plan de maintenance préventive des équipements
Changer et/ou réparer les éléments ou ensemble électriques défectueux des équipements
Réparer les dysfonctionnements électriques des installations
Réaliser les essais et test de fonctionnement
Elaborer les rapports d'intervention dans GMAO
Apporter un appui technique aux activités d'amélioration continue
Lire et interpréter les schémas électriques
Elaborer l'analyse fonctionnelle partant des schémas électriques
Faire des relevés périodiques des paramètres électriques de bon fonctionnement
Job Requirements
PROFIL / COMPETENCES :
Minimum Bac F3/F2 et maximum Bac+2 en Electrotechnique, Electronique ou équivalent
Une expérience professionnelle d'un an minimum au sein du service maintenance d'une usine
Maitrise de l'informatique industrielle, savoir lire et interpréter un schéma électrique
IL/ELLE DOIT AVOIR :
Un esprit d'initiative et d'anticipation
Le sens de la précision
IL/ELLE DOIT ETRE :
Partager les valeurs suivantes : Leadership - Professionnalisme - Responsabilité - Esprit d'équipe
Applicant profile
» Experience Level: Entry / Beginner
» Years of work experience: Between 1 year and 2 years
» Minimum Education Level: High School Diploma

NOTE: SCAMMERS ARE MORE AND MORE SMART! Never send money to a stranger during a recruitment process for any reason! And If ever you should, please do so at your OWN RISK!
Appy Instructions
Souhaitez-vous faire partie de cette aventure palpitante ? Souhaitez-vous rejoindre une équipe jeune et dynamique, dans un environnement en permanente mutation? Souhaitez-vous faire carrière au sein d'un Groupe à fort potentiel de croissance tant sur le plan national qu'international, où votre potentiel, votre enthousiasme et votre performance seront appréciés à leur juste valeur ?
Postulez en ligne via le formulaire du site Internet en cliquant ici :
https://www.lapastacameroun.com/carriere/apply.php?token=KmEo6jCm
Receive our offers instantly on: