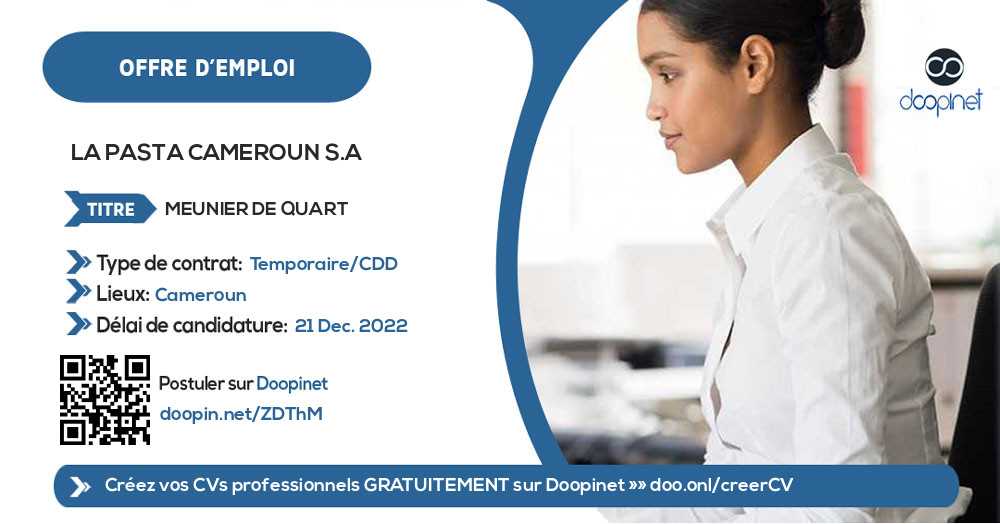 MEUNIER DE QUART – Douala
Douala, Littoral, Cameroon
·
21 Dec. 2022
·
Temporary
·
Industrial
·
Production operator
Description
QUI SOMMES NOUS ?
Le Groupe CADYST CONSUMER S.A. est une holding dont la mission est d'apporter aux populations africaines des produits de qualité, respectant les standards internationaux, fabriqués localement et accessible à tous.
Le Groupe CADYST CONSUMER S.A. est constitué de 03 sociétés : LA PASTA SA, PANZANI Cameroun et SAE.

Pour les besoins de ses services, la Direction Usine de LA PASTA SA recherche dans la ville de Kribi des candidat(e)s au poste de :
MEUNIER DE QUART - CATEGORIE EMPLOYE (1)

Missions / Responsibilities / Activities
RAISON D'ETRE :

Veiller à l'exécution du plan de travail du quart, conformément au plan de production et d'assurance qualité, tout en assurant le reporting des données de production et la préservation des équipements et outils de fabrication
MISSIONS PRINCIPALES :
Lancer les opérations de production du quart suivant le plan de production
Assurer le bon réglage des machines de production
Assurer le contrôle qualité en ligne des encours de production
S'assurer du respect de la procédure d'intervention (GMAO) de son quart et de l'efficacité des actions d'entretien curatifs menées
Etablir le rapport de production de son quart de travail (physique et dans X3)
Mettre en œuvre les activités planifiées d'entretien hygiénique des équipements de moulin
Appliquer et faire appliquer les bonnes pratiques d'hygiène et de fabrication pendant son quart de travail
Assurer le relai de l'animation de la culture sécurité et hygiène dans son équipe
Assurer le management de son équipe de quart
Job Requirements
PROFIL / COMPETENCES :
Être titulaire d'un Bac Scientifique ou Technique
Justifier d'une expérience professionnelle d'au moins 5 ans comme opérateur dans un moulin
Avoir une expérience professionnelle à un poste similaire ou avec du management serait un atout
Avoir des connaissances en Technologie meunière et ses évolutions, Interprétation des analyses rhéologiques, physico-chimiques, microbiologiques et en gestion de production
IL/ELLE DOIT AVOIR :
Un esprit d'initiative et d'anticipation
Le sens de la précision
Partager les valeurs suivantes : Leadership - Professionnalisme - Responsabilité - Esprit d'équipe
Applicant profile
» Experience Level: Medium
» Years of work experience: Between 5 years and 8 years
» Minimum Education Level: High School Diploma

NOTE: SCAMMERS ARE MORE AND MORE SMART! Never send money to a stranger during a recruitment process for any reason! And If ever you should, please do so at your OWN RISK!
Appy Instructions
Souhaitez-vous faire partie de cette aventure palpitante ? Souhaitez-vous rejoindre une équipe jeune et dynamique, dans un environnement en permanente mutation? Souhaitez-vous faire carrière au sein d'un Groupe à fort potentiel de croissance tant sur le plan national qu'international, où votre potentiel, votre enthousiasme et votre performance seront appréciés à leur juste valeur ?
Postulez en ligne via le formulaire du site Internet en cliquant ici: https://www.lapastacameroun.com/carriere/apply.php?token=EI76vgnW



Receive our offers instantly on: