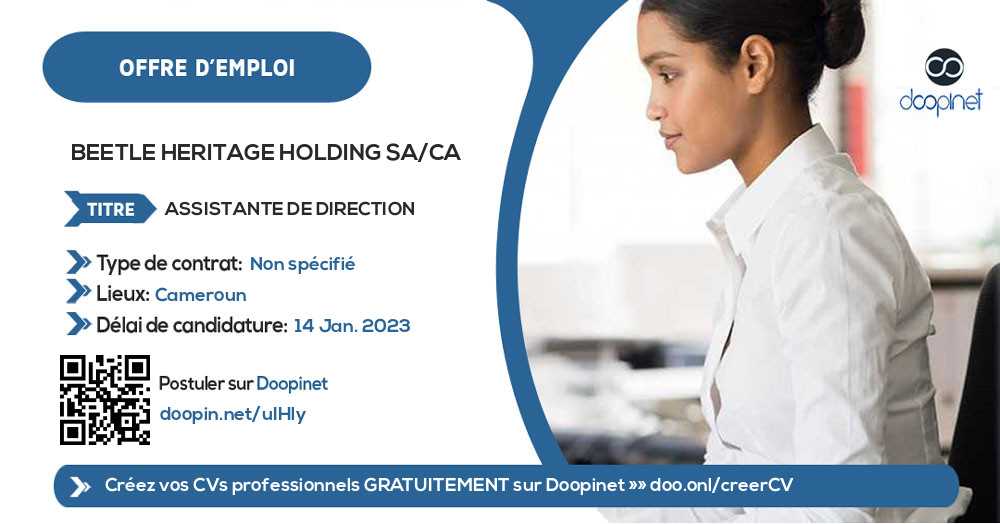 ASSISTANTE DE DIRECTION – Douala
Douala, Littoral, Cameroon
·
14 Jan. 2023
·
Unspecified
·
Secretary - Assistant
·
Executive Assistant
Description
BEETLE HERITAGE HOLDING SA recherche actuellement pour son siège basé à Douala, une (01) ASSISTANTE DE DIRECTION.
Missions / Responsibilities / Activities
L'ASSISTANTE DE DIRECTION rattachée à la Direction Générale aura pour principale mission de contribuer à la réalisation des tâches et missions de pilotage du Président Directeur Général afin d'améliorer l'organisation de ses activités ; Elle est l'interface relationnelle, en amont et en aval, entre le Président Directeur Général et les différents interlocuteurs internes et externes

Activités

Secrétariat de direction et assistanat particulier du directeur général:

- Organiser les plannings et les déplacements du directeur général ;

- Gestion de son agenda et de ses déplacements : prise des rendez-vous en fonction des priorités ;

- Rappeler des informations importantes et transmettre des messages ;

- Prendre des notes et mettre en forme tous types de courriers ;

- Réaliser la saisie de documents de formes et contenus divers ;

- Organiser le classement et l'archivage des dossiers ;

- Planifier et organiser des réunions et des évènements (instances, séminaires…) : rédiger les comptes rendus, suivre les relevés de décisions et exécution des actions assignées, préparer les supports, assurer la logistique ;

- Garantir le fonctionnement efficace de l'activité du directeur général et contribuer à l'organisation de la vie interne, en se positionnant en ressource et conseil sur les usages et procédures de l'entreprise ;

- Gérer l'information (contacts de la direction générale, bases de données, listes de diffusion, documentation …) et en faciliter l'accès.

Gestion et suivi des dossiers

- Collecter les informations nécessaires au suivi des dossiers pour aide à la prise de décision et au pilotage ;

- Concevoir des tableaux de bord et/ou des tableaux de suivi ;

- Instruire et assurer le suivi des dossiers du directeur général (notes, synthèses, préparation des actes administratifs…) ;

- Coordonner les moyens (humains, administratifs, logistiques et techniques) nécessaires à la réalisation des objectifs qui lui sont fixés ;

- Participer à la gestion du budget de la Direction générale (élaboration, exécution, suivi) ;

- Communication interne et externe ;

- Piloter certaines actions de communication interne et veiller à la bonne diffusion des informations ;

- Concevoir, mettre à jour et diffuser les différents outils/supports de communication du directeur général (web, intranet, newsletter…) ;

- Concevoir et mettre en œuvre un système de classement pouvant en faciliter la recherche.

Encadrement / coordination

- Réaliser et coordonner des opérations particulières de tout ou partie d'un projet délégué par son responsable ;

- Gestion des notes de frais ;

- Suivi du calendrier des projets en cours ;

- Interface avec les autres entités du Groupe ;

- Interface avec les prestataires, clients etc. ;

- Interface avec les équipes en place ;

- Coordination des activités du siège sur délégation expresse de pouvoir ;

- Organisation, coordination, supervision et suivi des activités des collaborateurs placés sous sa responsabilité.
Job Requirements
PROFIL

- Niveau académique : BTS Secrétariat / Bureautique, Licence lettres ou langues, autres diplômes de type baccalauréat + 3 ;

- Formation et/ou qualification complémentaires (atout) : Formation secrétariat et bureautique ;

- Expérience professionnelle : 03 ans ;

- Age maximum : 40.

COMPETENCES TECHNIQUES

- Maîtriser les outils de secrétariat et de bureautique ;

- Savoir mettre en œuvre des techniques de synthèse (qualités rédactionnelles et d'analyse), ainsi que de reporting (savoir rendre compte) et de suivi d'activité ;

- Savoir mettre en œuvre la démarche et les outils de gestion de projet (planification, coordination…) ;

- Savoir anticiper ses propres échéances et sur celles de son responsable hiérarchique ;

- Savoir appréhender les urgences et dégager les priorités ;

- Maîtriser les techniques de communication écrite et orale.

- Vous appréciez travailler en équipe et êtes résistant au stress. Votre réactivité, votre disponibilité, vous permettront de vous épanouir pleinement à nos côtés.
Applicant profile
» 18 - 40 years old
» Experience Level: Medium
» Years of work experience: Between 3 years and 5 years
» Minimum Education Level: Associate's Degree

Application Documents
» Lettre de motivation
» Curriculum Vitae

NOTE: SCAMMERS ARE MORE AND MORE SMART! Never send money to a stranger during a recruitment process for any reason! And If ever you should, please do so at your OWN RISK!
Appy Instructions
Cliquer sur le bouton Postuler pour envoyer votre candidature en ligne
Ou envoyez-nous vos documents de candidature à l'adresse email recrutement@africafooddistribution.com

Receive our offers instantly on: