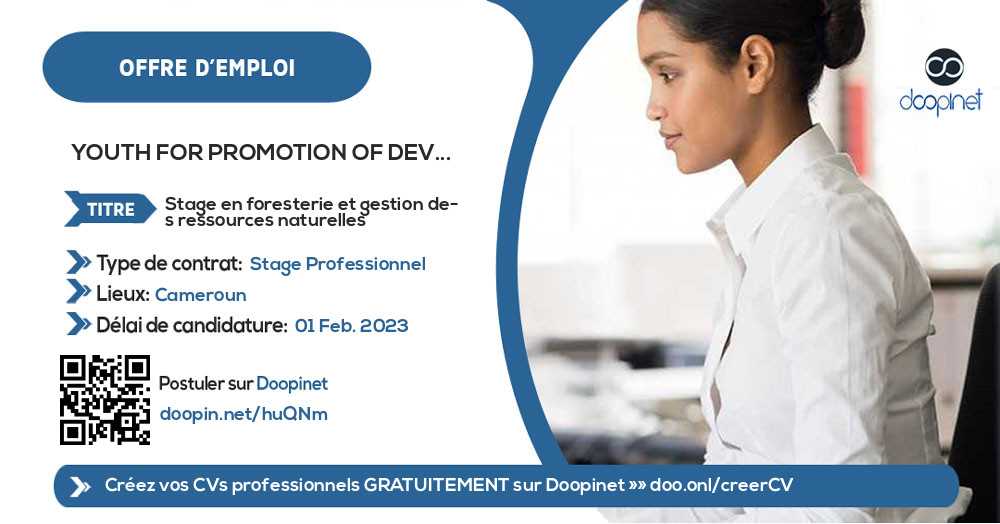 Stage en foresterie et gestion des ressources naturelles – Yaoundé
Yaoundé, Centre, Cameroon
·
01 Feb. 2023
·
Internship
·
Agriculture
·
Forest engineer
Description
Dans le cadre de la mise en œuvre de ses activités, l'association Youth for Promotion of Development (YPD) basée à Yaoundé, œuvrant dans la gestion durable des ressources naturelles offre deux (02) stages professionnels en foresterie et gestion des ressources naturelles.
Durée du stageLe stage aura une durée de trois (3) mois renouvelable sur appréciation du superviseur et débutera le 06 février 2023.
Missions / Responsibilities / Activities
Sous la supervision du chargé des Programmes/Projets, le stagiaire devra :
Prendre une part active dans l'élaboration et la mise en œuvre de projets dans son domaine de compétence ;
Contribuer à la recherche permanentes des appels à projets et opportunités autres via les différentes plateformes et autres partenaires techniques ;
Contribuer à la sensibilisation et la formation des jeunes sur diverses thématiques en lien avec les activités de YPD ;
Contribuer à l'élaboration des guides/manuels et articles en lien avec les thématiques sur lesquelles travaille YPD ;
Contribuer à la mise en œuvre des actions d'accompagnements des jeunes et femmes entreprises par YPD ;
Produire des rapports d'activités et tout autre document utiles (articles, briefing note, pétitions, photos vidéos etc.) rendant compte des activités, résultats du projet ou processus de plaidoyer) ;
Représenter YPD lors des ateliers, réunions, formations ou tout autre évènement auquel serait conviée l'association ;
Assumer des responsabilités importantes et exigeantes tant au bureau que sur le terrain ;
Exécuter toute autre tâche qui lui sera confiée dans son domaine de compétence et dans un cadre professionnel.
Job Requirements
Avoir au moins un Bac + 3 en Aménagement des forêts, Gestion durable des ressources naturelles, Science forestière, Changement climatique, ou tout autre domaine similaire ;
Avoir une bonne connaissance des techniques/pratiques sylvicoles et de restauration des paysages forestiers ;
Être apte et motiver à contribuer à la rédaction des projets de développement cohérents ;
Avoir des notions de base en gestion participative et accompagnement des communautés ;
Avoir des compétences dans le développement des outils et stratégies de sensibilisation/Communication ;
Avoir une bonne maîtrise de l'outil informatique ; MS Office (Word ; Excel ; PowerPoint). La maîtrise des logiciels de cartographie et télédétection (QGIS, ArcGIS ; Envi, etc.) serait un atout ;
Avoir une bonne capacité d'analyse et de synthèse ;
Être apte à travailler sous pression, au sein d'une équipe multidisciplinaire et dans un environnement multiculturel ;
Avoir l'esprit d'innovation ;
Avoir une bonne expression orale et écrite en langue française. La maitrise de l'anglais serait un atout ;
Être motivé(e), rigoureux (se), et organisé(e).
Applicant profile
» Minimum Education Level: Bachelor's Degree

Application Documents
» Lettre de motivation adressée à la Présidente Exécutive de Youth for Promotion of Development (YPD) ;
» Diplôme requis
» Photocopie CNI
» Curriculum Vitae

NOTE: SCAMMERS ARE MORE AND MORE SMART! Never send money to a stranger during a recruitment process for any reason! And If ever you should, please do so at your OWN RISK!
Appy Instructions
Veuillez cliquer sur le bouton Postuler ci-dessous pour soumettre votre candidature
Receive our offers instantly on: