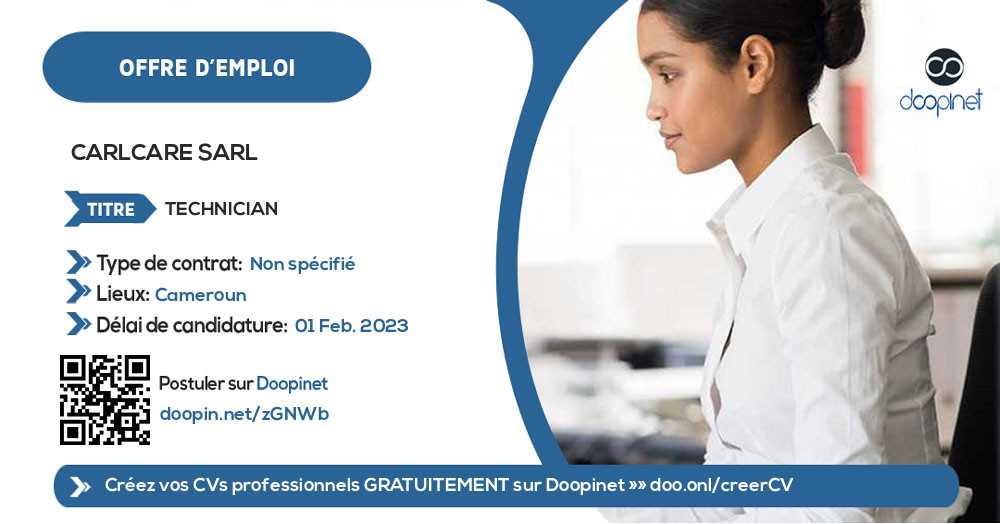 TECHNICIAN – Douala
Akwa, Douala, Littoral, Cameroon
·
01 Feb. 2023
·
Unspecified
·
Aeronautics - Space
·
Customer support technician
Description
TRANSSION HOLDINGS is the company formerly known as TECNO TELECOM Limited. A global company with offices in many countries and regions.

We are looking for Technician in Cameroon- Douala.
Job Title: Technician
Workplace: Akwa-Douala

Missions / Responsibilities / Activities
Objective of the position
To achieve the repair factory objective, carry out maintenance and ensure the maintenance quality so as to provide customers with the quality repair service.

Job descriptions
1. Comply with the rules and regulations of the company, perform the duty at his post and master the business with a high sense of responsibility, listen to others' advice or criticism, obey the leadership with courtesy and warm service, and consciously safeguard the good image and reputation of the company;
2. Responsible for the repair of the mobile phone PCB;
3. Responsible for the reasonable use of the repair material and electronic components;
4. Strictly implement the PCBA maintenance management process and actively cooperate with relevant departments;
5. Ensure the reasonable use and maintenance of the repair tools to ensure the normal development of repair work;
6. Ensure the truth of original fault records and keep important repair information;
7. Obey and perform the tasks assigned by the supervisor temporarily.
Job Requirements
§ Vocational training, technical secondary school or above
§ Major in mechanical electronics, etc.
§ Over 1-year related work experience
§ With professional knowledge of communication electronics and mobile phone repair;
§ Basic identification of electronic circuit diagrams;
§ Proficiency in the automation OFFICE software with the basic network knowledge and strong English application capacity.
§ Sound and principled with a strong sense of responsibility;
§ Good dedication and work ethics.
§ Ability to work under pressure;

Application Documents
» Curriculum Vitae

NOTE: SCAMMERS ARE MORE AND MORE SMART! Never send money to a stranger during a recruitment process for any reason! And If ever you should, please do so at your OWN RISK!
Appy Instructions
Application Process:

Click on the Apply button to submit your application online
Please submit your C.V in English to: hrrecrutmentlevel@gmail.com

Specifying in objet of the mail: TECHNICIAN.
Receive our offers instantly on: