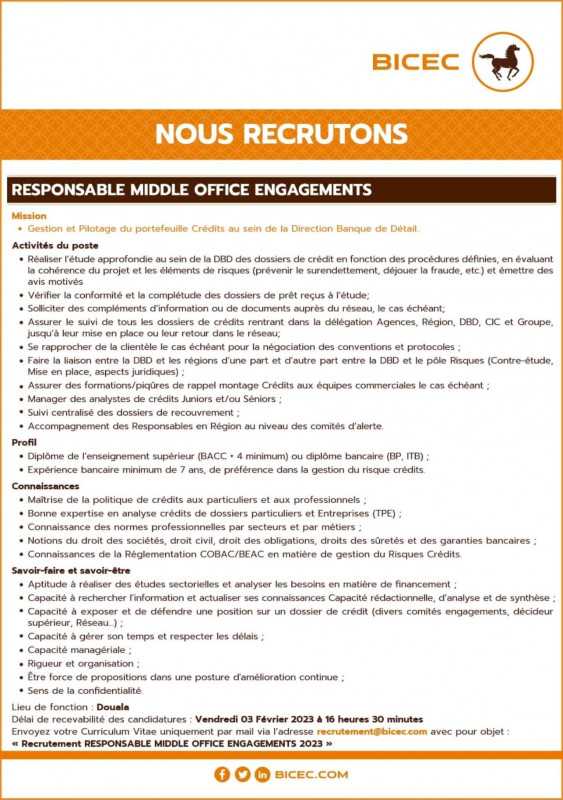 Responsable Middle Office Engagements – Douala
Douala, Littoral, Cameroon
·
03 Feb. 2023
·
Unspecified
·
Accounting - Management
·
Accountant
Description
NOUS RECRUTONSRESPONSABLE MIDDLE OFFICE ENGAGEMENTS
Missions / Responsibilities / Activities
Mission
Gestion et Pilotage du portefeuille Crédits au sein de la Direction Banque de Détail Activités du poste
Réaliser l'étude approfondie au sein de la DBD des dossiers de crédit en fonction des procédures définies, en évaluant la cohérence du projet et les éléments de risques (prévenir le surendettement, déjouer la fraude, etc ) et émettre des avis motivés
Vérifier la conformité et la complétude des dossiers de prêt reçus à l'étude;
Solliciter des compléments d'information ou de documents auprès du réseau, le cas échéant;
Assurer le suivi de tous les dossiers de crédits rentrant dans la délégation Agences, Région, DBD, CIC et Groupe, jusqu'à leur mise en place ou leur retour dans le réseau;
Se rapprocher de la clientèle le cas échéant pour la négociation des conventions et protocoles ;
Faire la liaison entre la DBD et les régions d'une part et d'autre part entre la DBD et le pôle Risques (Contre-étude, Mise en place, aspects juridiques) ;
Assurer des formations/piqûres de rappel montage Crédits aux équipes commerciales le cas échéant ;
Manager des analystes de crédits Juniors et/ou Séniors ;
Suivi centralisé des dossiers de recouvrement ;
Accompagnement des Responsables en Région au niveau des comités d'alerte.
Job Requirements
Diplôme de l'enseignement supérieur (BACC + 4 minimum) ou diplôme bancaire (BP, ITB) ;
Expérience bancaire minimum de 7 ans, de préférence dans la gestion du risque crédits Connaissances
Maîtrise de la politique de crédits aux particuliers et aux professionnels ;
Bonne expertise en analyse crédits de dossiers particuliers et Entreprises (TPE) ;
Connaissance des normes professionnelles par secteurs et par métiers ;
Notions du droit des sociétés, droit civil, droit des obligations, droits des sûretés et des garanties bancaires ;
Connaissances de la Réglementation COBAC/BEAC en matière de gestion du Risques Crédits Savoir-faire et savoir-être
Aptitude à réaliser des études sectorielles et analyser les besoins en matière de financement ;
Capacité à rechercher l'information et actualiser ses connaissances Capacité rédactionnelle, d'analyse et de synthèse ;
Capacité à exposer et de défendre une position sur un dossier de crédit (divers comités engagements, décideur supérieur, Réseau.) ;
Capacité à gérer son temps et respecter les délais ;
Capacité managériale ;
Rigueur et organisation ;
Être force de propositions dans une posture d'amélioration continue ;
Sens de la confidentialité
Applicant profile
» Experience Level: Senior
» Years of work experience: Between 5 years and 8 years
» Minimum Education Level: Master's Degree

Application Documents
» Curriculum Vitae

NOTE: SCAMMERS ARE MORE AND MORE SMART! Never send money to a stranger during a recruitment process for any reason! And If ever you should, please do so at your OWN RISK!
Appy Instructions
Veuillez cliquer sur le bouton Postuler ci-dessous pour soumettre votre candidature
Receive our offers instantly on: