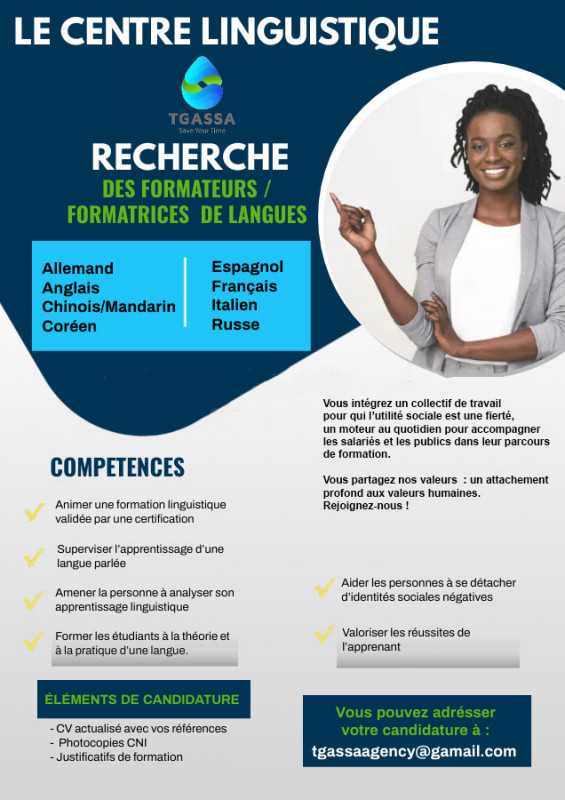 Formateurs / Formatrices – Cameroun
Lieu, Non spécifié, Cameroon
·
Apply ASAP
·
Unspecified
·
Communication
·
Translator-reviser
Description
Votre nouveau centre linguistiqueTgassa
recrute des formateurs / formatrices en langues:

Allemand
Espagnol
Anglais
Français
Chinois/Mandarin
Italien
Coréen
Russe
Missions / Responsibilities / Activities
Animer une formation linguistique validée par une certification

Superviser l'apprentissage d'une langue parlé.

Amener la personne à analyser son apprentissage linguistique

Former les étudiants à la théorie et â la pratiqua d'une langue.

Aider les personnes â sa détacher d'identités sociales négatives

Valoriser les réussites de l'apprenant
Application Documents
» Justificatifs de formation
» Photocopie CNI
» Curriculum Vitae avec Références

NOTE: SCAMMERS ARE MORE AND MORE SMART! Never send money to a stranger during a recruitment process for any reason! And If ever you should, please do so at your OWN RISK!
Appy Instructions
Vous intégrez un collectif de travail pour qui l'utilité sociale est une fierté, un moteur au quotidien pour accompagner les salariés et les publics dans leur parcours
Vous partagez nos valeurs un attachement profond aux valeurs humaines. Rejoignez-nous
Receive our offers instantly on: