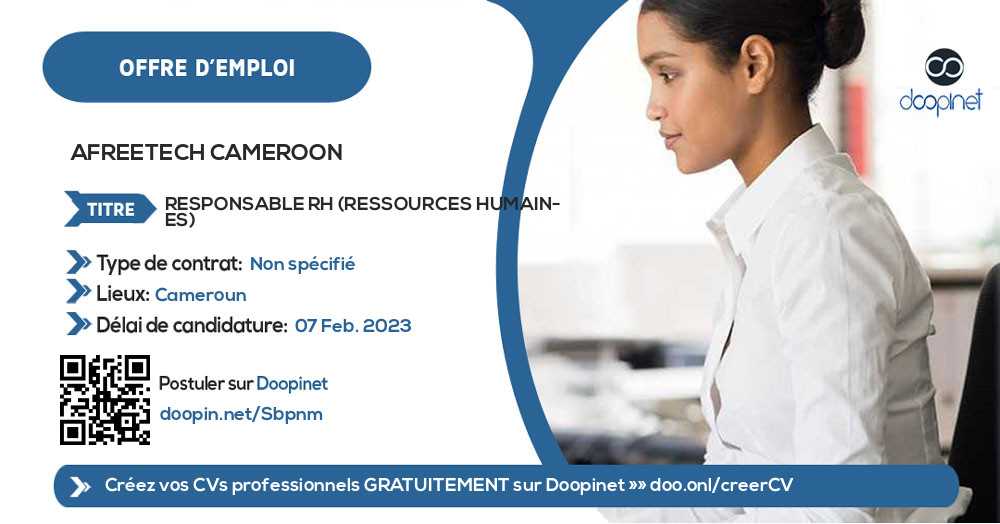 RESPONSABLE RH (RESSOURCES HUMAINES) – Yaoundé
Bastos, Yaoundé, Centre, Cameroon
·
07 Feb. 2023
·
Unspecified
·
Human Resource
·
Human resources manager
Description
Dans le cadre des projets clients, nous recrutons des personnes passionnées, dynamiques et travailleuses pour renforcer nos équipes.
Postes (H/F) : RESPONSABLE RESSOURCES HUMAINES
Comment postuler : CV et lettre de motivation à l'adresse recrutement@afreetech.com avec en Objet : Candidature RH
Missions / Responsibilities / Activities
Recueillir des besoins,
La coordination de l'ensemble des activités liées aux projets RH au sein de l'entrepriseAnalyser diverses problématiques RH,
Intervenir dans la mise en œuvre des pratiques managériales,

Le pilotage du développement RH
La définition avec la Direction de la politique RH
Élaborer et mettre en place des méthodes et outils de management,
Proposer des solutions en gestion des ressources humaines
La gestion de la communication interneSuperviser l'aspect paie ainsi que la gestion du personnel
Job Requirements
Garantir l'application de la législation sociale dans une organisation
Mettre en œuvre une politique d'amélioration continue des processus RH
Administrer la paie et exploiter un ERP
Gérer un processus de recrutement, participer à une politique de talent acquisition
Animer une démarche qualité de vie au travail (QVT)
Favoriser le dialogue social dans une organisation
Conduire un projet RH innovant
S'approprier des outils et des méthodologies de recherche, d'analyse, de reporting et de communication
Développer des compétences comportementales (soft skills)
Application Documents
» LM
» Curriculum Vitae

NOTE: SCAMMERS ARE MORE AND MORE SMART! Never send money to a stranger during a recruitment process for any reason! And If ever you should, please do so at your OWN RISK!
Appy Instructions
Cliquer sur le bouton Postuler pour envoyer votre candidature en ligne
Ou envoyez-nous vos documents de candidature à l'adresse email recrutement@afreetech.com

Receive our offers instantly on: