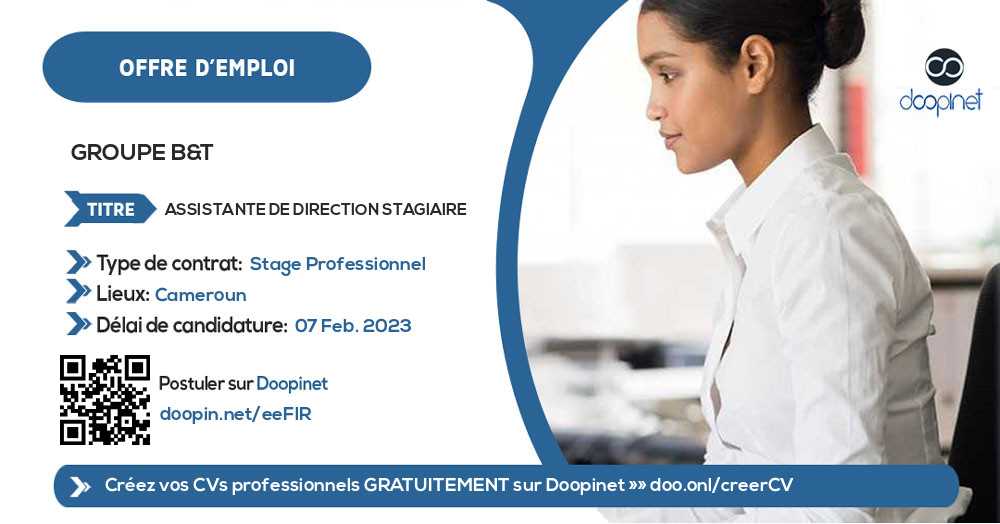 ASSISTANTE DE DIRECTION STAGIAIRE – Douala
Akwa, Douala, Littoral, Cameroon
·
07 Feb. 2023
·
Internship
·
Secretary - Assistant
·
Executive Assistant
JOB APPLICATIONS NOT ACCEPTED ANYMORE!
Description
L'équipe Administrative Groupe BT Cameroun en forte croissance, recherche de nouveaux talents à Douala pour accompagner son développement.
Votre insatiable curiosité et votre capacité à apprendre vous permettrons petit à petit d'acquérir une maitrise de nos activités de financement et de gestion de projets, afin de contribuer aux opérations de référence clients, tout en garantissant une Excellente qualité de service client.


Au sein d'un entreprise en plein développement dans la Zone Afrique, vous découvrirez de nombreuses opportunités d'évolution chez un acteur international et incontournable dans les services financiers et la gestion des projets d'entreprises sur le continent Africain. La polyvalence serait un atout majeur.
Missions / Responsibilities / Activities
Véritable bras droit et chargé de l'accueil, vous assisterez le Chef de Projet Régional en charge du développement des activités du Groupe B&T dans la zone Afrique sur les tâches administratives, de gestion de la clientèle et l'animation de nos pages Réseaux sociaux (Facebook – Instagram – Twitter).
Job Requirements
De formation Bac+3, vous venez de terminer vos études au sein d'une école de formation professionnelle ou une Université ou vous avez 02 ans d'expériences Maximum dans le secrétariat Général.


Une première expérience en tant que « Assistante de direction » dans un cabinet, ou une entreprise de gestion financière ou tout autre entreprise avec une connaissance générale des besoins attendus serait appréciée.


Compétences recherchées :
- Maîtrise de l'outil informatique, notamment les logiciels de bureautique
- Sens de la communication
- Esprit de synthèse et d'analyse
- Sens de l'organisation et rigueur
- Autonomie tout en sachant rendre compte de son travail
- Discrétion, tact, diplomatie
- Bonne expression écrite et orale
- Bonne présentation physique
- Être bilingue est un atout
Applicant profile
» Experience Level: Medium
» Years of work experience: Between 2 year and 3 years
» Minimum Education Level: Bachelor's Degree

Application Documents
» Lettre de Motivation
» Curriculum Vitae

NOTE: SCAMMERS ARE MORE AND MORE SMART! Never send money to a stranger during a recruitment process for any reason! And If ever you should, please do so at your OWN RISK!
Appy Instructions
Cliquer sur le bouton Postuler pour envoyer votre candidature en ligne
JOB APPLICATIONS NOT ACCEPTED ANYMORE!
Receive our offers instantly on: