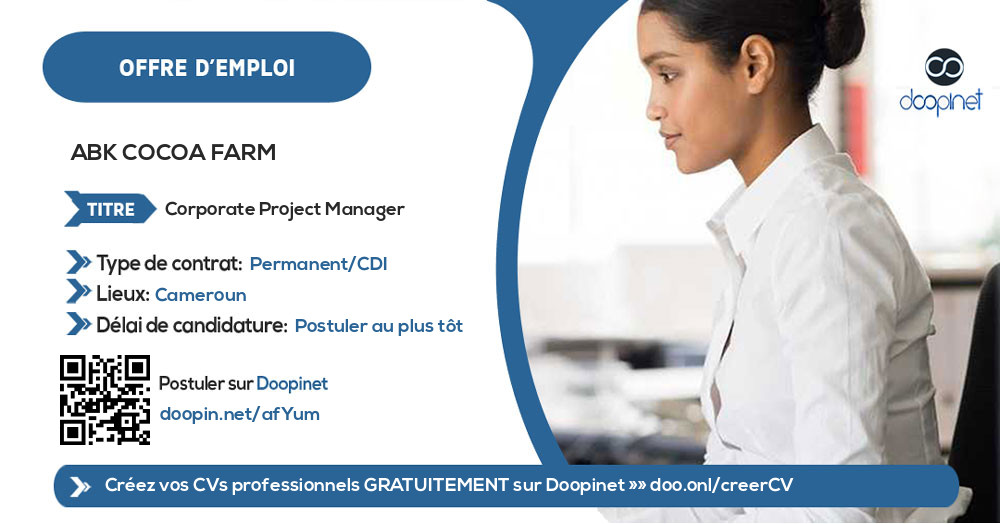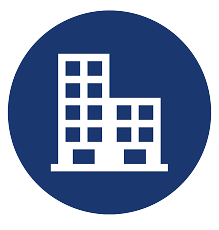 Corporate Project Manager – Douala - Cameroun
Douala - Cameroun, Littoral, Cameroon
·
Apply ASAP
·
Permanant
·
Project Management
·
Project Manager
Description
A propos du projet ABK Cocoa Farm:
ABK Cocoa Farm est une entreprise spécialisée dans la production agricole durable et équitable. ABK Cocoa Farm vise une réduction substantielle des intrants chimiques et privilégie les techniques de l'agro écologie et de l'agroforesterie permettant de préserver la biodiversité et les écosystèmes forestiers ; de protéger l'environnement. ABK Cocoa Farm met au cœur de sa stratégie d'entreprise, une politique sociale et environnementale ambitieuse visant : l'amélioration des conditions et du niveau de vie ses employés ; la mise en place des normes de la responsabilité sociale et environnementale ; l'adoption des normes de certification nationales et
internationales sur l'agriculture en général et la culture du cacao en particulier ; et le soutien aux communautés rurales ciblées comme bénéficiaires indirectes de la valeur ajoutée créée par le projet ABK Cocoa Farm.
Vous n'avez pas peur des défis, vous souhaitez vous engager dans la transformation structurelle de l'Afrique par l'agriculture ?
Rejoignez-nous !
NB: LES CANDIDATS PRESELECTIONNES SERONT SOUMIS A UN TEST DE COMPETENCES TECHNIQUES EN GESTION ET CYCLE DE PROJET
Missions / Responsibilities / Activities
1. Planification et développement de projet
Assurer le suivi et la mise en œuvre des projets
Mettre en place des process rigoureux de suivi-évaluation (Indicateurs de performance, tableaux de bord, matrix d'évaluation)
Définition et suivi de la mise en œuvre de la stratégie opérationnelle des projets
2. Développer et diriger les équipes opérationnelles
Scruter l'avancement du projet
Rassembler et de gérer l'équipe opérationnelle pour créer une machine à projet bien huilée.
3. Établissez une date limite et surveillez l'avancement du projet
Elaboration des retroplannings des projets
Définir les livrables des projets de concert avec les responsables techniques et financier
Définir et suivre méticuleusement les deadlines et livrables des projets
4. Identifier et résoudre les problèmes qui surviennent
Montrer des capacités d'adaptions et d'ajustement aux défis liés à la mise en œuvre des projets
Etablir une cartographie des risques opérationnels et proposer des moyens d'ajustement
6. Assurez la satisfaction des parties prenantes
Maintenir des canaux de contact ouverts avec les partenaires et les équipes opérationnelles pour les mises à jour et les critiques.
7. Évaluation des performances des projets et reporting
Assurer la collecte des données quantitatives et qualitatives sur les projets tout au long de la mise en œuvre afin de faciliter leur évaluation ;
Identifier les défauts et planifier la manière de résoudre des problèmes
Job Requirements
Une solide compréhension des analyses de rentabilisation et des processus de gestion des risques
Solides compétences en leadership
Compétences avérées en matière d'autogestion et de gestion d'équipe
Capacité à suivre et contrôler les budgets des projets
Capacité à prendre des décisions sous pression
Avoir de grandes compétences sociales et de communication
Titulaire d'une formation niveau Licence ou Master vous disposez de 3 ans minimum d'expérience professionnelle acquise cette dans la gestion de projets idéalement dans le secteur agricole, l'agro-industrie, ou dans la finance.
Vous avez un sens aigu des affaires et une expérience probante en start up ou dans l'agro-industrie, ;
Vous avez un goût prononcé pour les chiffres et l'analyse quantitative
Vous êtes enthousiaste, autonome et organisé(e). Vous êtes passionné(e) par le développement de l'Afrique
Ce poste offre une large autonomie pour relever des challenges majeurs comme celui du repositionnement de la filière cacao du Cameroun sur le marché international, la certification du cacao ou encore de l'adaptation au changement climatique. Les perspectives d'évolution en interne sont également multiples.
Applicant profile
» Experience Level: Medium
» Years of work experience: Between 3 years and 5 years
» Minimum Education Level: Bachelor's Degree

Application Documents
» Curriculum Vitae

NOTE: SCAMMERS ARE MORE AND MORE SMART! Never send money to a stranger during a recruitment process for any reason! And If ever you should, please do so at your OWN RISK!
Appy Instructions
Cliquer sur le bouton Postuler pour envoyer votre candidature en ligne


Receive our offers instantly on: