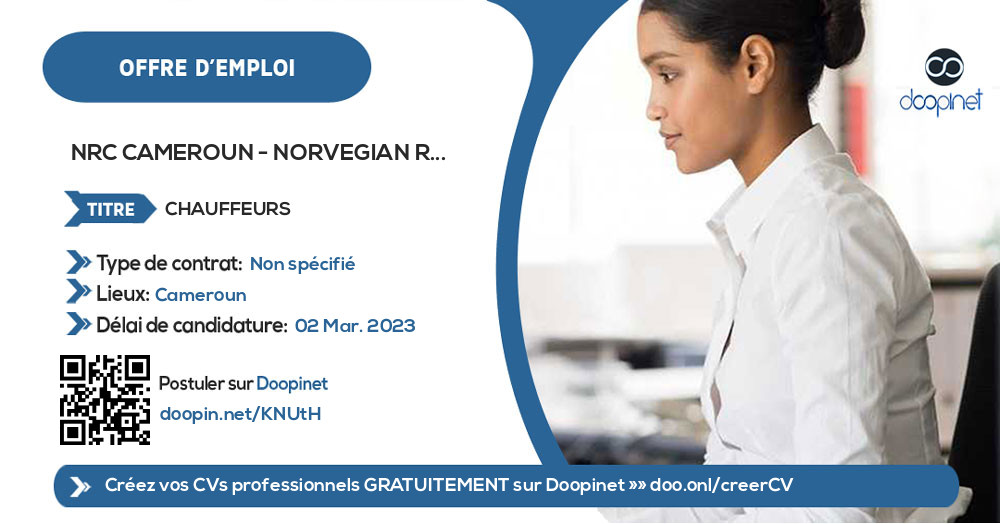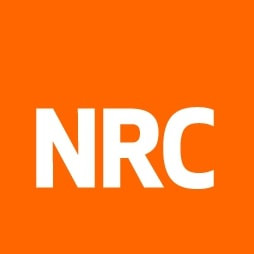 CHAUFFEURS – Yaoundé
Yaoundé, Centre, Cameroon
·
02 Mar. 2023
·
Unspecified
·
Transport - Logistic
·
Driver
Description
AVIS DE RECRUTEMENT DE CHAUFFEURS PRESTATAIRES DE SERVICE
Le Conseil Norvégien pour les refugies est une organisation internationale non-gouvernementale qui oeuvre depuis plus de 70 ans dans le domaine humanitaire. Sa mission est d'assurer la promotion et la protection des droits des personnes déplacées affectées par la crise humanitaire. NRC intervient au Cameroun depuis 2017, plus précisément dans les régions de l'Extrême-Nord du Cameroun, Nord-Ouest et à l'Est à travers la construction des abris et la réhabilitation des points d'eau, la promotion à l'Hygiène et Assainissement, L'éducation, la sécurité alimentaire et L'Information, Conseil et Assistance Légale.
Dans le but d'améliorer la réponse au besoin de mouvement de ses staffs et d'apporter un appui technique supplementaire aux chauffeurs du bureau NRC de Yaoundé, le département Logistique, souhaiterait procéder au recrutement de chauffeurs prestataires de service afin de mettre en place un vivier de chauffeurs prestataires d'appui qui seront utilisés selon le besoin.
Missions / Responsibilities / Activities
Conduire les véhicules NRC selon le règlement du code de la route en vigueur et veille à sa sécurité, à celle des passagers et aux tiers ;
Effectuer les déplacements, dans la région du centre et selon les activités planifiées de NRC ;
Remplir quotidiennement le carnet de bord du véhicule conformément aux directives émises à cet effet ;
S'assurer que les documents des véhicules sont disponibles à tout moment et en cours de validité ;
Vérifier quotidiennement les différents paramètres d'entretien du véhicule : niveau d'eau du radiateur, de l'huile moteur, du liquide d'embrayage et du frein, de l'électrolyte de la batterie, la pression des pneus, etc....
Signaler dans les délais prescrits la nécessité de la vidange des huiles, du graissage des organes de suspension et de direction et de l'entretien périodique du véhicule en conformité avec les normes du constructeur ;
Veiller à l'entretien quotidien du véhicule : lavage extérieur, dépoussiérage et nettoyage de l'intérieur ;
Effectuer toutes autres tâches relevant de sa fonction qui pourraient lui être confiées par le responsable Logistique et/ou l'assistant Logistique.
Job Requirements
Niveau scolaire moyen (savoir écrire et lire français, et anglais serait un atout)
Expériences professionnelles de 01 an minimum dans une ONG et 2 ans minimum dans un poste similaire.
Connaissance en mécanique automobile (moteur essence et/ou diésel)
Dynamique, organisée et ayant une personnalité affirmée (ponctuelle, honnête, intègre) ;
Maturité et bonne conduite ;
Disponible pour des horaires de travail flexible
permis de conduire datant de deux (02) ans au moins
Applicant profile
» Experience Level: Medium
» Years of work experience: Between 1 year and 2 years

Application Documents
» CV
» Photocopie de la CNI
» Photocopie du permis de conduire datant de deux (02) ans au moins
» copie de la carte de contribuable

NOTE: SCAMMERS ARE MORE AND MORE SMART! Never send money to a stranger during a recruitment process for any reason! And If ever you should, please do so at your OWN RISK!
Appy Instructions
01 CV
01 Photocopie de la CNI
01 Photocopie du permis de conduire datant de deux (02) ans au moins
01 copie de la carte de contribuable
Les Candidats intéressés peuvent déposer les dossiers au poste de garde du bureau NRC Yaoundé sis au Carrefour Golf, derrière Congress Hôtel
Date limite de réception des dossiers : 02/03/2023 à 17h délai de rigueur
« NRC fait la promotion de l'égalité de sexe. Les candidatures féminines sont fortement encouragées »
Receive our offers instantly on: