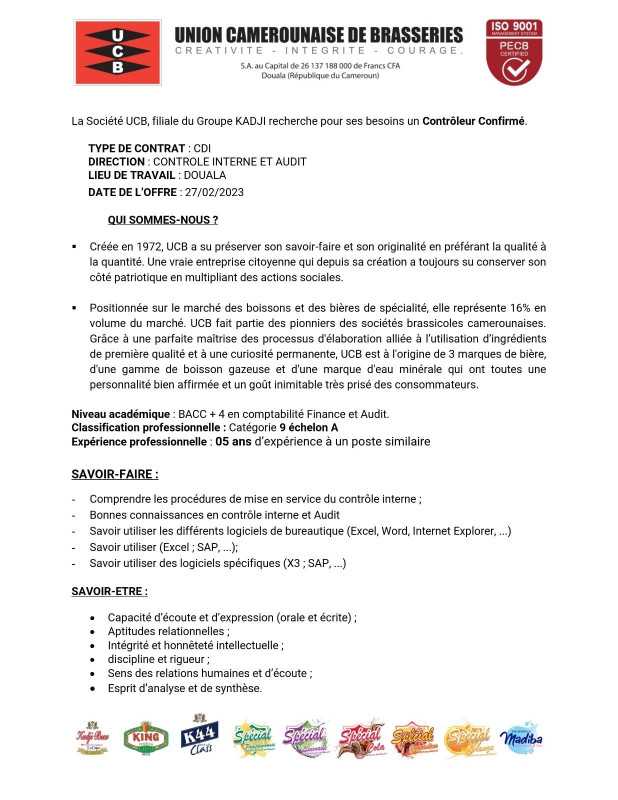 Contrôleur Confirmé – Douala
Douala, Littoral, Cameroon
·
05 Mar. 2023
·
Permanant
·
Accounting - Management
·
Accountant
Description
La Société UCB, filiale du Groupe KADJI recherche pour ses besoins un Contrôleur Confirmé
TYPE DE CONTRAT : CDI
DIRECTION : CONTROLE INTERNE ET AUDIT
LIEU DE TRAVAIL : DOUALA
DATE DE L'OFFRE: 27/02/2023
OUI SOMMES-NOUS?
Créée en 1972, UCB a su préserver son savoir-faire et son originalité en préférant la qualité à la quantité. Une vraie entreprise citoyenne qui depuis sa création a toujours su conserver son côté patriotique en multipliant des actions sociales. Positionnée sur le marché des boissons et des bières de spécialité, elle représente 16% en volume du marché. UCB fait partie des pionniers des sociétés brassicoles camerounaises Grâce à une parfait maîtrise des processus d'élaboration alliée à l'utilisation d'ingrédients de première qualité et à une curiosité permanente, UCB est à l'origine de 3 marques de bière, d'une gamme de boisson gazeuse et d'une marque d'eau minérale qui ont toutes une personnalité bien affirmée et un goût inimitable très prisé des consommateurs
Missions / Responsibilities / Activities
Reconstituer les emballages des sites de production et du magasin emballage de l'usine;

Suivre les soldes des clients en compte;

Valider l'état récapitulatif des cases et manquants transporters ;

Valider l'état des produits à date limite de consommation (DLC) proche.
TRAVAUX SPECIFIQUES:
Réaliser des tests de conformité et de permanence des procédures lors de l'évaluation du dispositif de contrôle interne;

Evaluer les risques liés aux différents processus de l'entreprise et proposer des solutions d'améliorations;

Effectuer un suivi rigoureux de la mise en œuvre des recommandations validées;

Assurer la revue des dossiers de travail pour les Contrôleurs Assistants ;

Apporter de conseils pragmatiques aux différentes directions opérationnelles de l'organisation dans le but de les assister dans la maîtrise de leurs opérations;

Examiner, évaluer et apprécier les dispositifs de contrôle interne en vue d'améliorer le fonctionnement global de l'organisation
Job Requirements
Niveau académique : BACC + 4 en comptabilité Finance et Audit.

Classification professionnelle: Catégorie 9 échelon A

Expérience professionnelle : 05 ans d'expérience à un poste similaire
SAVOIR-FAIRE:
Comprendre les procédures de mise en service du contrôle interne;

Bonnes connaissances en contrôle interne et Audit

Savor utiliser les différents logiciels de bureautique (Excel, Word, Internet Explorer, ...,

Savoir utiliser (Excel; SAP, ...);

Savoir utiliser des logiciels spécifiques (X3 ; SAP, ...)
SAVOIR-ETRE:
Capacité d'écoute et 'expression (orale et écrite) ;

Aptitudes relationnelles:

Intégrité et honnêteté intellectuelle;

discipline et rigueur;

Sens des relations humaines et d'écoute:

Esprit d'analyse et de synthèse
Applicant profile
» Experience Level: Senior
» Years of work experience: Between 5 years and 8 years
» Minimum Education Level: Master's Degree

Application Documents
» Lettre de motivation
» Curriculum Vitae

NOTE: SCAMMERS ARE MORE AND MORE SMART! Never send money to a stranger during a recruitment process for any reason! And If ever you should, please do so at your OWN RISK!
Receive our offers instantly on: