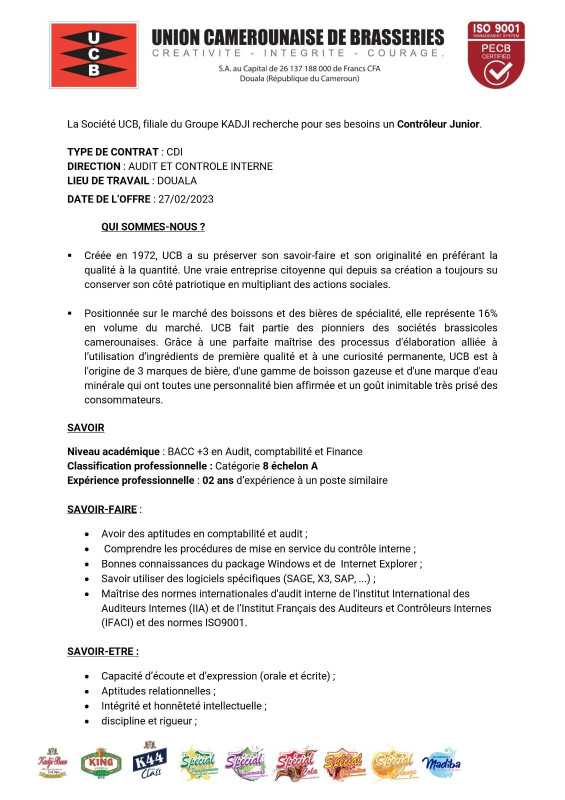 Contrôleur Junior – Douala
Douala, Littoral, Cameroon
·
05 Mar. 2023
·
Permanant
·
Accounting - Management
·
Management control
Description
La Société UCB, filiale du Groupe KADJI recherche pour ses besoins un Contrôleur Junior.
TYPE DE CONTRAT : CDI
DIRECTION : AUDIT ET CONTROLE INTERNE
LIEU DE TRAVAIL : DOUALA
DATE DE L'OFFRE: 27/02/2023
QUI SOMMES-NOUS?
Créée en 1972, UCB a su préserver son savoir-faire et son originalité en préférant la qualité à la quantité. Une vraie entreprise citoyenne qui depuis sa création a toujours su conserver son côté patriotique en multipliant des actions sociales. Positionnée sur le marché des boissons et des bières de spécialité, elle représente 16% en volume du marché. UCB fait partie des pionniers des sociétés brassicoles camerounaises. Grâce à une parfaite maîtrise des processus d'élaboration alliée à l'utilisation 'ingrédients de première qualité et à une curiosité permanent, UCB est à l'origine de 3 marques de bière, d'une gamme de boisson gazeuse et d'une marque d'eau minérale qui ont toutes une personnalité bien affirmée et un goût inimitable très prisé des consommateurs.
Missions / Responsibilities / Activities
MISSIONS:
Contribuer au respect de la politique managériale et des instructions contenues dans le manuel des procédures ;
ACTIVITES:
CONTROLES PERMANENTS :
Effectuer les inventaires physiques

Superviser les travaux de destruction des défectueux

Superviser les travaux de dépotage du carburant

Superviser les travaux de coulage des demies de la production

Participer aux travaux de destruction des capsules gagnantes et injections des lots spéciaux

Superviser les travaux de mélange des capsules gagnantes

Contrôler les opérations des centres

Procéder au contrôle des centres extérieurs ;

Vérification des commissions mini dépôts, top dépôts et vendeurs

Réconciliations des animations et des tickets de restaurant
CONTROLS INOPINES:
Effectuer les inventaires inopinés de stocks

Effectuer les contrôles caisses

Contrôler les facturations

Contrôler les crédits weekend et Christmas crédit

Contrôler 'existence - réalité des crédits octroyés

Vérifier le respect des plafonds de crédits

Procéder au dépouillement des retours produits et emballages des vendeurs

Procéder à la confirmation directe des soldes des clients à terme

Procéder à une fouille véhicule des chauffeurs venders et au contrôle des chargements de véhicules de lignes

Etablir des états récapitulatifs des écarts 'inventaires des sites

Produire les états des comptes des centres de distribution

Etablir un état récapitulatif des cases et manquants transporteurs

Produire un état des produits à date limite de consommation (DLC) proche

Contribuer à assurer 'efficacité des dispositifs existants de maîtrise des risques par un diagnostic permanent du contrôle interne.

Contribuer à l'évaluation de la qualité de 'organisation et de sa gestion
ACTIVITES SPECIFIQUES:
Contribuer à la réalisation des tests de conformité et de permanence des procédures lors de 'évaluation du dispositif de contrôle interne;

Contribuer à 'évaluation des risques liés aux différents processus de l'entreprise et

proposer des solutions d'améliorations;

Effectuer un suivi rigoureux de la mise en œuvre des recommandations validées;

Classer et archiver les documents de la Direction.
Job Requirements
Niveau académique : BACC +3 en Audit, comptabilité et Finance

Classification professionnelle : Catégorie 8 échelon A

Expérience professionnelle : 02 ans d'expérience à un poste similaire
SAVOIR-FAIRE:
Avoir des aptitudes en comptabilité et audit ;

Comprendre les procédures de mise en service du contrôle interne:

Bonnes connaissances du package Windows et de Internet Explorer ;

Savoir utiliser des logiciels spécifiques (SAGE, X3, SAP, ...) ;

Maîtrise des normes internationales d'audit interne de 'institut International des

Auditeurs Internes (IA) et de l'Institut Français des Auditeurs et Contrôleurs Internes (IFACI) et des normes IS09001.
SAVOIR-ETRE:
Capacité d'écoute et 'expression (orale et écrite) ;

Aptitudes relationnelles;

Intégrité et honnêteté intellectuelle;

discipline et rigueur;

Sens des relations humaines et d'écoute

Esprit d'analyse et de synthèse.
Applicant profile
» Experience Level: Medium
» Years of work experience: Between 2 year and 3 years
» Minimum Education Level: Bachelor's Degree

Application Documents
» Lettre de motivation
» Curriculum Vitae

NOTE: SCAMMERS ARE MORE AND MORE SMART! Never send money to a stranger during a recruitment process for any reason! And If ever you should, please do so at your OWN RISK!
Receive our offers instantly on: