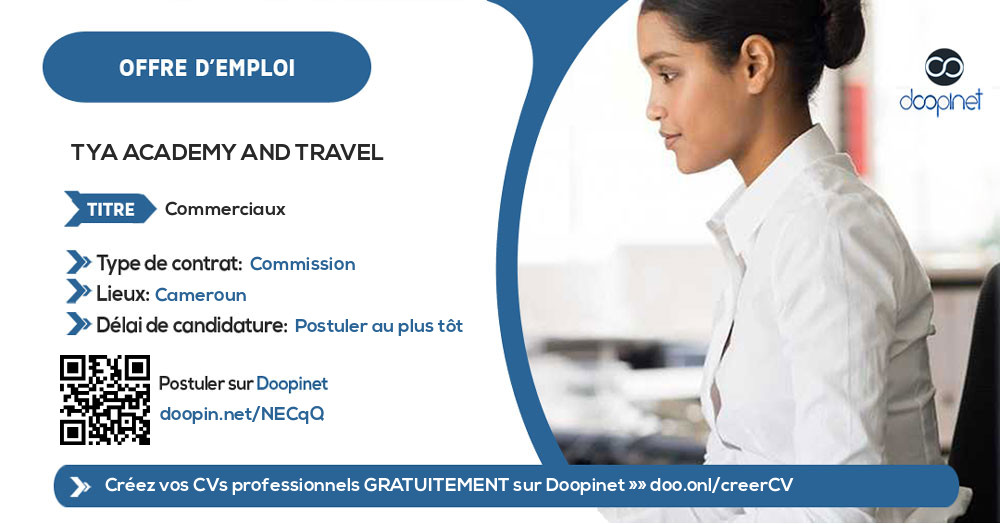 Commerciaux – Douala
Akwa, Douala, Littoral, Cameroon
·
Apply ASAP
·
Commission
·
Trade - Sale - Distribution
·
Sales Representative
Description
L'entreprise TYA Academy and Travel spécialisée dans les domaines de l'immigration, voyage, tourisme et formation professionnelle a besoin de 10 commerciaux pour le développement de son business local, son portefeuille clients et l'augmentation de son chiffre d'affaires.
Parmi ces 10 commerciaux qui seront retenus, 50% d'eux travailleront sur le développement des services de la première activité de l'entreprise qui est celle de l'immigration et tourisme. Et les autres 50% de ces commerciaux travailleront sur la promotion des offres de la seconde activité de la firme, celle des formations professionnelles.

Missions / Responsibilities / Activities
Ces 10 commerciaux qui seront retenus auront pour principale mission de générer et développer les ventes de TYA academy and travel, grâce à des méthodes de prospection et au développement de son portefeuille clients
.

Analyser et comprendre les problèmes ou les besoins des clients dans les domaines où opère l'entreprise et leur proposer une solution adaptée à une demande ou une problématique client qui tournera en la faveur de TYA academy and travel.
Développer nos activités auprès de prospects.
Job Requirements
Avoir au minimum un BAC+2 en commerce, marketing, gestion et vente.
Avoir poursuivi une formation en commerce, vente ou marketing.
Être créatif
Être prêt à faire du chiffre
Avoir la maîtrise de soi
Être un excellent communicateur
Être plus pratique que théorique
Avoir le mindset d'un entrepreneur
Applicant profile
» Minimum Education Level: Associate's Degree

Application Documents
» Curriculum Vitae

NOTE: SCAMMERS ARE MORE AND MORE SMART! Never send money to a stranger during a recruitment process for any reason! And If ever you should, please do so at your OWN RISK!
Appy Instructions
Cliquer sur le bouton Postuler pour envoyer votre candidature en ligne
Ou envoyez-nous vos documents de candidature à l'adresse email kemguelacoste19@gmail.com
Receive our offers instantly on: