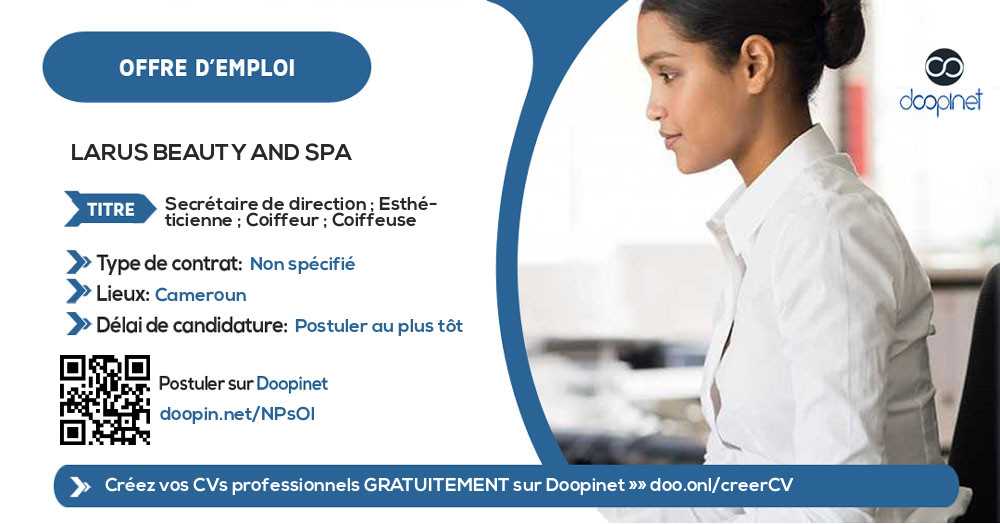 Secrétaire de direction ; Esthéticienne ; Coiffeur ; Coiffeuse – Douala
Douala, Littoral, Cameroon
·
Apply ASAP
·
Unspecified
·
Secretary - Assistant
·
Executive Assistant
Description
Offre d'emploi :Larus recherche
1 esthéticienne qualifié
1 coiffeur professionnel
1 coiffeuse professionnelle
1 secrétaire de direction
Application Documents
» Curriculum Vitae

NOTE: SCAMMERS ARE MORE AND MORE SMART! Never send money to a stranger during a recruitment process for any reason! And If ever you should, please do so at your OWN RISK!
Appy Instructions
ENVOYEZ VOTRE CV AU 656 36 87 90
kotto baden baden rue pave avant le carrefour marabout
NB:apprenti et amateurs svp abstenez vous.

Receive our offers instantly on: