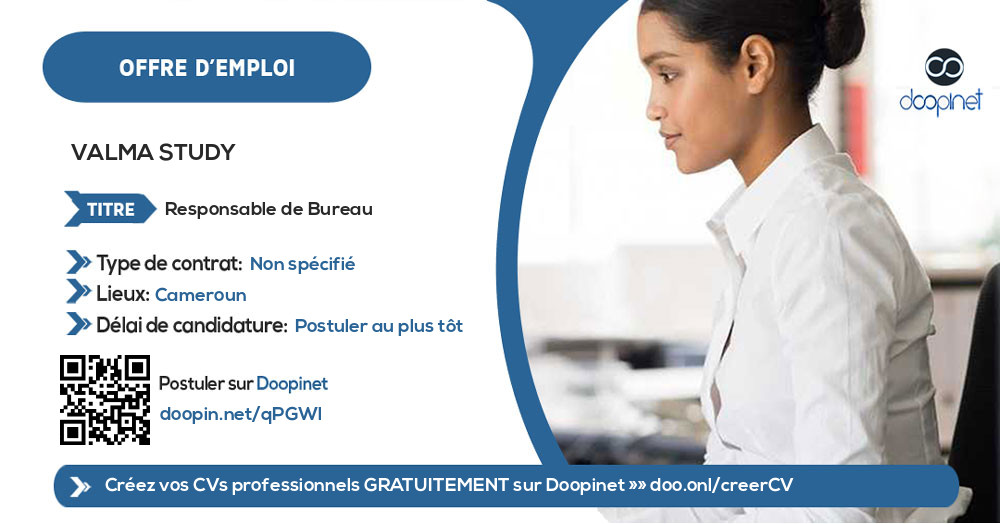 Responsable de Bureau – Douala
Douala, Littoral, Cameroon
·
Apply ASAP
·
Unspecified
·
Accounting - Management
·
Accountant
Description
VALMA STUDY est spécialisé dans l'accompagnement des étudiants d'Afrique francophone qui ont pour projet de poursuivre leurs études en France et propose pour cela une offre de services visant à faciliter l'obtention du VISA Etudiant.
Dans le cadre du développement de sa filiale au Cameroun, VALMA STUDY recrute son Futur Responsable de Bureau à Douala.

Missions / Responsibilities / Activities
Les principales missions du futur Responsable s'articuleront comme suit:
Développer le Chiffre d'affaires et contribuer à l'acquisition de nouveaux clients.

Garantir la qualité de nos prestations pour favoriser la recommandation.

Participer à la définition de la stratégie de développement de la filiale et mettre en oeuvre la politique commerciale

Représenter VALMA STUDY auprès des institutions et développer des partenariats locaux, un réseau de prescripteurs.

Manager et gérer l'équipe, s'assurer de la bonne exécution des process de vente et de production des services.

Superviser et participer à l'accueil des clients et visiteurs à l'agence.

Développer la notoriété et la visibilité de VALMA STUDY Cameroun sur les réseaux sociaux auprès de nos cibles.

Assurer une veille concurrentielle du marché.
Job Requirements
Doté d'un esprit entrepreneurial, vous aimez les challenges, êtes fiable et partagez les valeurs de simplicité, d'honnêteté, d'intégrité et d'excellence qui nous caractérisent.
Autonome, déterminé et organisé, vous êtes capable aussi de souplesse pour évoluer dans une petite structure et participer à sa croissance.
Après une première expérience confirmée de développement commercial ou de gestion de centre de profit, rejoindre VALMA STUDY, c'est aujourd'hui, l'opportunité de participer au développement d'une filiale et de se développer professionnellement au rythme de sa croissance.
Application Documents
» Lettre de motivation
» Curriculum Vitae

NOTE: SCAMMERS ARE MORE AND MORE SMART! Never send money to a stranger during a recruitment process for any reason! And If ever you should, please do so at your OWN RISK!
Receive our offers instantly on: