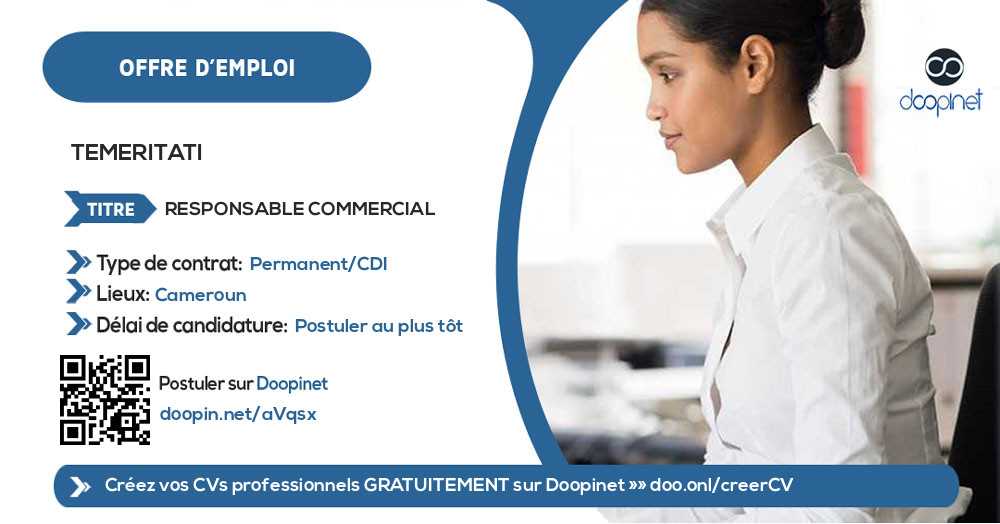 RESPONSABLE COMMERCIAL – Douala - Cameroun
Douala - Cameroun, Littoral, Cameroon
·
Apply ASAP
·
Permanant
·
Trade - Sale - Distribution
·
Sales manager
Description
Une entreprise disposant d'une cave, d'un restaurant et d'appartements meublés, basée à Douala, recherche pour ses trois cœurs de métiers un Responsable Commercial
Missions / Responsibilities / Activities
Le Responsable Commercial est chargé de :
Accueillir les clients, identifier leurs besoins et attentes, les conseiller et guider leurs choix, en tenant compte de leurs goûts et de leur budget ;
Mettre en valeur les meilleurs produits ou les nouveaux crus qu'il a découverts, et les faire découvrir aux clients ;
prospecter et négocier avec pour principal objectif de développer les ventes ;
créer des outils d'aide à la vente ainsi que des fiches clients ;
définir un plan de prospection ;
Collecter des informations commerciales (objectifs de communication du client, cible, messages...) ;
Assurer le suivi de la clientèle ;
Réaliser les actions permettant une meilleure connaissance du marché et la veille stratégique ;
Faire de la prospection téléphonique ;
Gérer les prises de rendez-vous ;
Elaborer, mettre en place et piloter la stratégie commerciale et publicitaire ;
Mettre en place des indicateurs de performance et suivre l'évolution du chiffre d'affaires ;
Commenter et rendre compte des résultats par différents moyens (réunions, documents de reporting...).
Job Requirements
Compétences techniques
Maîtrise du Marketing Stratégique et de la force de vente ;
Maîtrise du CRM et du développement du portefeuille.
Excellente aisance communicationnelle
Bonne expérience comme blogueur
Gestion des équipes (de vente et de blogging)
Aptitudes professionnelles
être capable de gérer plusieurs projets à la fois
une connaissance des entreprises camerounaises est nécessaire
bon relationnel
avoir confiance en soi, être sûr de soi et de son activité
comprendre les contraintes des clients
être organisé et patient
haute faculté d'adaptation
tenace et acharné
très bonne présentation
bonne expression
réactif et proactif
autonome et persuasif
bonne gestion du stress
Diplômes requis
MASTER (en Marketing ou Action Commerciale) ou tout autre diplôme équivalent
Durée d'expérience : Une expérience de 2 ans minimum dans le Marketing, la vente et la communication des produits de luxe est demandée.
Application Documents
» Curriculum Vitae

NOTE: SCAMMERS ARE MORE AND MORE SMART! Never send money to a stranger during a recruitment process for any reason! And If ever you should, please do so at your OWN RISK!
Receive our offers instantly on: