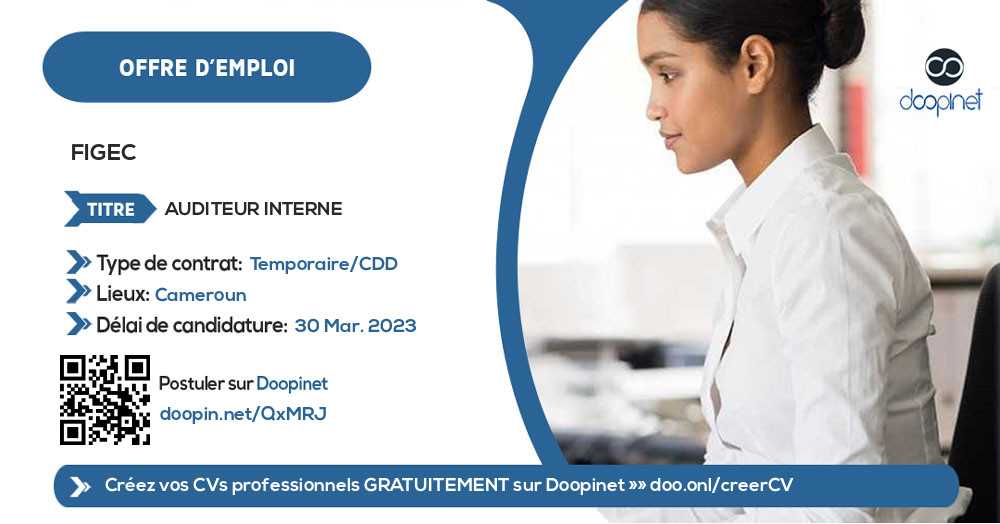 AUDITEUR INTERNE – Douala
Douala, Littoral, Cameroon
·
30 Mar. 2023
·
Temporary
·
Accounting - Management
·
Internal Auditor
Description
OFFRE D'EMPLOI: AUDITEUR INTERNE


Missions / Responsibilities / Activities
Affecté au Département Audit, le candidat aura pour principales missions de :
Préparer les missions de contrôles sous la supervision du Conseil d'Administration
Effectuer les missions de contrôle au sein des différentes agences et départements de la société conformément aux normes IIA ;
Contribuer à la mise en œuvre des mesures nécessaires pour une parfaite maitrise des risques ;
S'assurer de l'effectivité et de la régularité des contrôles de niveau 1 ;
Evaluer la pertinence des contrôles de niveau 1 et la qualité de leur exécution ainsi que du suivi des anomalies identifiées ;
Vérifier le degré de mise en œuvre des politiques et procédures utilisées dans la société ;
Evaluer la pertinence des procédures et proposer les modifications jugées nécessaires ;
Donner un avis sur l'efficacité des contrôles de niveau 1 des agences ;
Suivre l'analyse et la régularisation des suspens comptables ;
Réaliser les contrôles inopinés selon le besoin ;
Remonter des alertes à la hiérarchie sur les ressources de généralisation des suspens ainsi que sur la non régularisations des suspens ;
Participer à l'élaboration et la mise à jour régulière de la cartographie des risques de FIGEC SA ;
Evaluer les risques à tous les niveaux : financier, informatique, opérationnel, exploitation, étc… ;
Collecter les incidents liés aux risques de non-conformité ;
Analyser les risques majeurs de l'institution ;
Proposer des plans d'action à mettre en place pour mitiger les risques de non-conformité identifiés ;
Suivre la qualité et l'efficacité du dispositif de contrôle interne et l'optimiser ;
Réaliser la une cartographie des risques de non-conformité afin d'identifier les dispositifs de maitrise des risques et vérifier la qualité et le niveau de sécurité du système d'information.
Produire des comptes rendus de contrôle des activités ;
Etablir les tableaux de bord de l'activité de contrôle périodiques (hebdomadaires, mensuels, trimestriels, annuels) ;
Rédiger les rapports de missions avec émissions de recommandations pour l'amélioration des processus et du dispositif de contrôle de la société;
Présenter les résultats des missions au management de l'entreprise ;
Contribuer à la rédaction des reportings trimestriels et autres supports présentés au Conseil d'Administration;
Réaliser des missions de suivi des recommandations du Département (sur les missions réalisées dans le passé) ; c'est à dire : « Suivre de façon régulière la mise en œuvre par les différentes entités des recommandations émises par l'équipe d'audit interne, les commissaires aux comptes ou tout organe de régulation
Participer à la rédaction des procédures internes;
Classer et archiver l'ensemble des documents collectés et édités au cours de chaque mission.
Effectuer toutes les autres tâches liées à ce poste.
NB : ce profil de poste reste indicatif et les activités qui le composent sont susceptibles de varier en fonction des nécessités de service.
Job Requirements
Profil requis :
Avoir le sens de la discrétion, de la directivité ;
Etre intègre et professionnel ;
Avoir une bonne capacité d'écoute, d'analyse et de synthèse;
Parfaite maitrise du Français et/ou de l'anglais : être parfaitement bilingue ou multilingue est un atout ;
Maîtrise de l'outil informatique.
Niveau d'études : Bac+4 en Audit et contrôle de gestion/ Economie/ Science de gestion;
Expérience : Deux (02) ans d'expérience minimum dans le contrôle ou une expérience en cabinet serait un atout
Applicant profile
» Experience Level: Medium
» Years of work experience: Between 2 year and 3 years
» Minimum Education Level: Master's Degree

Application Documents
» Lettre de motivation
» Extrait de casier judiciaire
» Curriculum Vitae

NOTE: SCAMMERS ARE MORE AND MORE SMART! Never send money to a stranger during a recruitment process for any reason! And If ever you should, please do so at your OWN RISK!
Receive our offers instantly on: