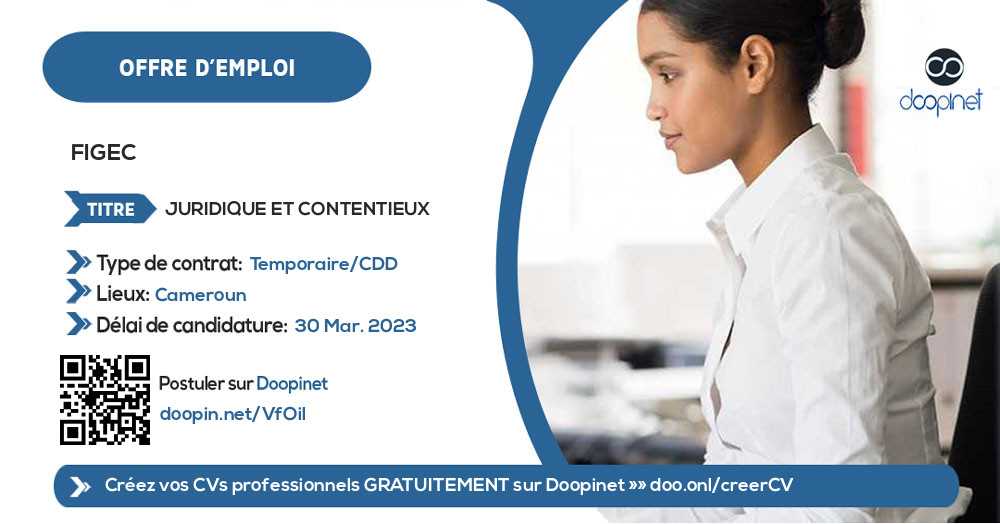 JURIDIQUE ET CONTENTIEUX – Douala - Cameroun
Douala - Cameroun, Littoral, Cameroon
·
30 Mar. 2023
·
Temporary
·
Law - Justice
·
Company lawyer
Description
JURIDIQUE ET CONTENTIEUX
Missions / Responsibilities / Activities
Veiller aux intérêts de l'institution et de prévenir les risques juridiques auxquels elle peut être exposée dans le respect des normes légales et réglementaires en vigueur et le respect de la politique de la Direction Générale
Elaborer et mettre en œuvre la politique juridique de FIGEC SA ;
Mettre en œuvre un dispositif de pilotage et de suivi des affaires juridiques ;
Identifier l'intégralité des risques juridiques auxquels est exposée la banque et les hiérarchies ;
Valider les procédures d'analyse, de mesure et de suivi des risques juridiques ;
Veiller à la couverture juridique de l'établissement dans toutes ses activités ;
Réaliser la veille juridique et réglementaire et informer régulièrement la hiérarchie de l'ampleur des risques identifiés ;
Maintenir un système de suivi permanent du respect des lois en vigueur (le devoir d'information, le devoir de mise en garde ou le devoir de conseil, …) ;
Conseiller la Direction et les opérationnels sur les problématiques d'ordre juridique ou réglementaire ;
Maitriser le système OHADA ;
Assurer la vérification de l'identité juridique (clients, entreprises, prestataires ou fournisseurs) au moment de l'entrée en relation avec FIGEC SA ;
Superviser la rédaction et la revue des conventions clients (convention de compte, convention de crédit …) ;
Superviser l'évaluation et la revue des garanties prises pour le crédit ;
Rédiger et suivre les différents contrats de l'entreprise (authentiques, sous seing privé)
Former les opérationnels en relation avec la clientèle à apporter des réponses à caractère juridique ;
Suivre le fichier de la clientèle en retard de paiement et en impayé des agences
Superviser et suivre régulièrement l'activité de recouvrement des attachés commerciaux ;
Recevoir et analyser les comptes rendu périodique de l'activité de recouvrement des agences, (tous les quinze jours) ;
Veiller aux relances des clients en retard de paiement, par les attachés commerciaux et préparer les lettres de relance pour ces clients ;
Proposer pour certains dossiers de recouvrement, des solutions à l'amiable ;
Assurer le recouvrement juridique des créances ;
Elaborer des arguments juridiques (conclusions) ;
Mettre en place des mesures conservatoires : hypothèques et nantissements judiciaires, saisies conservatoires, etc. ;
Procéder à la récupération des sommes impayées des clients ;
Suivre l'atteinte des objectifs de recouvrement déterminés par la direction générale ;
Répondre à toute sollicitation des agences sur les dossiers de crédits en recouvrement transférés au contentieux ;
Réaliser la gestion et le suivi du précontentieux et du contentieux ;
Gérer et instruire les procédures juridiques liées au contentieux (contentieux social, poursuites pénales, etc.)
Superviser la gestion des relations de la FIGEC SA avec le monde juridique (avocats, notaires, huissiers, etc.) ;
Conseiller l'entreprise en matière de procédures collectives
Décider au besoin de se pouvoir en appel ;
Veiller au règlement des décisions de justice
Mettre en place les outils de suivi des activités du service juridique et contentieux (système de reporting, tableau de bord, …) ;
NB : ce profil de poste reste indicatif et les activités qui le composent sont susceptibles de varier en fonction des nécessités de service.
Job Requirements
Profil requis :
Avoir une expérience professionnelle dans le domaine de recouvrement et du contentieux d'au moins 02 ans
Maîtriser les procédures de recouvrement (amiable, contentieuse)
Avoir une bonne maîtrise des procédures de recouvrement applicables au sein des établissements de microfinance
Une expérience en cabinet ou au sein d'un établissement de microfinance de taille moyenne serait un plus.
·
Niveau d'études
: Au moins Maîtrise en droit privé
Avoir le sens de la discrétion,
Etre intègre et professionnel ;
Avoir une bonne capacité d'écoute, d'analyse et de synthèse;
Autonomie et sens de la Responsabilité
Sens de coordination d'une équipe et des actions
Maîtrise de l'outil informatique.
Expérience :
Deux (02) ans d'expérience minimum à un poste similaire serait un atout
Applicant profile
» Experience Level: Medium
» Years of work experience: Between 2 year and 3 years
» Minimum Education Level: Master's Degree

Application Documents
» Lettre de motivation
» Diplôme
» Extrait de casier judiciaire
» Curriculum Vitae

NOTE: SCAMMERS ARE MORE AND MORE SMART! Never send money to a stranger during a recruitment process for any reason! And If ever you should, please do so at your OWN RISK!
Receive our offers instantly on: