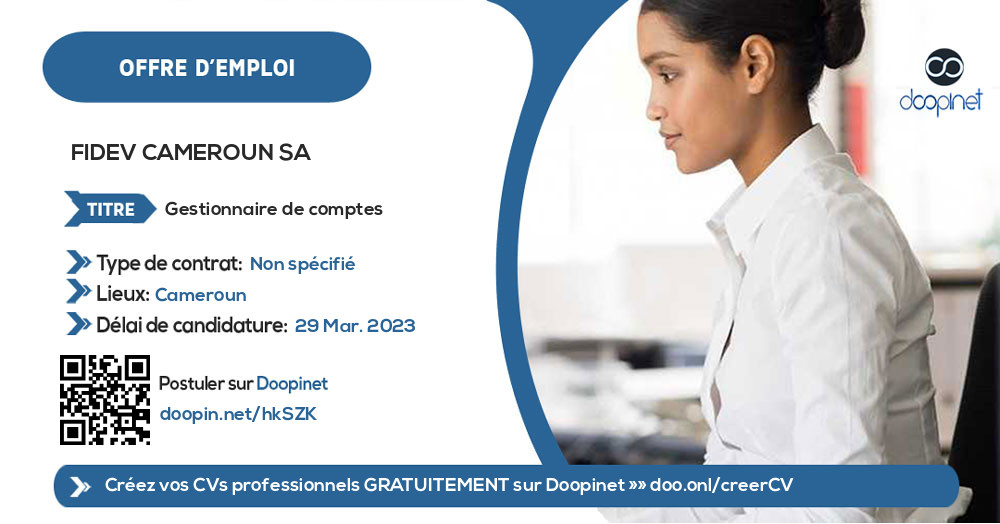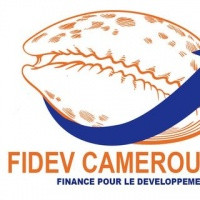 Gestionnaire de comptes – Yaoundé
Yaoundé, Centre, Cameroon
·
29 Mar. 2023
·
Unspecified
·
Accounting - Management
·
Account Manager
Description
Société Anonyme avec Conseil d'Administration, au capital de 500 000 000 F CFA, FINANCE POUR LE DEVELOPPEMEMNT CAMEROUN S.A. (FIDEV S.A.) est un Etablissement de Micro Finance de 2ème catégorie, dont le siège se trouve à Yaoundé.
CONTEXTE
Nous sommes donc à la recherche d'un(e) Gestionnaire de comptes pour accompagne l'Agence
dans notre stratégie de pénétration du marché.

Intitulé du poste :Gestionnaire de comptes ; Rattachement hiérarchique : Chef d'Agence ;
Localisation du poste : Yaoundé ; Date de prise de fonction : 10/04/2023 ;
Nombre de postes : 01 ;Date limite de dépôt des candidatures : 29/03/2023 à 17 h 00
Missions / Responsibilities / Activities
Sous l'autorité du Chef d'Agence :
Il est responsable de la mission commerciale de l'agence. Plus précisément, il est chargé de la croissance en nombre et en qualité du portefeuille de l'Agence.
II- Responsabilités
Mener des projets et proposer des actions de marketing, la vente, et participer à la communication pour assurer la satisfaction des clients avec des perspectives de développement économique pour l'entreprise ;
Procéder aux ouvertures de comptes ;
S'assure que les frais d'ouverture de comptes ont été effectivement prélevés au client ;
Effectuer des mises à jour des carnets d'épargnes ;
Traiter les fiches d'avance sur salaire ;
Mettre à jour les dossiers des clients ;
Suivre les portefeuilles des clients (prospection ; suivi et fidélisation)
Établir et signer les fiches d'ouverture et de clôture de compte ;
Veiller à la sécurisation des opérations d'ouverture de compte ;
Archiver les dossiers des clients ;
Étudier et analyser les demandes d'attestation en compte et autres demandes diverses de la clientèle ;
Gérer les préoccupations de son portefeuille (réclamations, plaintes, etc.) ;
Recevoir et analyser les dossiers de crédits ;
Montages des conventions d'accord de prêt et prise des garanties ;
Tenir et mettre à jour le registre des garanties déposées par les clients ;
Archiver et sécuriser les garanties déposées par les clients ;
Effectuer le suivi des remboursements et recouvrements de créances ;
Établir les lettres de relance des Clients ;
Prospecter chaque mois de nouveaux Clients (transferts et vente de devises, etc.) ;
Prospecter chaque mois et ouvrir de nouveaux comptes (salariés, chèque, courant entreprise, d'épargne) ;
Participer aux prospections groupées.
Exécuter toute les autres actions et tâches recommandées par la hiérarchie.
Job Requirements
Age / Genre : Non spécifié
Diplôme / Niveau d'étude :
Formation de Niveau BAC+3 Minimum en commerce/gestion ou sciences économiques
Bonne connaissance du Droit commercial
Minimum 3 ans d'expérience dans un poste similaire
Très bonne connaissance du secteur de la finance
Compétence et expériences
Maitrise des produits vendus dans les EMF ;
Bonne maîtrise de l'outil informatique ;
Sens de responsabilité et de l'organisation ;
Bonnes capacités rédactionnelles et de communication ;
Bonne maitrise des logiciels bureautiques et de gestion
Être bilingue (Anglais/Français)
Applicant profile
» Experience Level: Medium
» Years of work experience: Between 3 years and 5 years
» Minimum Education Level: Bachelor's Degree

Application Documents
» Lettre de motivation
» photo 4x4
» Diplômes
» attestations
» extrait du casier judiciaire
» description des mandats
» Curriculum Vitae

NOTE: SCAMMERS ARE MORE AND MORE SMART! Never send money to a stranger during a recruitment process for any reason! And If ever you should, please do so at your OWN RISK!
Receive our offers instantly on: