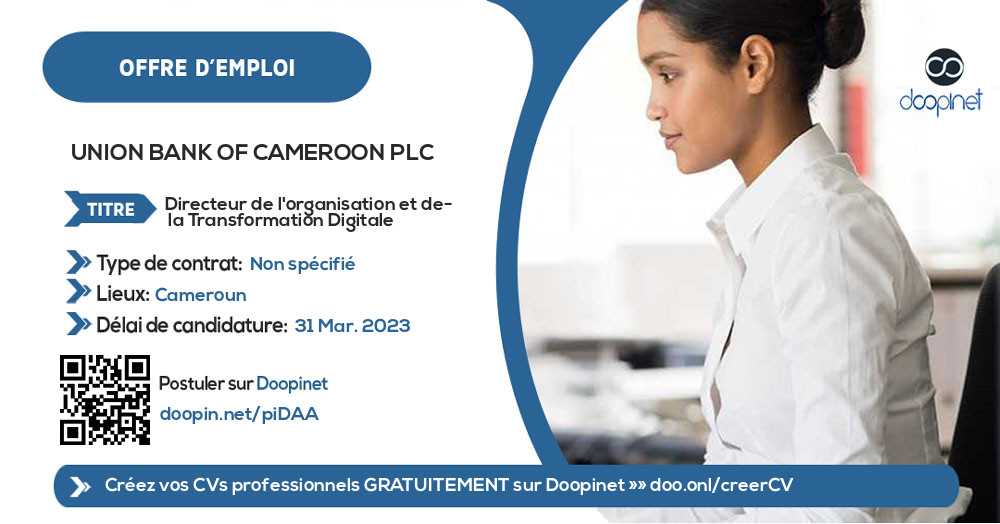 Directeur de l'organisation et de la Transformation Digitale – Douala
Douala, Littoral, Cameroon
·
31 Mar. 2023
·
Unspecified
·
Project Management
·
Project Manager
Description
Nous recrutons : DIRECTEUR DE L'ORGANISATION ET DE LA TRANSFORMATION DIGITALE
Le poste s'exerce dans un contexte structurant et ambitieux pour UBC qui a lancé depuis quelque années un projet de transformation profonde de l'ensemble de la banque.
Les enjeux sont très importants pour la banque : orientation stratégique et positionnement, transformation SI, satisfaction client et excellence opérationnelle.
C'est dans ce cadre, qu'intervient la mise en place de cette nouvelle fonction de Directeur de l'organisation et de la transformation digitale de Union Bank of Cameroon Plc, qui sera, notamment en charge, de l'ensemble de la cohérence de cette transformation en collaboration avec les directions métiers de la banque.
Ligne hiérarchique :Directeur Général
Nombre de Poste :1
Catégorie :TBD
Type de :Contrat Permanent
Lieu de Recrutement : Douala - Cameroun
Missions / Responsibilities / Activities
Mission(s) Principale(s): Directement rattaché à la Direction Générale de UBC, les responsabilités principales du Directeur de l'Organisation et de la transformation digitale, sont de conduire des missions :
d'organisation,
d'amélioration de la performance et des processus,
d'accompagnement des transformations (conduite du changement)
de coordination des projets et chantiers
d'accompagnement de la transformation digitale
Principales responsabilités
1. Pilotage et organisation de l'activité
Assurer la mise en œuvre de la stratégie de la banque au sein des services : décliner la politique de la banque, déterminer objectifs et plans d'action, développer les relations auprès des acteurs du domaine, des autres Départements et des clients ;
Identifier les enjeux métiers (Satisfaction client, PNB, Efficacité opérationnelles, Risques) ;
Elaborer une démarche de diagnostic ou d'étude adaptée au sujet(s) à traiter et aux enjeux (étapes, livrables, méthodes, outils, gouvernance);
Animer les ateliers ou entretiens avec les experts ou métiers pertinents;
Recueillir des éléments de benchmark (internes et externes au groupe) ;
Analyser et Identifier les dysfonctionnements et leurs causes ;
Proposer des leviers d'optimisation pertinents (au plan organisation, processus, conduite du changement, outils) ;
Construire des plans d'actions et en justifier la valeur ;
Analyser les indicateurs et les processus afin d'optimiser le fonctionnement de son département ;
Intégrer la dimension budgétaire et contractuelle (fournisseurs) dans le pilotage de son Département.
2. Animation et accompagnement des collaborateurs
Animer l'équipe : assurer la circulation des informations dans son périmètre et participer à la diffusion de la stratégie et des valeurs ;
Accompagner ses collaborateurs : mener les entretiens d'activité et d'évaluation, assurer le développement de leurs compétences et participer à la gestion de leurs carrières.
3. Coordination des projets et chantiers
Assurer le suivi des chantiers ;
Concevoir des solutions bancaires modernes et efficaces notamment sur les aspects organisation et processus ;
Définir, mettre en œuvre et suivre les indicateurs de performance des solutions à partager avec la Direction Générale pour information ou décision ;
Mettre en œuvre les propositions, coordonner les acteurs et suivre la réalisation ;
Animer ou participer aux structures décisionnelles et comités de projet ;
Organiser et mettre en œuvre le transfert de compétences vers les relais opérationnels ;
Construire / déployer / relayer les actions de conduite du changement (formation, communication, accompagnement).
4. Evolution du SI
Analyser les facteurs impactant le SI ;

Optimiser la cohérence des projets et l'évolution du SI, en valider l'architecture,
Être force de proposition dans le cycle d'amélioration continue;
Assurer une veille technologique ;
Représenter si besoin l'entreprise dans des réunions transverses.
5. Transformation Digitale
Stratégie : responsable de l'élaboration et mise en œuvre d'un plan d'actions global digital en relation avec le business, la DSI et la Direction Générale (ex : applications mobiles, gestion du réseau social interne et des réseaux externes, changement des solutions informatiques…);

Déploiement des projets digitaux en interne auprès des différents services et chefs de projets, et coordination des équipes ;
Mise en place de modèles précis de performance et d'un plan d'exécution sur mesure ;
Définition du budget et de sa répartition pour la bonne réalisation des objectifs ;
Réalisation d'une veille régulière : être attentif à toutes les opportunités et impacts qu'offre le numérique dans sa diversité ;
Stimulation de l'innovation
Job Requirements
Diplômé d'une école d'Ingénieur ou d'une école de commerce (idéalement spécialisé dans le digital) avec niveau minimum Bac + 5;

Une ou plusieurs qualifications/certifications en Gestion des Projets serai(ent) souhaitable(s).
Expérience professionnelle
Expérience d'au moins 5 ans en Management de projets et en Direction d'un Système d'information d'une banque ou dans un poste similaire ;
Compétences techniques, interpersonnelles/de leadership
Capacité à établir un diagnostic ;

Bonnes aptitudes dans l'élaboration du cadrage d'un projet, l'analyse et l'optimisation d'un processus , ainsi que le management de projets ;
Vous avez également une expérience significative du réseau de banque de détail (maîtrise des process et organisation, connaissance des métiers...) ;
Vous êtes à l'aise avec l'élaboration de supports de communication, animation de réunions et d'ateliers utilisateurs ;

Vous avez aussi avec votre expérience su développer une connaissance avancée de la culture des nouvelles technologies et une maturité digitale. Vous avez des qualités avérées de manager .
Applicant profile
» Experience Level: Senior
» Years of work experience: Between 5 years and 8 years
» Minimum Education Level: Engineer

Application Documents
» Lettre de motivation
» Photocopie CNI
» Liste des référents
» Curriculum Vitae

NOTE: SCAMMERS ARE MORE AND MORE SMART! Never send money to a stranger during a recruitment process for any reason! And If ever you should, please do so at your OWN RISK!
Receive our offers instantly on: