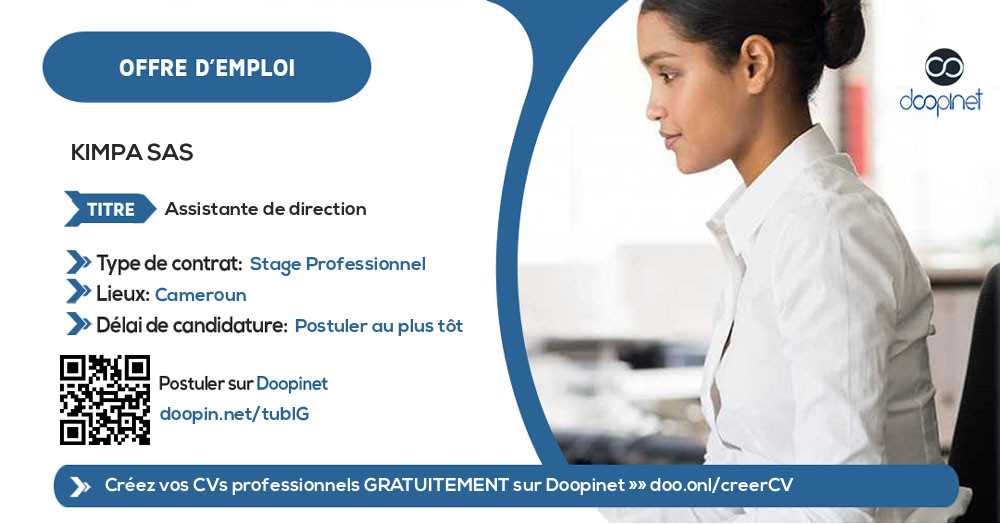 Assistante de direction – Douala
Douala, Littoral, Cameroon
·
Apply ASAP
·
Internship
·
Secretary - Assistant
·
Executive Assistant
Description
KIMPA telecom energyrecherche uneAssistante de direction bilingue et QS stagiaire.
L'Assistante de direction et QS (Quality and Safety) accompagne un dirigeant d'entreprise afin de faciliter et d'optimiser la gestion administrative et QS de son activité. En étroite collaboration, il/elle est la personne de confiance qui organise, gère, coordonne et assure le suivi de l'ensemble des activités visant à le seconder.
Missions / Responsibilities / Activities
Activités principalesOrganisation de l'agenda du dirigeant et accueil
Gérer l'agenda et l'emploi du temps quotidien du dirigeant (prise de RDV, courriers, e-mails, congés…).
Réceptionner et filtrer les appels téléphoniques.
Accueillir physiquement les rendez-vous.
Préparer et organiser la logistique des différents événements professionnels (réunions, déplacements, interventions orales, séminaires, salons professionnels, conférences téléphoniques…).
Préparer et contrôler les dossiers nécessaires à la mission du dirigeant (documentation, rapports, supports de communication, notes diverses pour les réunions…).
Assurer en amont la préparation et le suivi des dossiers.
Gestion et suivi et archivage des comptes rendus et documentation du dirigeant
Réceptionner et trier le courrier pour ne présenter à son dirigeant que les informations essentielles.
Assister aux réunions et en rédiger les comptes rendus.
Organiser le tri et l'archivage des documents importants (collecter, traiter, classer et mettre à jour l'information).
Gérer et actualiser la documentation professionnelle et réglementaire.
Rendre compte à travers des points réguliers de l'avancement de son travail, des rendez-vous prévus et des courriers à envoyer.
Rassembler et mettre en forme des éléments de suivi (tableaux de bord, indicateurs, reporting…).
Gérer les notes de frais.
Réaliser des commandes de matériel, de fournitures, de consommables et vérifier la conformité des livraisons.
Assurer le suivi des conditions d'exécution d'un contrat, être le support ponctuel à l'administration des ventes (commandes clients, factures clients, BL…).
Communication
Rédiger des supports de communication (notes, correspondances, reporting, rapports, comptes rendus…).
Structurer et assurer la transmission des informations en interne et en externe (documents provenant des différents services de l'entreprise ou de l'extérieur aux services concernés à partir des consignes de son dirigeant).
Participer à l'organisation de la logistique des recrutements et des formations.
Réaliser un suivi administratif du personnel.
Établir et gérer des budgets ou réaliser le traitement des dossiers comptables.
Assurer la gestion et le suivi complet de certains dossiers (négociations avec les fournisseurs, préparation d'un budget, relance clients…).
Suivre les procédures d'appels d'offres.
Répondre aux demandes d'informations des autres services et de l'extérieur
Quality and safety
Mettre en œuvre une démarche Q&S ou un système de management qualité et sécurité visant la maîtrise et la prévention des risques liés à la qualité de travail et à la sécurité des actifs.
Veiller à la conformité des procédures, à la législation, aux règles et contraintes internes et émet des préconisations et coordonne des plans d'action pour améliorer et sécuriser le cadre professionnel.
Formation en assistanat de direction/manager, gestion administrative et commerciale, gestion PME-PMI, QHSE, management
Job Requirements
Une expérience minimum d'un an en assistanat de direction ou commercial stagiaire.
Très bonne connaissance du domaine d'activité de l'entreprise est demandée.
parfaitement bilingue (français et anglais)
Compétences techniques
Maîtrise de la bureautique : pack Office (Outlook, PowerPoint, Excel, Word)
Maîtrise de l'utilisation d'outils collaboratifs et de communication (Internet, messagerie, planning partagé, web conférence, réseau social d'entreprise…)
Connaissances en gestion administrative
Connaissance des normes rédactionnelles
Connaissance des techniques de prise de notes (éventuellement sténographie)
Maîtrise des méthodes de classement et d'archivage et des techniques de numérisation
Connaissance des techniques et outils de veille informationnelle et réglementaire
Maîtrise de l'organisation d'événements
Connaissances en droit du travail et législation sociale
Connaissances en gestion administrative du personnel et en gestion budgétaire
Maîtrise de la construction d'outils de reporting et de tableaux de bord
Connaissance d'un ERP
Aptitudes professionnelles
Honnêteté
Loyauté
Dynamisme
Esprit d'initiative
Discrétion
Organisation et rigueur
Polyvalence
Réactivité et autonomie
Esprit de synthèse et d'analyse
Aisance relationnelle
Esprit d'équipe
Capacités rédactionnelles
Sens de l'écoute et de la communication
Disponibilité
Résistance au stress
Capacité à prioriser
Capacité d'adaptation
Travail en mode projet
Applicant profile
» Experience Level: Medium
» Years of work experience: Between 1 year and 2 years

Application Documents
» Lettre de motivation
» Curriculum Vitae

NOTE: SCAMMERS ARE MORE AND MORE SMART! Never send money to a stranger during a recruitment process for any reason! And If ever you should, please do so at your OWN RISK!
Receive our offers instantly on: