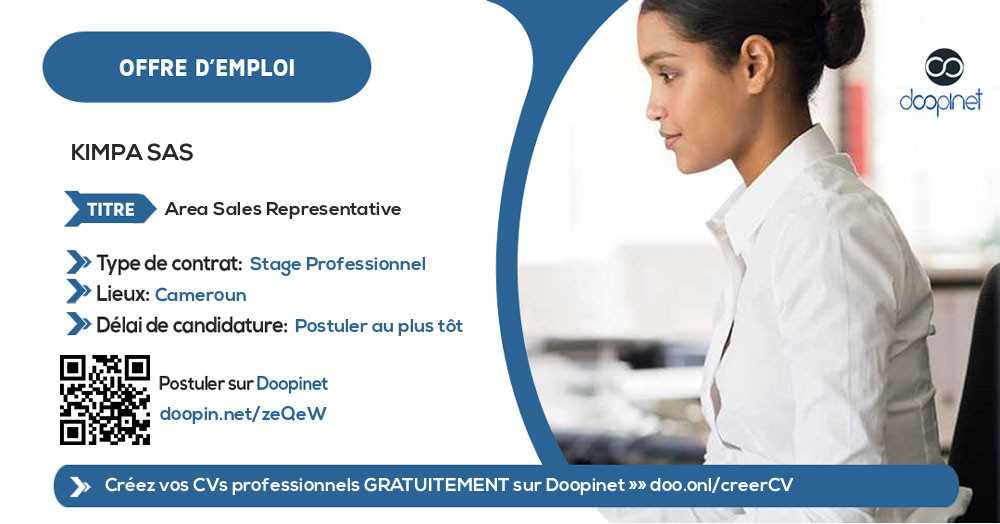 Area Sales Representative – Douala
Douala, Littoral, Cameroon
·
Apply ASAP
·
Internship
·
Trade - Sale - Distribution
·
Sales Representative
Description
Kimparecherche pour besoins de ses services 01 Area Sales Representative
Missions / Responsibilities / Activities
L'Area sales representative est chargé de générer des ventes, de superviser les opérations de vente dans une région géographique particulière. En termes de gestion, il propose, suit et contrôle le budget des frais commerciaux de sa zone.
Il est en charge de l'application de la politique commerciale de l'entreprise au niveau de sa région avec des objectifs, de chiffre d'affaires, de marge, de gain de part de marché et de rentabilité.
Il encadre les commerciaux. A ce titre, il participe à leur recrutement, veille à leur formation, à leur intégration, à leurs besoins afin qu'ils puissent atteindre leurs objectifs.Il doit d'analyser le marché de sa zone, s'appuyer sur des études spécifiques afin d'avoir une vision claire de la concurrence et des tendances des ventes en fonction des zones. Les principaux objectifs de l'area sales representative sont d'ordres stratégiques (il doit analyser les tendances du marché) et commerciaux (développer le CA et gérer le budget alloué aux équipes).
Job Requirements
Une expérience d'au moins 1 an à un poste similaireSavoir Technique
Connaissance de son entreprise, de son fonctionnement interne (process, méthode de vente, outils…) et de son positionnement
Compréhension fine du produit ou service vendu et de ses avantages concurrentiels
Prospection Compétences, négociation,
la connaissance des produits, les techniques de présentation, relations avec les clients, la motivation pour les ventes.
Excellentes compétences en vente et de négociation
Excellente communication et les compétences des personnes »
Une bonne planification et des compétences organisationnelles
Compétences en langues étrangères sont de plus en plus utiles
Savoir conduire
Rythme, envie et persévérance dans la prospection commerciale. Dans le jargon commercial, les entreprises parlent de "tempérament de chasseur"
Force de conviction, assertivité et leadership pour inciter ses clients à signer le contrat
Sens de l'initiative, proactivité et autonomie
Sens de la négociation
Naturel gagnant, a la "niaque", esprit de conquête
Savoir-être
Aisance sociale et capacité à créer du lien avec ses clients
Écoute active et envie de comprendre pour trouver des solutions (problem solving)
Résistance au stress des objectifs et à la fatigue des déplacements
Persévérance et fiabilité
Excellentes capacités d'organisation et d'adaptation
Bon sens des affaires
capacité à motiver et à diriger une équipe
Esprit d'initiative
Enthousiasme
capacité à travailler calmement sous pression
confiance en soi
Applicant profile
» Experience Level: Medium
» Years of work experience: Between 1 year and 2 years
» Minimum Education Level: Bachelor's Degree

Application Documents
» Lettre de motivation
» Curriculum Vitae

NOTE: SCAMMERS ARE MORE AND MORE SMART! Never send money to a stranger during a recruitment process for any reason! And If ever you should, please do so at your OWN RISK!
Receive our offers instantly on: