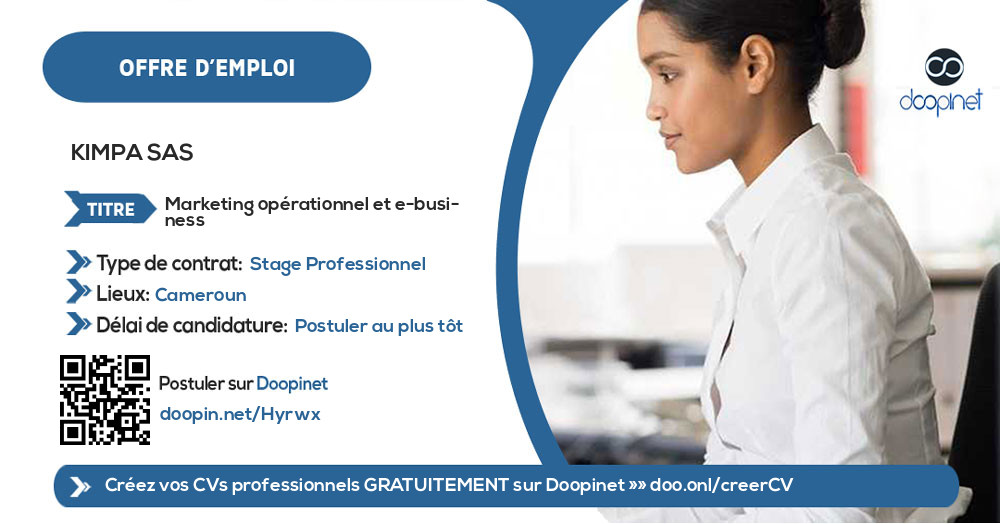 Marketing opérationnel et e-business – Douala
Douala, Littoral, Cameroon
·
Apply ASAP
·
Internship
·
Advertising - Marketing
·
Marketing researcher
Description
Kimparecherche pour les besoins de ses servicesUn(e) Marketing opérationnel et e-business[Stage Professionnel]
Missions / Responsibilities / Activities
Établir la stratégie du marketing mix (produit, prix, distribution, promotion) sur tous les canaux online et offline.
Augmenter le trafic sur les plateformes et les convertir à l'achat.
Très créatif pour élaborer et concevoir des contenus attractifs
Choisir les vecteurs de communication adaptés au lancement du produit (annonces publicitaires, plan media, plan digital, évènements promotionnels).
Construire le plan marketing opérationnel : gérer et déployer le planning promotionnel.
Définir le positionnement des offres sur le marché et sélectionner les segments cibles des offres commerciales.
Assurer l'adéquation des actions marketing avec les attentes des clients et prospects.
Veiller à la visibilité des produits et services de l'entreprise auprès des prospects.
Élaborer les outils et argumentaires commerciaux destinés à la force de vente.
Définir la forme et le contenu des supports d'aide à la vente (informations et publicités sur les lieux de vente, kit d'offres, plaquettes, fiches produit, catalogues etc.).
Planifier, préparer et coordonner la présence de l'entreprise sur des salons, gérer les relations presse.
Gérer l'optimisation et la maintenance des sites internet, extranet, portail…
Améliorer la visibilité des sites : acquisition de trafic et de référencement.
Piloter la création, la mise en place et le suivi de nouveaux supports digitaux dans un environnement multicanal.
Déployer un plan d'animation (contenus éditoriaux, opérations promotionnelles, jeux concours…) sur les différents supports digitaux (mobile, tablette, réseaux sociaux).
Créer de nouveaux espaces d'échange online : forums de discussion, blogs, animation de communautés sur les réseaux sociaux.
Piloter le développement, l'implantation et le suivi d'un outil de CRM marketing et commercial.
Concevoir des tableaux de bord d'activité
Suivre l'évolution des comportements de consommateurs sur le web.
Effectuer une veille concurrentielle sur le positionnement des concurrents et sur les outils utilisés.
Réaliser des études de marché pour proposer des plans d'action et d'évolution des produits.
Job Requirements
Expérience d'au moins 1an à un poste similaire
Formation en marketing, communication, marketing management, stratégies commerciales.
Parfaitement bilingue (français et anglais)
Compétences techniques
Bonne connaissance des techniques de marketing direct
Savoir élaborer un plan d'action marketing
Excellente utilisation du pack office (Word, Excel, PowerPoint)
Maîtrise des outils marketing 2.0: gestionnaire e-mailing; blogs; CRM, facebook business manager, google ads, linkedin ads, youtube ads, referencement web, tiktok
Des outils de montage : canva, photoshop, adobe illustrator
Connaissance et goût affirmé pour les outils et dispositifs digitaux et sociaux
Bonne maîtrise de la chaine graphique des supports de communication (de la création à la l'impression)
Connaître les différents médias, leurs spécificités et complémentarités
Savoir gérer la communication hors médias : sponsoring, promotion des ventes, relations presse, publications, foires et salons
Excellente expression écrite pour rédiger les argumentaires commerciaux
Être innovant, créatif pour imaginer des supports promotionnels originaux et attractifs pour les clients
Applicant profile
» Experience Level: Medium
» Years of work experience: Between 1 year and 2 years

Application Documents
» Lettre de motivation
» Curriculum Vitae

NOTE: SCAMMERS ARE MORE AND MORE SMART! Never send money to a stranger during a recruitment process for any reason! And If ever you should, please do so at your OWN RISK!
Receive our offers instantly on: