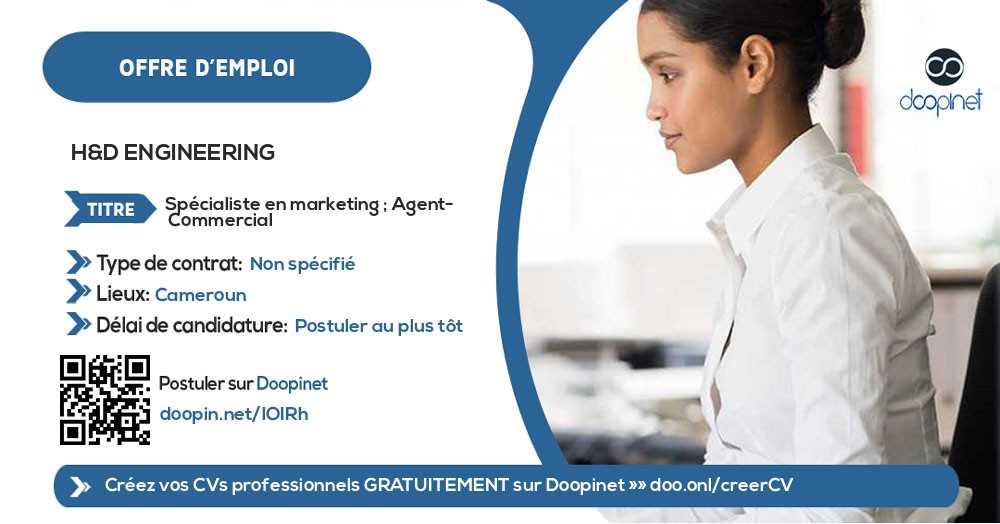 Spécialiste en marketing ; Agent Commercial – Douala
Douala, Littoral, Cameroon
·
Apply ASAP
·
Unspecified
·
Advertising - Marketing
·
Commercial and marketing director
Description
Appel à candidature aux poste de:
Spécialiste en marketing ;

Agent Commercial.
Objet de l'annonce
Dans le cadre de la stratégie de dymamisation de sa direction commercial et marketing, l'entreprise HD ENGINEERING, Spécialisée dans les prestations de service après des entreprises et des particuliers dans les domaines des énergies renouvelables (energie solaire), informatique, cameras de surveillance et contròle d'accès, BTP, forage etc..., recherche des spécialistes en marketing et des agents commerciaux motives.
Missions / Responsibilities / Activities
Contribuer à 'élaboration de la stratégie marketing de l'entreprise;
Participer à l'analyse du marché de l'entreprise
Assurer la promotion des produits de l'entreprise conformément aux objectifs commerciaux féries
Gèrer et fideliser la clientèle de l'entreprise
Assister le directeur dans le suivi et évaluation de l'action commerciale
Elaborer et mette en œuvre son programme 'activités et rédiger les rapports 'exécutions
Job Requirements
Avoir une expérience dans les domaines du marketing et de la vent des services

Avoir une excellent maitrise de la communication commerciale

Avoir une grande capacité analytique

Etre capable de travailler seul ou en équipe

Etre capable de planifier et d'organiser son travail de façon autonome

Etre capable de travailler sous pression

Avoir une maitrise parfait du français, connaitre l'anglais est un atout

Avoir une maitrise des logiciels courant d' informatique (Word, Excel, PowerPoint etc..)

Avoir une excellente maitrise des réseaux sociaux (gestion des pages de publication de l'entreprise)

Etre de bonne moralité
Diplôme requis
Avoir au moins un diplôme de BAC+2 en marketing, communication des entreprises, commerce economie
Applicant profile
» Minimum Education Level: Associate's Degree

Application Documents
» Lettre de motivation
» Curriculum Vitae

NOTE: SCAMMERS ARE MORE AND MORE SMART! Never send money to a stranger during a recruitment process for any reason! And If ever you should, please do so at your OWN RISK!
Receive our offers instantly on: