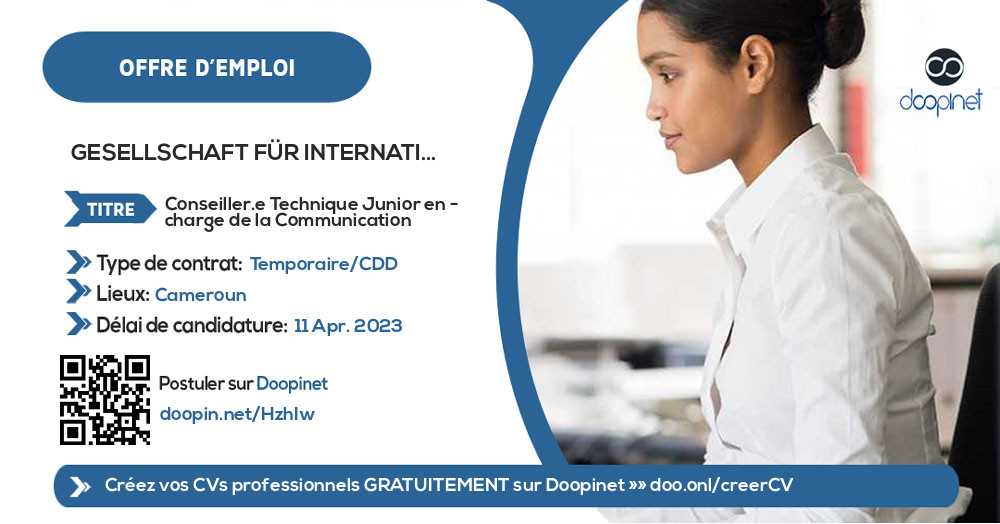 Conseiller.e Technique Junior en charge de la Communication – Yaoundé
Yaoundé, Centre, Cameroon
·
11 Apr. 2023
·
Temporary
·
Communication
·
Event Communication Officer
Description
Pour accompagner et suivre cette dynamique, le Projet d'Appui à la COMIFAC (GIZ/COMIFAC) rechercheun/e (01) Conseiller.e Technique Junior en charge de la Communicationpour son Bureau de coordination àYaoundé
.

Lieu d'affectation:Yaoundé
Date de prise de service souhaitée : 15 mai 2023
Durée du contrat: Deux (02) ans renouvelables
Délai de recevabilité des dossiers de candidature : 11 avril 2023
Classification interne: Bande 3T, sous la supervision du Directeur de Programme du GIZ/COMIFAC
Missions / Responsibilities / Activities
Maitriser et implémenter la stratégie de communication GIZ au sein du Programme
Contribuer à l'accroissement de la visibilité des activités du Programme
Contribuer à l'application des standards et directives régissant le travail de communication de la GIZ
Maitriser, développer et affiner la stratégie de communication interne et externe du Programme
Planifier les activités de communication
Assurer la communication institutionnelle du Programme
Assurer l'implémentation des standards pour la communication externe
Coordonner et, le cas échéant, assurer le contrôle qualité (contenu, forme, quantité) des outils de communication au regard du Corporate Design
Partager régulièrement des informations et coopérer étroitement avec le Responsable de la communication du bureau GIZ
Assurer les relations presse en collaboration avec les responsables communication des partenaires et du BRY
Cultiver les relations avec la presse et s'occuper de la couverture médiatique efficiente des évènements du Programme
Assurer la visibilité des programmes avec les médias locaux et fournir des informations aux visiteurs sur les questions techniques
Assurer la veille médiatique et mettre tes thèmes pertinents
Assurer la gestion de la conception / production des publications et du matériel des relations publiques
Apporter un appui à l'organisation d'événements de programme.
Job Requirements
Qualification et expérience professionnelle
BAC+3/4 ou Master en communication ou spécialité en rapport avec le journalisme ou l'ingénierie de l'information et de la communication.
Avoir une certification en MS Office ou une expérience équivalente
Avoir une bonne maîtrise des systèmes de réseau informatiques, des logiciels de gestion de bases de données et toutes les applications de MS Office
Avoir au moins 2 à 3 ans d'expérience professionnelle à un poste similaire
Expérience pratique dans le domaine du développement / coopération internationale
Autres connaissances/ compétences
Très bonne connaissance des institutions du système COMIFAC
Une bonne connaissance des thématiques liées à la gestion des ressources naturelles, l'environnement et la foresterie
Être familier avec les enjeux internationaux dans les domaines de la conservation des forêts, de la biodiversité et du climat, ainsi qu'avec les acteurs desdits domaines et du développement dans le Bassin du Congo
Avoir d'excellentes capacités rédactionnelles et conceptionnelles
Avoir d'excellentes capacités de gestion et d'organisation
Avoir d'excellentes capacités de communication
Acquisition des qualifications requises dans le domaine d'attribution
Très bonne connaissance pratique de l'utilisation des technologies de l'information et de la communication ainsi que des applications informatiques
Bonne connaissance du français et de l'anglais
Capacité à communiquer de manière adéquate avec des équipes interdisciplinaires/ multi-institutionnelles
Excellente capacité d'analyse
Applicant profile
» Experience Level: Medium
» Years of work experience: Between 2 year and 3 years
» Minimum Education Level: Bachelor's Degree

Application Documents
» Curriculum Vitae

NOTE: SCAMMERS ARE MORE AND MORE SMART! Never send money to a stranger during a recruitment process for any reason! And If ever you should, please do so at your OWN RISK!
Receive our offers instantly on: