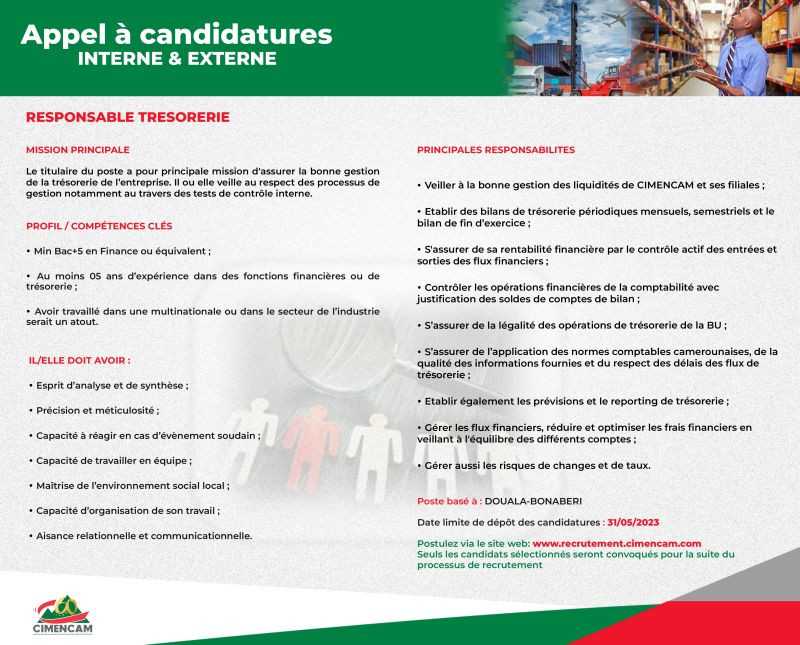 RESPONSABLE TRESORERIE – Douala
Douala, Littoral, Cameroon
·
31 May. 2023
·
Unspecified
·
Accounting - Management
·
Accountant
Description
CIMENCAM RECRUTE
Poste : 01 RESPONSABLE TRESORERIE
Missions / Responsibilities / Activities
MISSION PRINCIPALE
Le titulaire du poste a pour principale mission d'assurer la bonne gestion de la trésorerie de l'entreprise. Il ou elle veille au respect des processus de gestion notamment au travers des tests de contrôle interne.
PRINCIPALES RESPONSABILITES
Veiller à la bonne gestion des liquidités des CIMENCAM et ses filiales
Établir des bilans de trésoreries périodiques mensuelles, semestrielles et le bilan de fin d'exercice
S'assurer de sa rentabilité financière par le contrôle actif des entrées et sorties des flux financiers
Contrôler des opérations financières de la comptabilité avec justification des soldes de comptes de bilan
S'assurer de la légalité des opérations de trésorerie de la BU
S'assurer de l'application des normes comptables camerounaises, de la qualité des informations fournies et du respect des délais des flux de trésorerie
Établir également les prévisions et le reporting de trésorerie
Gérer les flux financiers, réduire et optimiser les frais financiers en veillant à l'équilibre des différents comptes
Gérer aussi des risques de changes et de taux
Job Requirements
Minimum Bac+5 en Finance ou équivalent
Au moins 05 ans d'expérience dans des fonctions financières ou de trésorerie
Avoir travaillé dans une multinationale ou dans le secteur de l'industrie serait un atout.
IL / ELLE DOIT AVOIR
Esprit d'analyse et de synthèse
Précis et méticuleux
Capacité à réagir en cas d'évènement soudain
Capacité de travailler en équipe
Maîtrise de l'environnement social local
Capacité d'organisation de son travail
Aisance relationnelle et communicationnelle
Langue
Très bonnes connaissances en Anglais et Français
Applicant profile
» Experience Level: Medium
» Years of work experience: Between 5 years and 8 years
» Minimum Education Level: Master's Degree

Application Documents
» Curriculum Vitae

NOTE: SCAMMERS ARE MORE AND MORE SMART! Never send money to a stranger during a recruitment process for any reason! And If ever you should, please do so at your OWN RISK!
Receive our offers instantly on: