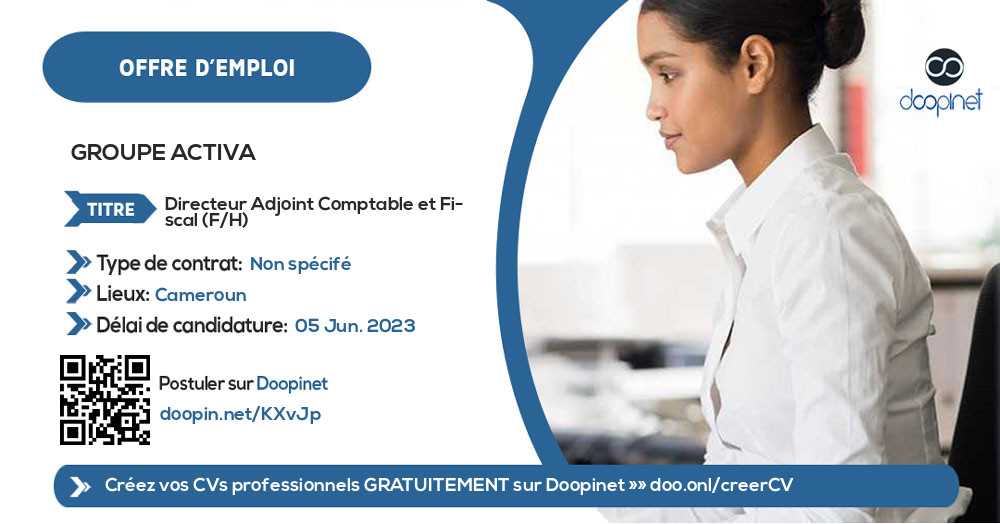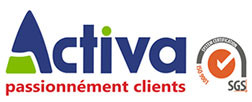 Directeur Adjoint Comptable et Fiscal (F/H) – Douala
Douala, Littoral, Cameroon
·
05 Jun. 2023
·
Unspecified
·
Accounting - Management
·
Accountant
Description
Job Alert !!
Le groupe Activa recherche Un(e) Directeur Adjoint Comptable et Fiscal (F/H).

TYPE DE CONTRAT : CDI
SECTEUR D'ACTIVITÉ : Assurances
LIEU DE TRAVAIL : Douala - Cameroun
DIRECTION COMPTABILITE ET FISCALITE GROUPE
Profil de l'entreprise :
Parmi les leaders en Afrique sub-saharienne sur le marché des assurances, avec 12 filiales présentes dans 9 pays et un
Réseau Globus ayant des membres dans 49 pays africains, le Groupe Activa a su se démarquer en proposant à ses clients
des offres innovantes et responsables depuis 25 ans.
Missions / Responsibilities / Activities
Vos principales Missions :
Garantir la qualité des informations comptables et fiscales.

Elaborer et proposer les stratégies d'optimisation comptable, prudentielle et fiscale du Groupe
1/ Participation à la production de comptes et de rapports financiers
Support aux filiales et aux équipes de la société mère pour la mise en équivalence selon les normes IFRS

Préparation des spécifications relatives aux normes IFRS

Production d'états financiers consolidés selon les normes IFRS

Préparation des notes aux états financiers consolidés

Relations avec les parties prenantes internes (départements financiers du groupe et des filiales, départements de contrôle du groupe et des filiales, directeurs généraux des filiales, comités d'audit, conseil d'administration) et externes (auditeurs externes, régulateurs, partenaires institutionnels).

Analyse des états financiers consolidés selon les normes IFRS
2/ Clôture des Comptes
Proposer un calendrier de clôture des comptes de la société mère qui tienne compte des différentes obligations légales et statutaires.
Fixer le cadre de clôture des comptes des filiales et le communiquer aux filiales afin qu'elles proposent leur calendrier de clôture. Le suivi devra également être assuré.
Mise en place de procédures liées aux normes internationales pour le processus de clôture des comptes
Valider le planning de clôture des comptes des filiales avec les différentes unités hiérarchiques et la Direction
Générale du Groupe.
3/ Reporting
Participer à la préparation des différents rapports des filiales ; puis s'assurer de leur cohérence ; faire des recommandations en vue d'une amélioration ultime de l'exploitation.

Collaborer avec les filiales pour que les rapports périodiques soient disponibles en temps voulu pour les organismes de réglementation et les partenaires du Groupe.

Participer au pilotage du processus de remontée de l'information comptable, contrôle et analyse ces informations dans le respect des normes internationales IFRS et assurer les bons traitements de consolidation associés.

Effectuer une analyse approfondie des états financiers et fournir des informations à valeur ajoutée à la direction des filiales.

Optimiser et améliorer la qualité de l'information financière et les processus.
4/ Formation des collaborateurs
Contribuer à la formation de tous les collaborateurs de la direction comptable et fiscalité du Groupe et des filiales sur les normes IFRS.
Job Requirements
Le Directeur comptable et fiscal Adjoint Groupe participe à l'établissement et la conformité des écritures comptables du Groupe. Il participe à l'élaboration et la production des documents comptables et fiscaux, des états financiers, contrôle la correcte application des procédures dans l'établissement des comptes, et ce, dans le strict respect de la législation de toutes les entités du Groupe.

Titulaire d'une formation supérieure en comptabilité (Bac+5) de type Master CCA, Masters en comptabilité, contrôle, DCG, DSCG ou École de commerce, vous disposez d'une expérience d'au moins 10 ans en consolidation de comptes, reporting financier idéalement produit aux normes IFRS.

Votre expérience vous a permis de développer une véritable expertise des techniques de consolidation.
Compétences techniques :
Maîtriser les techniques comptables, de l'analyse financière et de la consolidation ;

Maîtriser les normes comptables (OHADA, IFRS) ;

Esprit d'analyse et de synthèse ;

Autonome ;

Sens du relationnel poussé ;

Bonne organisation et sens des priorités ;

Pointilleux sur les détails ;

Force de propositions à forte valeur ajoutée ;

Esprit d'équipe ;

Aptitude à transmettre ;

Gestion de la confidentialité ;

Gestion du stress et contrôle des émotions ;

Qualité du service et respect des délais.
Autres :
Bilingue (Français et anglais) ;

Bonne maîtrise des logiciels de bureautique : pack Office et G-suite
Applicant profile
» Experience Level: Director
» Years of work experience: Between 8 years and 11 years
» Minimum Education Level: Master's Degree

Application Documents
» Curriculum Vitae

NOTE: SCAMMERS ARE MORE AND MORE SMART! Never send money to a stranger during a recruitment process for any reason! And If ever you should, please do so at your OWN RISK!
Receive our offers instantly on: