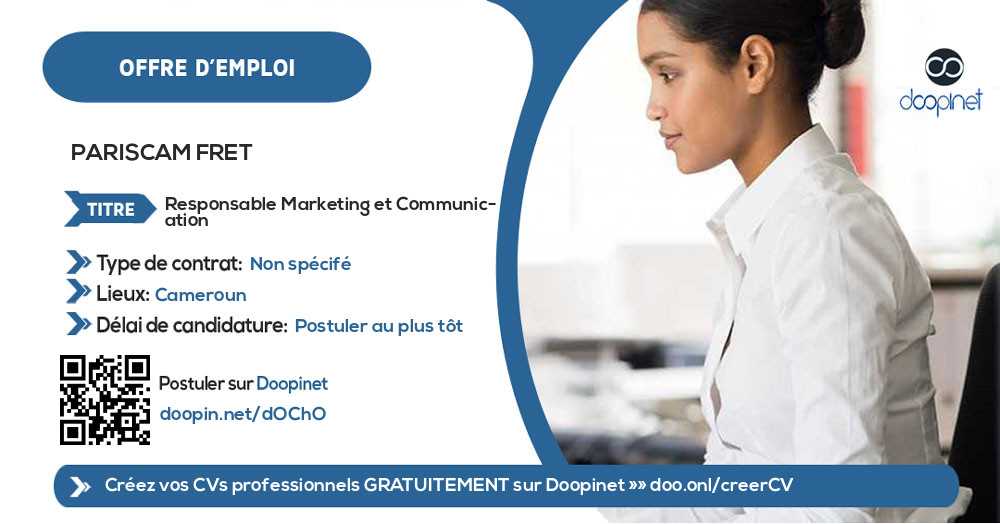 Responsable Marketing et Communication – Cameroun
Lieu, Non spécifié, Cameroon
·
Apply ASAP
·
Unspecified
·
Advertising - Marketing
·
Commercial and marketing director
Description
APPEL A CANDIDATURES
PARISCAM FRET est une entreprise spécialisée dans l'acheminement par fret aérien des colis entre le Cameroun et le reste du monde, facilitateur d'achat à l'étranger, mise en relation des particuliers ou chef d'entreprises et entreprises étrangère.
Pour les besoins de ses services la direction générale recherche pour son agence de Yaoundé des candidats au poste de :
RESPONSABLE MARKETING ET COMMUNICATION BILLINGUE (01)
Missions / Responsibilities / Activities
Faire la publicité de l'entreprise sur toutes les plates formes et réseaux sociaux Etablir et coordonner les plannings de prospection hebdomadaire. Prise en charge des clients sur les plates formes professionnelles et conclure les transactions Assister le service logistique
Job Requirements
Bac +2 en marketing commerce vente
Une expérience professionnelle d'au moins 2 ans à un poste similaire
Des solides connaissances des techniques de communication sur les réseaux sociaux.
Des connaissances en logistiques et transport serais un atout.
Avoir une bonne expression en anglais et en français.
Maitrise de l'outils informatique (pack Microsoft office).
II/elle doit avoir :
Le sens de l'anticipation
Une bonne capacité de travailler sous pression
Un esprit innovateur
Avoir le désir du travail bien fait.
Partager les valeurs suivantes : leadership-professionnalisme — responsabilité — honnêtetés-esprit d'équipes.
Applicant profile
» Experience Level: Medium
» Years of work experience: Between 2 year and 3 years
» Minimum Education Level: Associate's Degree

Application Documents
» Lettre de motivation
» copie de la CNI
» Curriculum Vitae

NOTE: SCAMMERS ARE MORE AND MORE SMART! Never send money to a stranger during a recruitment process for any reason! And If ever you should, please do so at your OWN RISK!
Appy Instructions
Votre candidature devra être envoyer a l'adresse mail suivant : ipariscamfret@gmail.com
Ou par WhatsApp au numéro 696037399 / 697992514 (cv, cni, lettre de motivation)
Receive our offers instantly on: