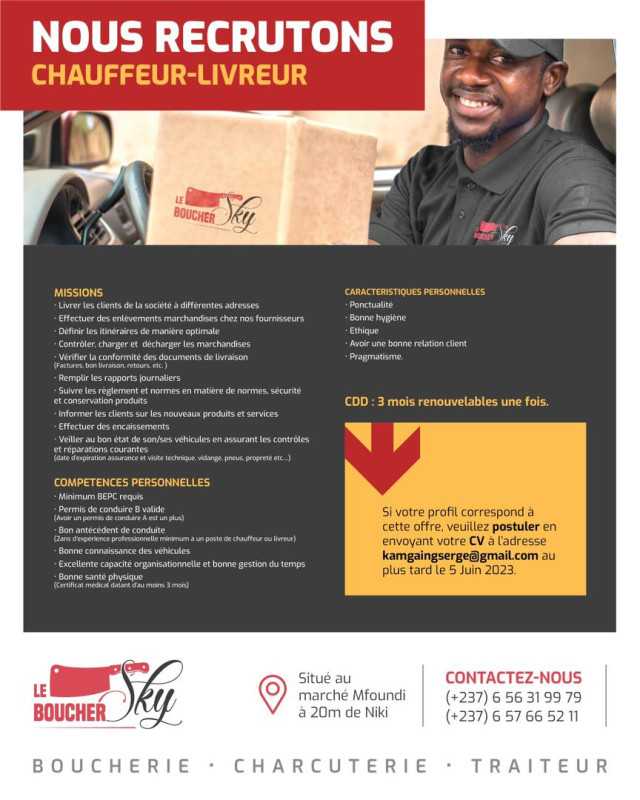 Chauffeur-Livreur – Yaoundé
Yaoundé, Centre, Cameroon
·
05 Jun. 2023
·
Temporary
·
Transport - Logistic
·
Driver
Description
Nous recherchons un chauffeur-Livreur afin non seulement de distribuer en temps et en heure les produits à nos clients mais également effectuer l'enlèvement de nos marchandises chez des fournisseurs et partenaires. Bien au-delà de l'aspect logistique, il représente notre structure de manière professionnelle et rentable, ce qui contribue à la croissance du chiffre d'affaire. Il organise sa journée de travail en fonction des consignes de livraison.
TYPE DE CONTRAT:CDD 3 mois renouvelables une fois.
PRISE A EFFET:5 Juin 2023
Missions / Responsibilities / Activities
Livrer les clients de la société à différentes adresses

Effectuer des enlèvements marchandises chez nos fournisseurs

Définir les itinéraires de manière optimale

Contrôler, charger et décharger les marchandises

Vérifier la conformité des documents de livraison (Factures, bon livraison, retours, etc. )

Remplir les rapports journaliers

Suivre les règlement et normes en matière de normes, sécurité et conservation produits

Informer les clients sur les nouveaux produits et services

Effectuer des encaissements

Veiller au bon état de son/ses véhicules en assurant les contrôles et réparations courantes (date d'expiration assurance et visite technique, vidange, pneus, propreté etc…)
Job Requirements
Avoir un permis de conduire B en cours de validité (Avoir un permis de conduire A est un plus)

Etre apte à la conduite

Avoir une bonne connaissance des véhicules

Excellente capacité organisationnelle et bonne gestion du temps

BEPC au minimum requis

Avoir une bonne santé physique (Certificat médical datant d'au moins 3 mois)

Bon antécédent de conduite (2ans d'expérience professionnelle minimum à un poste de chauffeur ou livreur)
CARACTERISTIQUES PERSONNELLES
Ponctualité

Bonne hygiène

Ethique

Avoir une bonne relation client

Pragmatisme.
Applicant profile
» Experience Level: Entry / Beginner
» Years of work experience: Between 2 year and 3 years
» Minimum Education Level: CAP / BEPC, ...

Application Documents
» Curriculum Vitae

NOTE: SCAMMERS ARE MORE AND MORE SMART! Never send money to a stranger during a recruitment process for any reason! And If ever you should, please do so at your OWN RISK!
Receive our offers instantly on: