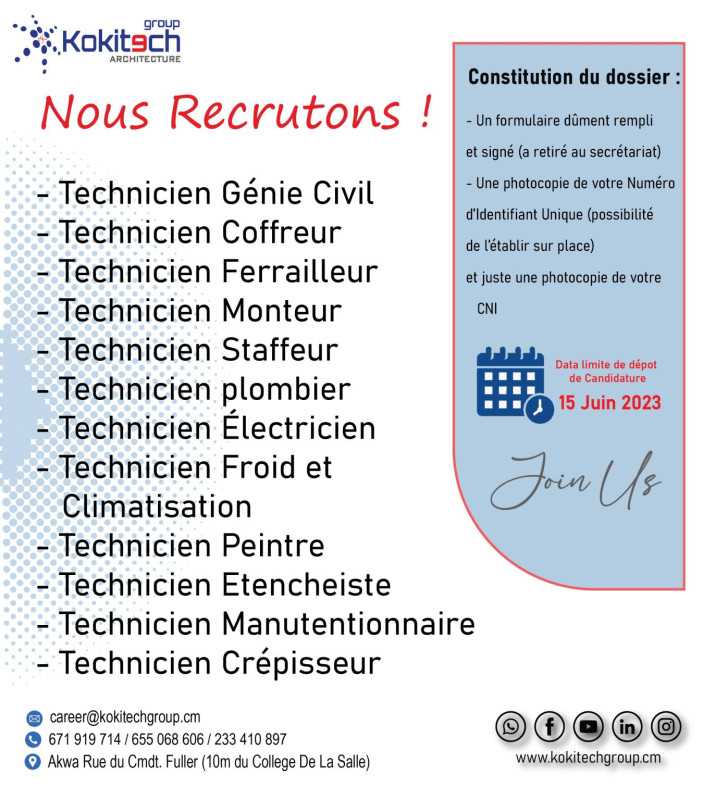 Technicien: Génie Civil ; Coffreur; Ferrailleur ; Monteur; Staffeur; plombier; Électricien ; Froid et Climatisation ; Peintre... – Douala
Douala, Littoral, Cameroon
·
15 Jun. 2023
·
Unspecified
·
Architect - Public works - Town planning - Mines
·
Technician in civil engineering
Description
Nous Recrutons !
Technicien Génie Civil
Technicien Coffreur
Technicien Ferrailleur
Technicien Monteur
Technicien Staffeur
Technicien plombier
Technicien Électricien
Technicien Froid et Climatisation
Technicien Peintre
Technicien Etencheiste
Technicien Manutentionnaire
Technicien Crépisseur
Application Documents
» Curriculum Vitae

NOTE: SCAMMERS ARE MORE AND MORE SMART! Never send money to a stranger during a recruitment process for any reason! And If ever you should, please do so at your OWN RISK!
Appy Instructions
Un formulaire dûment rempli et signé (a retiré au secrétariat)
Une photocopie de votre Numéro d'Identifiant Unique (possibilité de l'établir sur place) et juste une photocopie de votre CNI
Date limite de dépot de Candidature 15 Juin 2023
career@kokitechgroup.cm
671 919 714 /655 068 606 / 233410897
Akwa Rue du Cmdt. Fuller (10m du College De La Salle)

Receive our offers instantly on: