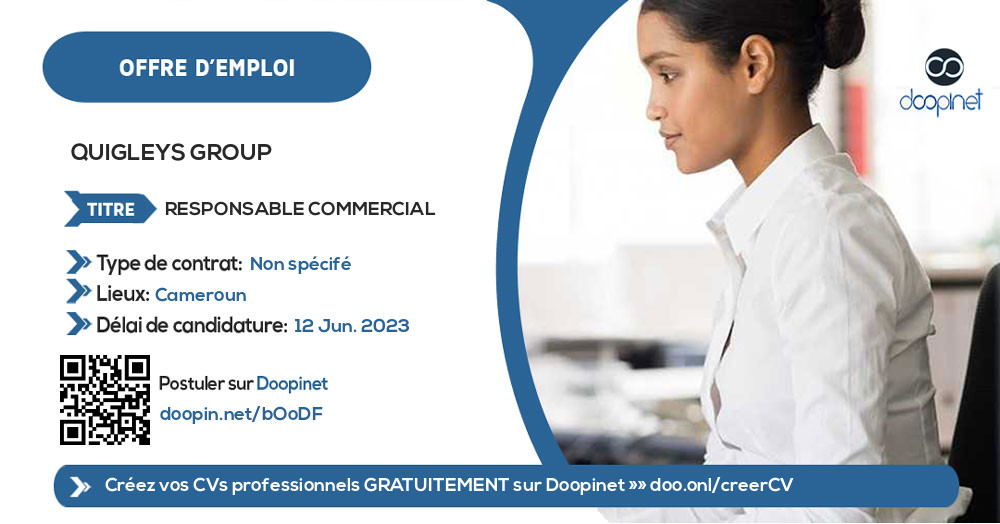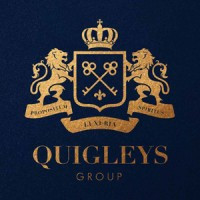 RESPONSABLE COMMERCIAL – Douala
Douala, Littoral, Cameroon
·
12 Jun. 2023
·
Unspecified
·
Trade - Sale - Distribution
·
Sales Representative
Description
QUIGLEYS Construction est une entreprise générale de construction, engagée dans le développement desservices uniques et personnalises pour une clientele exigeante et prestiqieuse, aux standards internationaux
Note expertise repose sur cinq métiers ; Construction, Agencement interieur, Façades et ouvertures, productionde meubles, technologie.
La Société QUIGLEYS a été fondée sur des valeurs fortes, qu'elle porte avec rigueur dans tous les projets qu'elle mène. Protessionnalisme, Finesse, Créativité et Proximité sont la combinaison aui lui permet de créer avecchaque client un batiment et des interieurs uniques, qui refletent rarete et prestige
POURQUOI NOUS REJOINDRE
Environnement de travail de qualité, offrant de belles perspectives de carrière professionnelle
Salaire attractif, constitué d'un fixe et d'un variable, tonction des objectits de vente
Encadrement managérial par une équipe à fort potentiel et avec une réelle expertiseQUIGLEYS
Missions / Responsibilities / Activities
En tant que responsable commercial, les missions suivantes vous sont contiées:
Créer n plan de prospection commerciale, identifier les prospects, maintenir et faire évoluer les outils de vente, réaliser de présentations clients

Répondre aux appels d'offres, suivre le processus d'acquisition et de fidélisation des clients

Définir l'approche go-to market en fonction des objectifs de la société, conduire les études et analyses de marché sur les opportunites commerciales

Comprendre et documenter les besoins des clients/ prospects, développer des nouveaux services, bâtir des partenariats rentables ave les parties cles

Suivre la performance de activités commerciales, préparer de reporting pour servir la prise de décision

Pratiquer de la veille commerciale et concurrentielle, recruter et coordonner l'activité des equipes commerciales, animer la torce de vente
Job Requirements
Diplömé(e) d'un Bac+5 en Action commerciale, Marketing, Finance ou assimilés, vous avez une expérience avérée a un poste similaire, dans le secteur du batiment

Vous ave une forte sensibilité commercial, bénéficiez d'un bon relationnel et d'une connaissance du marché local, avec une aisance à l'oral, en trancais et en anglais

Vous avez une bonne compréhension des méthodes 'études de marché, d'analyse des donnees, de reporting et de suivi commercial

Vous avez le sens de l'initiative, la proactivité, de l'autonomie, le sens de la négociation, des compétences managériales et de gestion des équipes

Vous êtes un 'fast learner', avec le bon niveau de motivation pour grandir en continu
Applicant profile
» Minimum Education Level: Master's Degree

Application Documents
» Curriculum Vitae

NOTE: SCAMMERS ARE MORE AND MORE SMART! Never send money to a stranger during a recruitment process for any reason! And If ever you should, please do so at your OWN RISK!
Receive our offers instantly on: