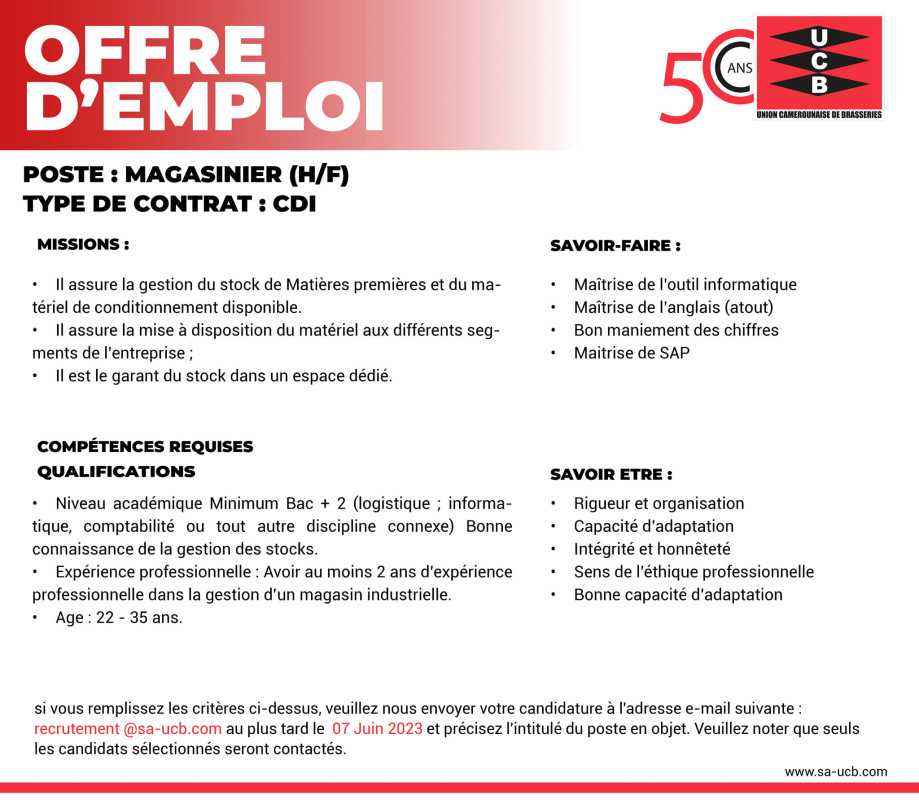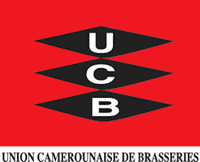 MAGASINIER (H/F) – Cameroun
Lieu, Non spécifié, Cameroon
·
07 Jun. 2023
·
Permanant
·
Transport - Logistic
·
Storekeeper or distribution agent
Description
OFFRE D'EMPLOI
POSTE : MAGASINIER (H/F)
TYPE DE CONTRAT : CDI
Missions / Responsibilities / Activities
Il assure la gestion du stock de Matières premieres et du matériel de conditionnement disponible.
I assure la mise à disposition du matériel aux différents segments de l'entreprise;
Il est le garant du stock dans un espace dédié.
Job Requirements
Niveau académique Minimum Bac + 2 (logistique ; informatique, comptabilité ou tout autre discipline connexe)
Bonne connaissance de la gestion des stocks.
Expérience professionnelle : Avoir au moins 2 as d'expérience professionnelle dans la gestion d'un magasin industrielle.
Age: 22 - 35 ans.
SAVOIR-FAIRE:
Maîtrise de l'outil informatique
Maîtrise de l'anglais (atout)
Bon maniement des chiffres
Maitrise de SAP
Riqueur et organisation
SAVOIR ETRE:
Capacité d'adaptationIntégrité et honnêteté
Sens de l'éthique professionnelle
Bonne capacité d'adaptation
Applicant profile
» 22 - 35 years old
» Experience Level: Medium
» Years of work experience: Between 2 year and 3 years
» Minimum Education Level: Associate's Degree

Application Documents
» Lettre de motivation
» Curriculum Vitae

NOTE: SCAMMERS ARE MORE AND MORE SMART! Never send money to a stranger during a recruitment process for any reason! And If ever you should, please do so at your OWN RISK!
Appy Instructions
si vous remplissez les critères ci-dessus, veuillez nous envoyer vote candidature à l'adresse e-mail suivante: recrutement@sa-ucb.com au plus tard le 07 Juin 2023 et précisez l'intitulé du poste en objet.
Veuillez noter que seuls les candidats sélectionnés seront contactés.
Receive our offers instantly on: