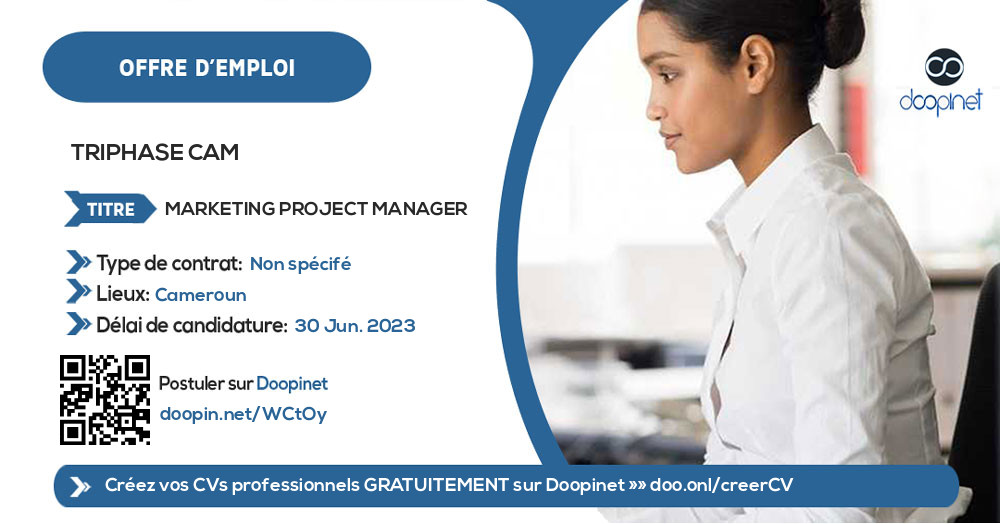 MARKETING PROJECT MANAGER – Douala
Douala, Littoral, Cameroon
·
30 Jun. 2023
·
Unspecified
·
Advertising - Marketing
·
Commercial and marketing director
Description
APPEL A CANDIDATURE
Dans le but d'étendre ses activités 'entreprise TRIPHASE SARL, spécialisé dans les secteurs de maintenance, électricité domestique et industrielle, réseau électrique et éclairage publique, ascenseurs, système de ventilation- climatisation, système solaire, groupe électrogène et inverseur, recrute UN MARKETING PROJECT MANAGER
Poste basé à : DOUALA
Missions / Responsibilities / Activities
Assurer la planification et la réalisation des projets conformément aux exigences requis dans le respect du budget et des délais. Participer directement au développement stratégique commercial de l'entreprise dans le but de maximiser sa notoriété et son image.
Activités du Poste:
Piloter les projets : suivre l'avancement des tâches, surveiller les indicateurs de prise de décision, aménager ou modifier les projets

Définir la stratégie de gestion des projets

Définir la vision globale et la mise en place des services de l'entreprise TRIPHASE dans la ville de DOUALA

Établir les procédures de gestion des projets en y incluant la gestion des risques, gestion des incidents et gestion du changement

Définir les budgets réalistes pour chaque projet

Mettre en place des actions en vue d'accroitre le chiffre d'affaires

Assurer le respect de la qualité, des coûts et des délais de réalisation des projets

Élaborer le cahier de charge des projets

Définir létendue du projet, superviser les études de marché sur les potentiels clients

Mettre en place un plan marketing

Encadrer et organiser les équipes des projets

Etablir une étude du marché

Assurer le lien entre le client et les équipes pendant toute la durée de conception du projet

Mesurer le taux de réussite des projets à travers des indicateurs de performance.

Augmenter le cycle de vie des clients

Définir et communiquer les objectifs du projet à l'équipe

Convertir les prospects en potentiels clients

Assurer la veille concurrentielle dans son domaine d'activité

Animer les comités de crise, comités de suivi et autres points d'équipes

Définir les objectifs de son équipe et l'accompagner dans la réalisation

Assurer toute autre tâche confiée par la hiérarchie
Job Requirements
Âgé d'au moins 35 ans

Bac+4/5 en Management des projets ou filières connexes
Expérience avérée à un poste similaire d'au moins 5 ans
Être bilingue serait un atout
Maitrise parfaite du package MS Office
Avoir une certification en Gestion de Projets serait un atout.
Avoir une forte orientation marketing et TIC
Qualités personnelles:
Polyvalent, organisé, rigoureux
Forte capacité de négociation
Leadership, grande capacité de management
Forte capacité de synthèse, d'analyse et décision
Compétences techniques en marketing
Prise de décision
Sens de la communication

Maitrise des outils de gestion de projet
Applicant profile
» At least 35 years old
» Experience Level: Medium
» Years of work experience: Between 5 years and 8 years
» Minimum Education Level: Master's Degree

Application Documents
» Lettre de motivation
» Curriculum Vitae

NOTE: SCAMMERS ARE MORE AND MORE SMART! Never send money to a stranger during a recruitment process for any reason! And If ever you should, please do so at your OWN RISK!
Receive our offers instantly on: