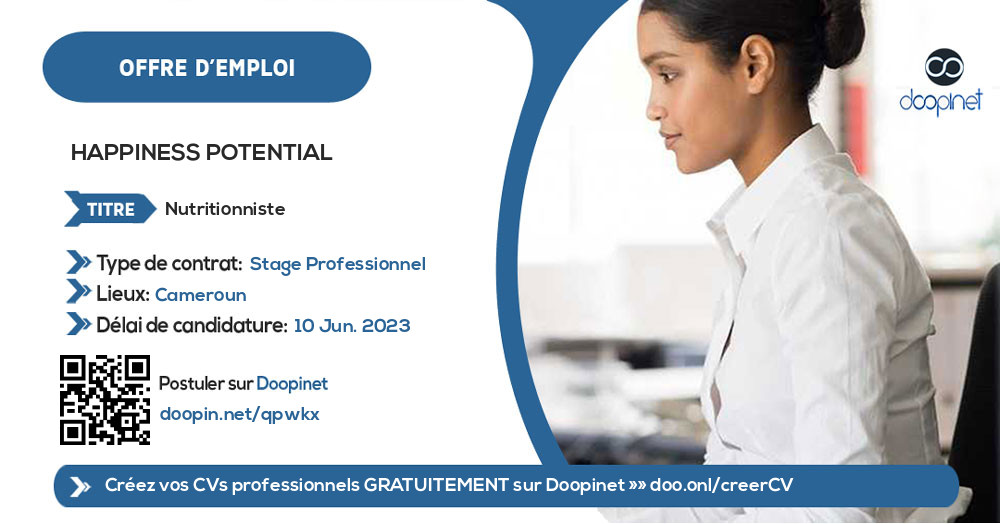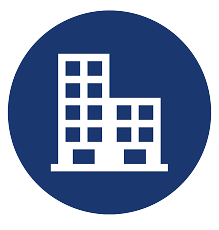 Nutritionniste – Douala
Akwa, Douala, Littoral, Cameroon
·
10 Jun. 2023
·
Internship
·
Health
·
Nutritionist
Description
HAPPINESS POTENTIAL recherche pour sa structure 1 nutritionniste suivant les critères ci-après :
Type de contrat : Stage professionnel ou engagement à l'essai
Missions / Responsibilities / Activities
Le (la) Nutritionniste Prépare des régimes et profils nutritionnels aussi bien pour les personnes en bonne santé que pour celles qui sont atteintes de maladies.
Il (elle) fournit des conseils pour une bonne alimentation et une bonne hygiène de vie afin de favoriser le bien-être de l'individu et d'améliorer son état de santé.
Principales Missions
Accueil / Réception / Consultation et suivi qualitatif des clients ;

Prise de paramètres chez les clients

Elaborer des plans de nutrition, de recettes détaillées ;

Émettre des avis en matière de diététique et d'alimentation, après évaluation des habitudes alimentaires et diététiques du patient ainsi que de son savoir-faire relatif aux conseils donnés ;

Rédiger et publier des articles sur la nutrition santé

Mettre en place, actualiser des tableaux de bord pour suivre les résultats des patients

Co-organiser les évènements tels que conférences et séminaires dans le domaine de la santé et du bien-être ;

Répondre aux commentaires + analyses aux sur les plateformes communication/media

Prendre et rappeler des Rendez-vous auprès des patients

Effectuer des recherches sur les thématiques de nutrition et santé ;

Effectuer des tests de connaissance et exposer en interne

Parler en public lors / talks nutrition

Acheter et conditionner des produits HP

Produire les documents, rapports et présentations ;

Gérer les priorités en vue d'optimiser son temps.

Effectuer les consultations en ligne
Job Requirements
Etre âgé (e) entre 23 et 35 ans

Avoir un BAC+ 3 en nutrition ou biologie.
Avoir une expérience minimum de 02 ans
Etre de bonne moralité.
Aptitudes particulières
Compétences dans la préparation de régimes et programmes alimentaires pour les individus et les communautés.
Connaissances de la diététique, la nutrition clinique et de la thérapie nutritionnelle.
Connaissance des principales pathologies liées à l'alimentation (diabète, obésité, maladies cardiovasculaires, etc.).
Avoir le sens de l'écoute
Disposer d'une aisance relationnelle
Savoir faire preuve d'empathie pour déceler les besoins de chacun de ses clients

Avoir le sens de la précision et la capacité d'organisation
Applicant profile
» 23 - 35 years old
» Experience Level: Medium
» Years of work experience: Between 2 year and 3 years
» Minimum Education Level: Bachelor's Degree

Application Documents
» Lettre de motivation
» Photocopie CNI
» Diplôme
» Plan de localisation
» Curriculum Vitae

NOTE: SCAMMERS ARE MORE AND MORE SMART! Never send money to a stranger during a recruitment process for any reason! And If ever you should, please do so at your OWN RISK!
Appy Instructions
Une lettre de motivation

Un curriculum vitae

Une photocopie de la CNI ou de l'acte de naissance

Les photocopies de diplômes

Preuve d'engagement social

Un plan de localisation
Les lettres de motivation et curriculum vitae sont à envoyer avant le 11 Juin 2023 à 18 heures a l'adresse : happinesspotential@gmail.com
AKWA face Zepol

Receive our offers instantly on: