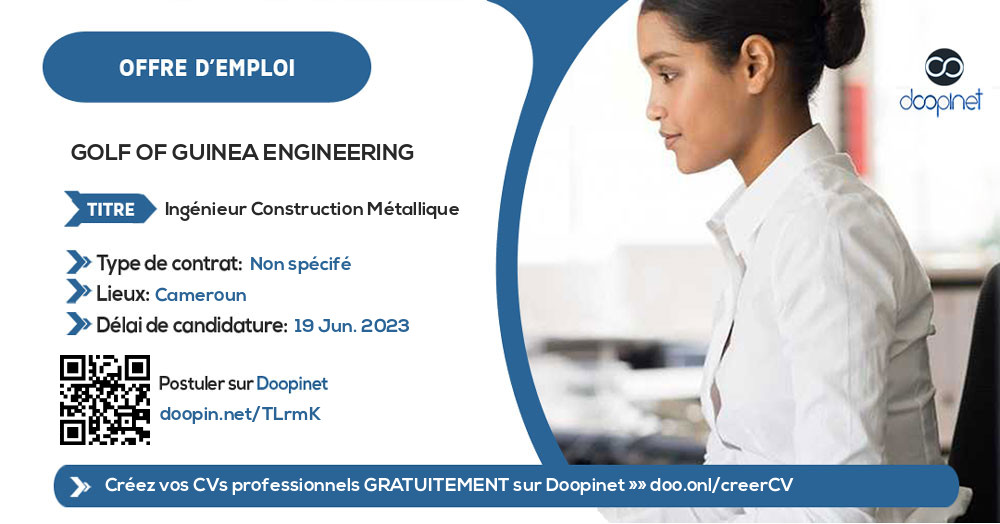 Ingénieur Construction Métallique – Douala
Douala, Littoral, Cameroon
·
19 Jun. 2023
·
Unspecified
·
Architect - Public works - Town planning - Mines
·
Construction Engineer / Civil engineer
Description
Ingénieur Construction Métallique
Missions / Responsibilities / Activities
Réaliser des visites de site pour la prise de métrés ;

Réaliser et proposer des réponses aux appels d'offres (chiffrage et devis quantitatifs) ;

Mettre à jour de façon permanente les modèles des offres de service afin qu'ils soient de plus en plus compétitifs ;

Assurer la préparation et le montage des dossiers chantier suivant les procédures internes ;

S'assurer à partir du dossier technique de la disponibilité des différents outils et moyens permettant l'exécution des travaux ;

Coordonner et piloter les travaux pour assurer au client un résultat optimal en termes de qualité de coûts et de délais ;

Contrôler les différents livrables par tâches, lot et pour l'ensemble du projet ;

Suivre l'avancement des projets et le niveau d'engagement des ressources des projets ;

Surveiller l'exécution des travaux et contrôler les rapports des chefs chantier/chef d'équipe ;

Veiller au respect du cahier de charge pendant l'exécution des travaux ;

Prendre en charge la gestion du planning de travail ;

Veiller au respect des contraintes budgétaires et techniques liées à chaque projet ;

Anticiper sur la réception des travaux et les facturations y afférentes.
Job Requirements
Être titulaire d'un diplôme d'ingénieur en construction métallique;

Avoir au moins 3 ans d'expériences pertinente de travail continu dans un poste similaire ;

Avoir une excellente connaissance pratique de MS office ;

Avoir une excellente connaissance des logiciels de conception et de visualisation tels qu'AutoCAD ;

Pouvoir faire la schématisation des plans sur les logiciels : DAO et CAO 2et 3D

Avoir la capacité à travailler avec des projets impliquant diverses disciplines ;

Avoir une maîtrise des principes en gestion et supervision des projets ;

Avoir une bonne capacité de communication et d'analyse ;

Avoir une orientation vers l'atteinte des résultats et une capacité à travailler de façon autonome ;

Avoir une bonne maitrise de la langue française, une connaissance pratique de l'anglais serait un atout supplémentaire.
Applicant profile
» Experience Level: Medium
» Years of work experience: Between 3 years and 5 years
» Minimum Education Level: Engineer

Application Documents
» Lettre de motivation
» Curriculum Vitae

NOTE: SCAMMERS ARE MORE AND MORE SMART! Never send money to a stranger during a recruitment process for any reason! And If ever you should, please do so at your OWN RISK!
Receive our offers instantly on: