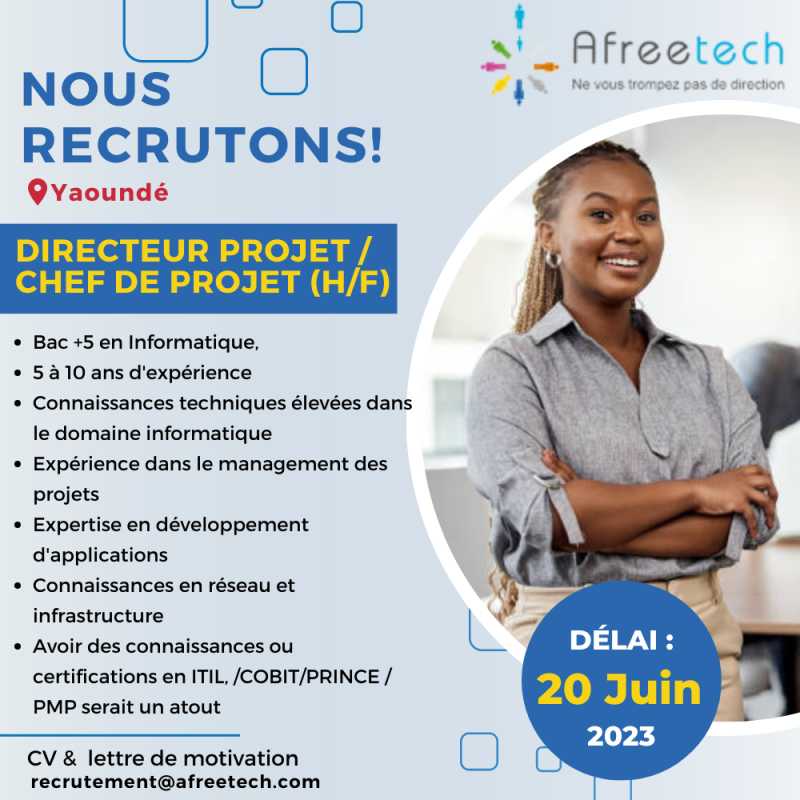 DIRECTEUR / CHEF DE PROJET (H/F) – Yaoundé
Bastos, Yaoundé, Centre, Cameroon
·
Apply ASAP
·
Permanant
·
Project Management
·
Project Manager
Description
Nous recrutons :DIRECTEUR / CHEF DE PROJET (H/F)
Missions / Responsibilities / Activities
Prendre en charge le projet du cahier des charges à la recette utilisateur et son déploiement

Suivre la conception du projet (besoin client, spécification fonctionnelle, livrables, critères de réception…),

Organiser et planifier le projet et les tâches des équipes

Etablir tous les livrables projet
Evaluer les risques et les enjeux,

Superviser la mise au point de la solution informatique en tant que coordinateur,

Contrôler, en tant que coordinateur, la qualité des développements, des installations et des configurations

Piloter le projet en constituant, organisant, coordonnant et animant l'équipe projet selon le cahier des charges (demande du client, budget, délais…),

Livrer le projet au niveau de qualité attendu par le client,

Assurer la rentabilité du projet,

Assurer la maintenance et suivre l'évolution des projets

Assurer une approche méthodique de l'analyse et de la résolution de problèmes
Job Requirements
De formation Bacc+5 minimum en informatique, vous avez des connaissances techniques poussées en informatiques, une bonne maitrise du développement d'applications et une expertise en management des projets. Organisé, rigoureux, vous savez planifier un projet informatique et le mener à bout. Vous êtes doté d'expérience de plus de 5 ans.
Bac +5 en Informatique,
5 à 10 ans d'expérience dans le management des projets,
Avoir des certifications
Connaissances techniques élevées dans le domaine informatique
Expérience en management
Expertise en développement
Connaissance du réseau et de l'infrastructure
Atout : Connaissances en ITIL/COBIT/PRINCE/PMI PMP, AGILE,...
Applicant profile
» Experience Level: Senior
» Years of work experience: Between 5 years and 8 years
» Minimum Education Level: Master's Degree

Application Documents
» lettre de motivation
» Curriculum Vitae

NOTE: SCAMMERS ARE MORE AND MORE SMART! Never send money to a stranger during a recruitment process for any reason! And If ever you should, please do so at your OWN RISK!
Receive our offers instantly on: