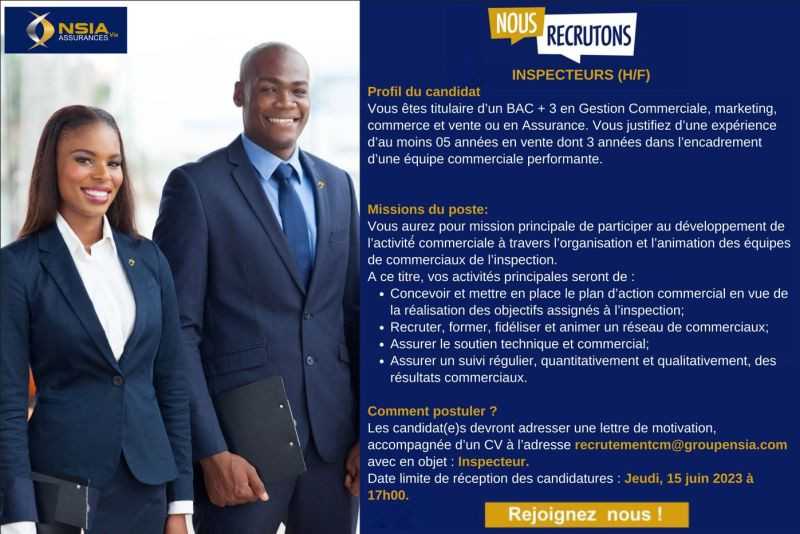 INSPECTEURS (H/F) – Cameroun
Lieu, Non spécifié, Cameroon
·
15 Jun. 2023
·
Unspecified
·
Trade - Sale - Distribution
·
Sales Representative
Description
Nous recrutons des Inspecteurs.
Missions / Responsibilities / Activities
Vous aurez pour mission principale de participer au développement de l'activité commerciale à travers 'organisation et l'animation des équipes de commerciaux de l'inspection.
A ce titre, vos activités principales seront de :
Concevoir et mettre en place le plan d'action commercial en vue de la réalisation des objectifs assignés à l'inspection;

Recruter, former, fidéliser et animer un reseau de commerciaux;

Assurer le soutien technique et commercial;

Assure un suivi régulier, quantitativement et qualitativement, des résultats commerciaux.
Job Requirements
Vous êtes titulaire d'un BAC + 3 en Gestion Commerciale, marketing, commerce et vente ou en Assurance.
Vous justifiez d'une expérience d'au moins 05 années en vente dont 3 années dans l'encadrement d'une équipe commercial performante.
Applicant profile
» Experience Level: Medium
» Years of work experience: Between 3 years and 5 years
» Minimum Education Level: Bachelor's Degree

Application Documents
» Lettre de motivation
» Curriculum Vitae

NOTE: SCAMMERS ARE MORE AND MORE SMART! Never send money to a stranger during a recruitment process for any reason! And If ever you should, please do so at your OWN RISK!
Receive our offers instantly on: