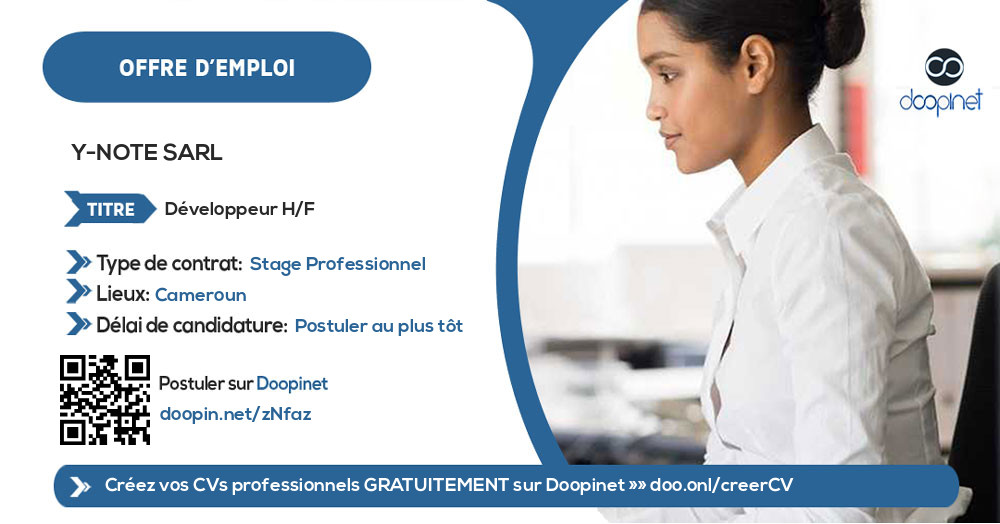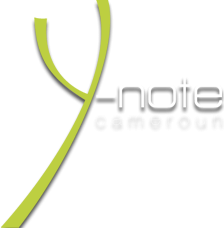 Développeur H/F – Yaoundé
Yaoundé, Centre, Cameroon
·
Apply ASAP
·
Internship
·
Internet - Web
·
Web developer
Description
OFFRE D'EMPLOI: Développeur Full Stack PHP/Java/Python/.Net
Présentation de la société
Y-Note est une Société de Services en Ingénierie Informatique (SSII), spécialiste des problématiques complexes dans tout le spectre des développements Web.
Informations
Secteur: informatique, SSII
Disponibilité: Immédiate

Lieu: Yaoundé Nkol- Eton

Type de Contrat: Stage professionnel rémunéré avec prise en charge de la couverture sociale.

Possibilité de CDI à la fin du stage si concluant
Missions / Responsibilities / Activities
Nous cherchons à intégrer des personnes passionnées par leur métier et motivées à rejoindre un
groupe qui se renouvelle sans cesse.
Le candidat sera amené à évoluer au sein d'une équipe jeune, agile dynamique et qui évolue aujourd'hui dans un environnement technique challengeant
Core technologies : Python, PostgreSQL, PHP, Flutter, Visual Basic .NET

Front : JavaScript, HTML, XML ...

Système : Linux

Bonne pratique de versionning avec GIT
Missions principales :
Analyse du besoin client

Développement Applications web + bases de données

Scripts d'automatisation de tâches diverses

Participation à l'intégration continue au sein du processus d'assurance qualité

Participation à l'amélioration des outils informatiques existants (corrections bugs et ajouts et fonctionnalités)
Job Requirements
Homme ou Femme

BAC + 3 en Informatique

01 An d'expérience ou tout autre expérience sur des technologies Cloud serait un atout.

Bilinguisme - français/ Anglais
Applicant profile
» Experience Level: Medium
» Years of work experience: Between 1 year and 2 years
» Minimum Education Level: Bachelor's Degree

Application Documents
» Lettre de motivation
» Curriculum Vitae

NOTE: SCAMMERS ARE MORE AND MORE SMART! Never send money to a stranger during a recruitment process for any reason! And If ever you should, please do so at your OWN RISK!
Receive our offers instantly on: