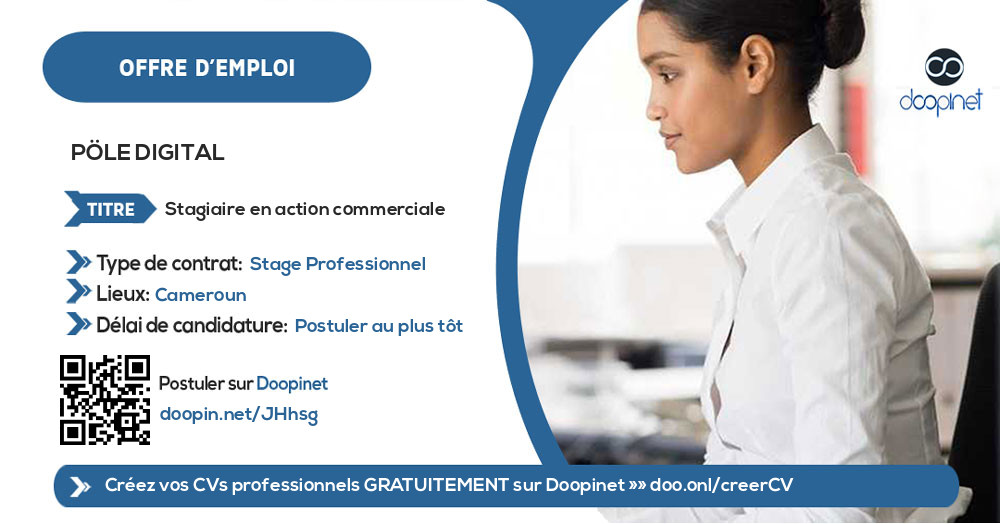 Stagiaire en action commerciale – Yaoundé
Yaoundé, Centre, Cameroon
·
Apply ASAP
·
Internship
·
Trade - Sale - Distribution
·
Sales Representative
Description
Pôle Digital, entreprise spécialisée dans les solutions numériques innovantes, offre une opportunité de stage en Action Commerciale pour les étudiants talentueux et motivés. Si vous recherchez une expérience enrichissante dans le domaine commercial, rejoignez notre équipe dynamique et contribuez à notre succès.En tant que stagiaire en Action Commerciale chez Pôle Digital, vous serez impliqué(e) dans divers aspects du processus commercial, en travaillant en étroite collaboration avec notre équipe expérimentée. Vous participerez à la prospection de clients potentiels, à la gestion des relations commerciales, à l'élaboration de stratégies de vente et à la promotion de nos produits et services.
Missions / Responsibilities / Activities
Vos missions principales incluront :
Participer à la prospection et à la qualification des prospects.
Assister l'équipe commerciale dans la gestion des comptes clients existants.
Contribuer à l'élaboration de stratégies de vente et à l'identification de nouvelles opportunités.
Participer à la préparation et à la présentation des offres commerciales.
Suivre les indicateurs de performance commerciale et contribuer à l'analyse des résultats.
Job Requirements
Étudiant(e) en cours de formation dans le domaine du commerce, du marketing ou d'une discipline connexe.
Intérêt marqué pour le domaine du numérique et les nouvelles technologies.
Excellentes compétences en communication et en négociation.
Capacité à travailler en équipe et à s'adapter rapidement.
Autonomie, proactivité et sens de l'initiative.
Rejoignez une entreprise dynamique, découvrez le monde du commerce numérique et développez vos compétences dans un environnement professionnel stimulant. Chez Pôle Digital, nous valorisons l'apprentissage, l'innovation et l'esprit d'initiative.
Application Documents
» Lettre de motivation
» Curriculum Vitae

NOTE: SCAMMERS ARE MORE AND MORE SMART! Never send money to a stranger during a recruitment process for any reason! And If ever you should, please do so at your OWN RISK!
Receive our offers instantly on: