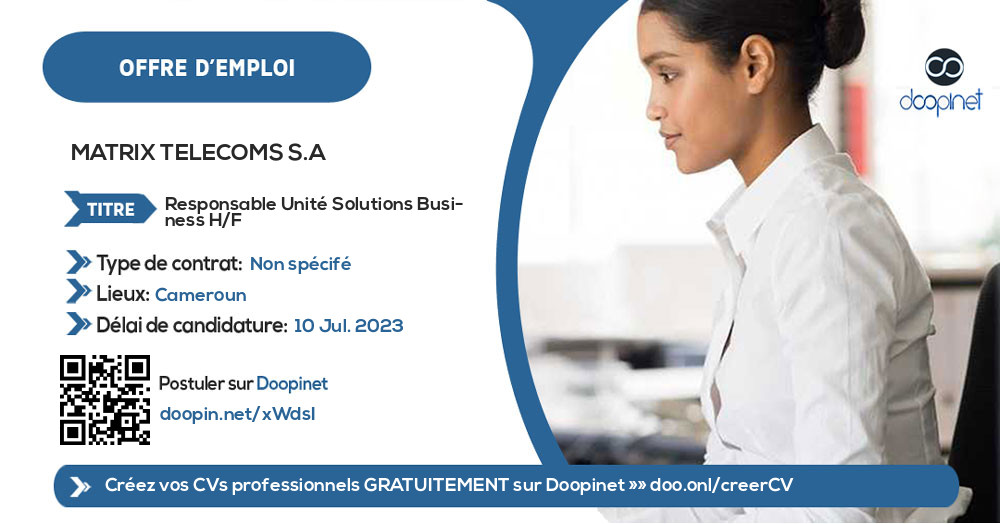 Responsable Unité Solutions Business H/F – Douala
Douala, Littoral, Cameroon
·
10 Jul. 2023
·
Unspecified
·
Trade - Sale - Distribution
·
Technical Sales
Description
En cohérence avec sa stratégie de développement et dans le souci d'offrir une qualité de service toujours plus élevée à sa clientèle, Matrix Télécoms recrute un Responsable Unité Solutions Business pour sa succursale de Douala.
Missions / Responsibilities / Activities
Les attributions de ce poste sont les suivantes :
Responsabilités :
Le Responsable de l'Unité Solutions Business a pour mission de développer et assurer le suivi Commercial et Technique des clients internationaux de Matrix Télécoms. Par ailleurs, il conçoit des solutions de télécoms intégrées pour les entreprises et Organisations
Missions :
Élaborer des offres d'intégration de services ou des solutions composites pour les clients et Prospects de Matrix Télécoms.
Répondre aux demandes de cotations des partenaires internationaux (offres de services, proforma.)
Gérer les commandes venant des partenaires internationaux pour le compte de leurs clients finaux : fiche Survey, fiche d'installation et de mise en service, bordereau de livraison, facturation.
Contrôler la satisfaction clientèle des partenaires internationaux par le suivi des indicateurs tels que délai de réponse aux sollicitations, qualité de service chez les clients finaux (installations…), qualité de reporting.
Élaborer les contrats de satisfaction client (SLA) spécifique, les matrices d'escalade ou tout autre document pertinent pour l'activité et veiller à leur bonne implémentation.
Analyser les plaintes reçues des clients et suivre leur résolution rapide conformément au SLA.
Job Requirements
Bac +5 en réseaux et télécommunications, ou diplôme équivalent
3 ans d'expérience Ingénieur Technico-Commercial ou Ingénieur Avant-Vente
Maitrise des solutions réseaux, télécoms et sécurité
Bonne connaissance de l'environnement ISP ;
Maitrise de l'anglais
Excellent relationnel
Applicant profile
» Experience Level: Medium
» Years of work experience: Between 3 years and 5 years
» Minimum Education Level: Master's Degree

Application Documents
» Lettre de motivation
» Curriculum Vitae

NOTE: SCAMMERS ARE MORE AND MORE SMART! Never send money to a stranger during a recruitment process for any reason! And If ever you should, please do so at your OWN RISK!
Receive our offers instantly on: