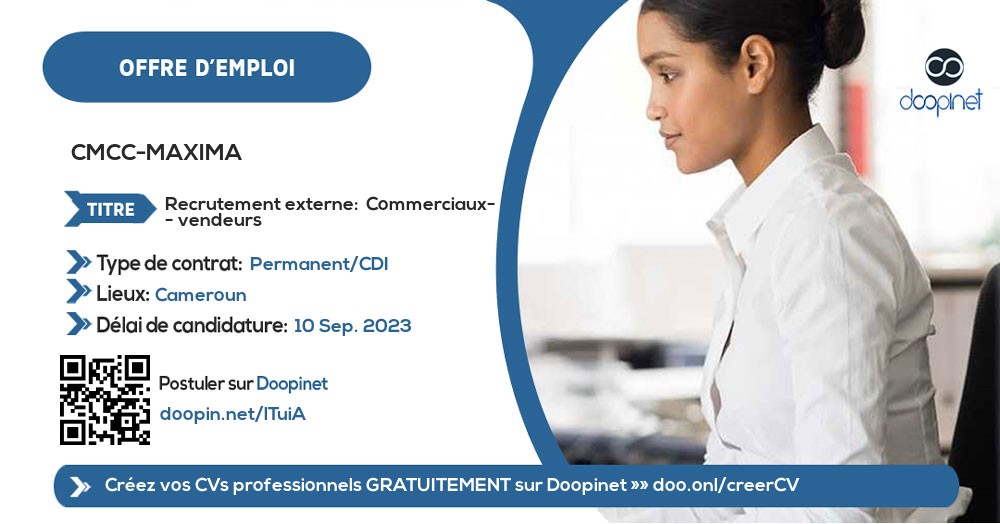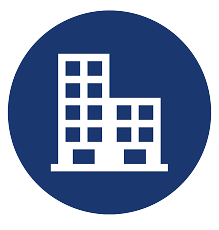 Recrutement externe: Commerciaux- vendeurs – Yaoundé
Yaoundé, Centre, Cameroon
·
10 Sep. 2023
·
Permanant
·
Trade - Sale - Distribution
·
Sales Representative
Description
La société CMCC-MAXIMA dans le cadre de son plan de développement recrute des commerciaux - vendeurs
Direction de rattachement : Direction Commerciale Marketing
Localisation du poste: Texaco-Omnisports, Yaoundé-Cameroun
Date d'ouverture: 01/09//2023
Missions / Responsibilities / Activities
MISSIONS DU POSTE: sous la supervision de la Directrice commerciale & Marketing, les candidats au poste auront pour mission, dans le respect de la stratégie globale de l'entreprise, de réaliser les ventes de l'entreprise, de recouvrer les creances, de participer à la mise en place des animations et des opérations commerciales.
RESPONSABILITÉS PRINCIPALES
les candidats auront pour principales activités de:
prospecter la clientèle de l'entreprise
négocier les ventes
participer au suivi et à la fidélisation de la clientèle
développer les ventes de l'entreprise
développer une argumentation de vente
optimiser les commandes des clients par une approche méthodique
assurer dans les délais le recouvrement de créances auprès de clients
soumettre un rapport journalier, hebdomadaire et mensuel de ses activités
Job Requirements
niveau Baccalauréat, toute discipline confondue
être âge(e) de 22-30 ans
minimum un (01) an d'expérience dans le domaine de la vente
faire preuve d'initiative
avoir une excellente maîtrise de la communication orale
être proactif, intègre et loyal
être courtois, aimable et gaie
avoir une maîtrise des logiciels Word & Excel
Applicant profile
» 22 - 30 years old
» Experience Level: Medium
» Years of work experience: Between 1 year and 2 years
» Minimum Education Level: High School Diploma

Application Documents
» Curriculum Vitae

NOTE: SCAMMERS ARE MORE AND MORE SMART! Never send money to a stranger during a recruitment process for any reason! And If ever you should, please do so at your OWN RISK!
Appy Instructions
Pour postuler, transmettre uniquement votre CV via l'adresse: chimeneloana@yahoo.fr en renommant le CV "CV+ votre nom+ l'intitulé du poste à pourvoir"
Date limite de recevabilité des candidatures le 10/09/2023.
Seules les candidats présélectionnés seront contactées.
Receive our offers instantly on: