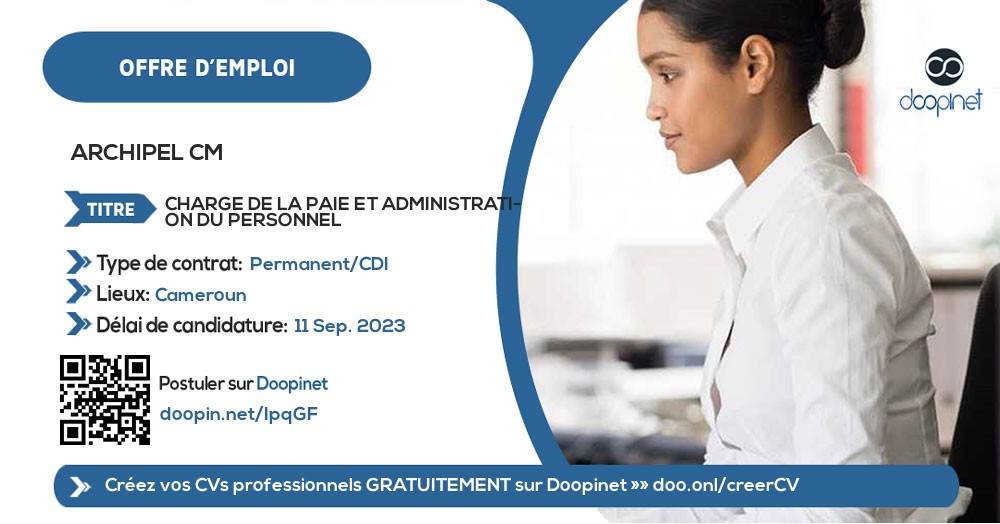 CHARGE DE LA PAIE ET ADMINISTRATION DU PERSONNEL – Douala
Deido, Douala, Littoral, Cameroon
·
11 Sep. 2023
·
Permanant
·
Human Resource
·
Human resources manager
Description
OFFRESD'OFFRED'EMPLOI : *CHARGE DE LA PAIE ET ADMINISTRATION DU PERSONNEL*
Le Cabinet de formation ARCHIPEL CM recherche pour le besoind'une entreprise partenaire unCHARGÉ DE LA PAIE ET ADMINISTRATION DU PERSONNEL.


*Salaire : *144 000 - 200 000 FCFA
*Horaires : Temps plein
Lieu de travail : DOUALA
*Date limite : * 11/09/ 2023 à 15 h30
*NB : Formation/EmploiLe (la) candidat (e) devra suivre une formation dans le domaine de gestion de la Relation Client.
Missions / Responsibilities / Activities
MISSIONS :
- De veiller à l'application des règles sociales ; des conventions collectives et notamment la législation sur la durée du travail, les congés, les avancements automatiques d'échelon.
- D'assurer la gestion administrative du personnel et de veiller au respect des procédures RH de l'entreprise
- D'assurer la gestion de la rémunération du personnel et le traitement comptable de la paie

RESPONSABILITES:
- Recueillir et calculer les éléments de rémunération à périodicité variable
- Calculer les diverses primes à caractère social- Décompter les absences (absences non payées et permissions exceptionnelles)
- Saisir des données dans le logiciel de paie pour le calcul automatique des soldes individuels (SAGE PAIE)
- Suivre le traitement comptable de la paie et analyser les comptes du personnel
- Exécuter le paiement des soldes individuels (espèces, virements bancaires)
- Veiller au paiement dans les délais, des différentes charges sociales
- Éditer tous les états fiscaux et sociaux liés aux salaires (DIPE, journaux de paie, retenues syndicales, états de cotisations sociales/CNPS et état des impôts et taxes sur salaire, etc.)
- Gérer la mobilité et les notes des frais
- Tenir et renseigner les tableaux de bords concernant la gestion et le suivi des salaires
- Répondre aux questions des salariés en matière de paie, congés et charges sociales
- Exercer une veille sur l'ensemble des obligations légales liées à la gestion administrative du personnel
- Assurer le suivi des dossiers des employés a la CNPS
-Assurer et suivre l'ensemble des process de gestion de temps (absentéisme, présentéisme des salariés)
- Assurer le traitement et le suivi des prestations sociales
- Préparer tous les documents réglementaires liés à la gestion du personnel et la paie.

Job Requirements
PROFIL RECHERCHÉ :
- Âge : 27 – 35 ans
- Expérience requise : 3 ans minimum
- Langue : Être bilingue serait un atout
- Genre : Masculin / Féminin
- Formation : Bac+3 option GRH

COMPETENCES:
- Parfaite maîtrise de Microsoft Office
- Savoir utiliser parfaitement le logiciel Sage Paie (les versions récentes)
- Avoir une bonne connaissance du droit camerounais et la GRH
- Connaissances approfondies en Comptabilité-Avoir les bases de la fiscalité des salaires
- Confidentialité et respect du secret professionnel-Dynamique-Autonome-Rigoureux (se), organisé(e), et orienté(e) résultats.

Applicant profile
» 27 - 35 years old
» Experience Level: Medium
» Years of work experience: Between 3 years and 5 years
» Minimum Education Level: Bachelor's Degree

Application Documents
» Lettre de motivation
» Curriculum Vitae

NOTE: SCAMMERS ARE MORE AND MORE SMART! Never send money to a stranger during a recruitment process for any reason! And If ever you should, please do so at your OWN RISK!
Receive our offers instantly on: