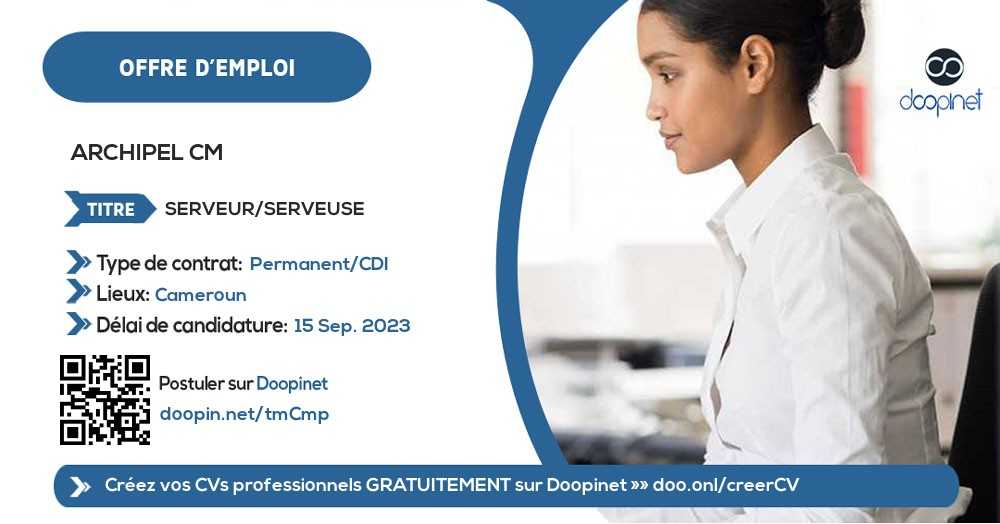 SERVEUR/SERVEUSE – Douala
Deido, Douala, Littoral, Cameroon
·
15 Sep. 2023
·
Permanant
·
Hotel - Catering
·
Waiter
Description
OFFRESD'OFFRED'EMPLOI : *SERVEUR/SERVEUSE*

Le Cabinet de formation ARCHIPEL CM recherche pour le besoind'une entreprise partenaire un(e) Serveur(se).
*Salaire : *80 000 FCFA
*Horaires : Heures flexibles
Lieu de travail : DOUALA
*Date limite : * 15 Septembre 2023 à 15 h30
*NB : Formation/Emploi: Le (la) candidat (e) devra suivre une formation dans le domaine de gestion de la Relation Client.

Missions / Responsibilities / Activities
*MISSIONS* :
- Préparer la salle de restauration ainsi que les tables
- Accueillir les clients et les installer
- Prendre les commandes des clients et les servir
- S'assurer que le repas se passe bien et a la fin qu'ils sont satisfaits de leur expérience culinaire
- Débarrasser et nettoyer les tables
- Dresser de nouveau la table pour les prochains clients
- Fournir les informations précises sur le menu et les boissons
- Gérer les paiements et les pourboires
- Restocker les fournitures nécessaires au service( assiettes, couverts, verres,etc.)
Job Requirements
*COMPÉTENCES*:
- Posséder de très bonnes techniques du service
- Principe de la relation client
- Regles d'hygiene et de sécurité alimentaire
- Connaissance des procédures d'encaissement
*QUALITES PROFESSIONNELLES*:
- Excellent sens de la relation client
- Résistance au stress et aux fortes cadences de travail
- Habileté, agilité et rapidité.
- Bonne mémoire
- Politesse, efficacité
- Curiosité pour la cuisine et l'art culinaire en général
PROFIL RECHERCHÉ :
- Âge : 25-30 ans
- Expérience requise : 2 ans minimum
- Langue : Anglais et Français
- Genre : Masculin / Féminin
- Formation : Hôtellerie et Restauration serait nécessaire
-Bac+1/2 Hôtellerie/Restauration

Applicant profile
» Experience Level: Medium
» Years of work experience: Between 2 year and 3 years
» Minimum Education Level: High School Diploma

Application Documents
» Lettre de motivation
» Attestation de formation
» Certificat de travail
» Curriculum Vitae

NOTE: SCAMMERS ARE MORE AND MORE SMART! Never send money to a stranger during a recruitment process for any reason! And If ever you should, please do so at your OWN RISK!
Appy Instructions
Merci de nous faire parvenir votre CV actualisé accompagné d'une photo professionnelle sur le CV, une lettre de motivation les diplomes et attestations de travail à l'adresse mail : mindbyarchipel@gmail.com
Avec en objet : *SERVEUR(SE)
*.Tel : 233 43 74 25 ; Mobile : 656 144 363 / 654330157

Receive our offers instantly on: